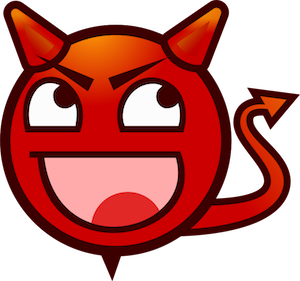 In hindsight, I think we were unnecessarily cruel to Mr. Griffin, our misfit freshman science teacher. Behind his back, we referred to him by his initials, R.A.G., and sang that old "Rag Mop" song. He was a bit of a goof, but to RAG's credit, he chose an innovative science text intended to take the student on an "odyssey of discovery."
That high school textbook focused on a mysterious crystalline substance called bluestone. Over the course of the semester, we would test hypotheses and run several experiments trying to identify this stuff. I think it was my friend, Doug Simpson, who very early on sneaked a peak at the instructor's edition lying on RAG's desk and who shouted out, "It's copper sulfate!"
RAG was furious.
MacGuffins
You could, of course, consider bluestone as a sort of MacGuffin. To be sure, we were learning basic chemistry; however, the main purpose of the text was to teach us the scientific method. At the beginning the book invited the student to consider the demon hypothesis, the notion that tiny invisible beings were causing our bluestone to react to exposure to heat, dilution in water, combination with other chemicals, etc. After each experiment we'd evaluate the results and alter our hypothesis. Eventually, we would develop a new, more scientific hypothesis — one that better predicted future experiments and more rationally explained our observations.
Our so-called demon hypothesis had some features in common with other early natural theories such as the chemical theory of phlogiston, which postulated an imaginary, immaterial substance released during combustion. But it had even more in common with prescientific theories that required supernatural intervention in the natural world to explain mundane phenomena. We could also draw similarities with the concept of the devil's advocate, inasmuch as our placeholder hypothesis was obviously wrong and decidedly nonscientific (or even antiscientific).
Pigeons
To hear Dr. James McGrath tell it, no variation of the Jesus Myth hypothesis has merit. In fact, he consistently compares it to creationism. Actually, he always takes care to call it Young Earth Creationism, in deference to Old Earth Creationism and Guided Evolution, pseudo-scientific theories he finds perfectly acceptable.
Incidentally, here on Vridar we did not adequately mark the passage of The Exploding Cakemix, which McGrath has renamed "Religion Prof." Of course, a rose by any other name would smell as sweet. Hereinafter, I shall refer to his blog by a moniker that will "retain that dear perfection," namely The Pigeon Trough. Continue reading "Just How Dangerous Is Mythicism?"