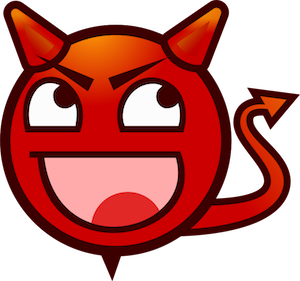 In hindsight, I think we were unnecessarily cruel to Mr. Griffin, our misfit freshman science teacher. Behind his back, we referred to him by his initials, R.A.G., and sang that old "Rag Mop" song. He was a bit of a goof, but to RAG's credit, he chose an innovative science text intended to take the student on an "odyssey of discovery."
That high school textbook focused on a mysterious crystalline substance called bluestone. Over the course of the semester, we would test hypotheses and run several experiments trying to identify this stuff. I think it was my friend, Doug Simpson, who very early on sneaked a peak at the instructor's edition lying on RAG's desk and who shouted out, "It's copper sulfate!"
RAG was furious.
MacGuffins
You could, of course, consider bluestone as a sort of MacGuffin. To be sure, we were learning basic chemistry; however, the main purpose of the text was to teach us the scientific method. At the beginning the book invited the student to consider the demon hypothesis, the notion that tiny invisible beings were causing our bluestone to react to exposure to heat, dilution in water, combination with other chemicals, etc. After each experiment we'd evaluate the results and alter our hypothesis. Eventually, we would develop a new, more scientific hypothesis — one that better predicted future experiments and more rationally explained our observations.
Our so-called demon hypothesis had some features in common with other early natural theories such as the chemical theory of phlogiston, which postulated an imaginary, immaterial substance released during combustion. But it had even more in common with prescientific theories that required supernatural intervention in the natural world to explain mundane phenomena. We could also draw similarities with the concept of the devil's advocate, inasmuch as our placeholder hypothesis was obviously wrong and decidedly nonscientific (or even antiscientific).
Pigeons
To hear Dr. James McGrath tell it, no variation of the Jesus Myth hypothesis has merit. In fact, he consistently compares it to creationism. Actually, he always takes care to call it Young Earth Creationism, in deference to Old Earth Creationism and Guided Evolution, pseudo-scientific theories he finds perfectly acceptable.
Incidentally, here on Vridar we did not adequately mark the passage of The Exploding Cakemix, which McGrath has renamed "Religion Prof." Of course, a rose by any other name would smell as sweet. Hereinafter, I shall refer to his blog by a moniker that will "retain that dear perfection," namely The Pigeon Trough.
McGrath has consistently maintained that even merely arguing against mythicism of any sort is distasteful, since it lends an air of respectability to a foul thing that deserves nothing but ridicule. That's par for the course. After the recent debate with Bob Price, McGrath's idol, Bart Ehrman, remarked with amazement at the "ignorance" of the questioners. Similarly, James thinks nothing of branding them as denialists. Pecking in the Trough, McGrath writes:
Many of the questioners at the end asked "how do we know?" and seemed to think that a lack of absolute certainty is a reason for simply believing nothing, or anything. But that is a standard denialist tactic, one that attracts only lazy thinkers. For everyone else, the hard work of analysis of evidence, and the probabilistic conclusions that result, are or should be the basis for our views of the past.
When somebody asks a scientist "How do we know?" he or she will respond by pointing to experimental evidence, the fossil record, theoretical predictions we can validate, and so on. When somebody asks a real historian "How do we know?' he or she will answer by citing external, corroborating written or archaeological evidence.
How do we know?
But when you ask a New Testament scholar the same thing, you get a lot of hand-waving, appeals to probability, and insults. And as far as lazy thinking goes, which mythicist has ever asked for "absolute certainty"? None, of course, which is why the good doctor writes "seems to." He seems to have trouble characterizing others honestly.
Our prickly pigeon, homing in on projected motivations, muses that some kind of character flaw must drive those who buck the consensus. When you disagree with him, you're an ignorant denialist. On the other hand, when he disagrees with you, it's because you've "failed to convince" him.
I mentioned above that McGrath would prefer not giving mythicism any oxygen, but if we must discuss it at all, his job is to mock it and its adherents. As David Fitzgerald can attest, he'll interrupt you, jeer you, and pepper you with dozens of non-sequitur questions before you can utter a paragraph. He'll dress you down for not knowing anything, while you're still talking.
I find this hostility strange for two reasons. First, in any other field of study, an easily debunked theory becomes a useful object lesson. The demon hypothesis fails because science provides better answers. Aliens didn't build the pyramids because archaeology proves otherwise. And in the course of explaining the actual evidence, scholars displace ignorance with real evidence.
But NT scholars cannot abide mythicism. Ehrman explains that it just isn't something the good folk in the ivory towers talk about or take seriously. Indeed, he takes it so unseriously that he can't be bothered to learn exactly what Price, Carrier, Salm, or anyone else is actually arguing. He could barely summon the effort to recapitulate the arguments from his book, as if we hadn't already read it, discussed it ad nauseam, and offered refutations — a tacit admission that he had no intention of engaging any sort of real discourse.
The second reason I find it strange is that, unlike creationism or the demon theory of chemistry, mythicism requires no supernatural interference to explain events. As Fitzgerald tried to explain in the discussion following the Ehrman-Price Debate, mythicists in general accept most of the current consensus positions in NT Studies. They just posit a different explanation for the ultimate origin of Christian belief.
A radical hypothesis that's taken seriously
Oddly enough, we do have another radical, competing hypothesis for the origin of Christianity. Some people out there believe the Jesus of history and the Christ of faith are one and the same. They hold that all the miracles and healings in the New Testament are not only plausible, but probable — because, "Well, why not?"
In any other field of study, a theory that relies on supernatural explanations would be an easy hit, a fine object lesson in how not to think critically or scientifically. But those rules don't apply here. The people I'm talking about who take miracles seriously and believe that Jesus was a God-man who really did rise from the dead aren't misguided schlubs whom Ehrman and McGrath would call ignorant. No, not at all. They are, after all, their fellow scholars — tenured professors at universities who do things like join in prayer before starting a symposium on the historical Jesus.
NT Studies protects magical thinking and respects people who propose unscientific, supernatural answers to explain natural phenomena. They can publish in respected journals. Mainstream, respectable publishers will print and distribute their books. Universities will hire them and offer them tenure.
But try floating the concept that, after you peel away every layer of the legendary onion, the itinerant preacher at the heart of the tradition did not exist in history, and you're instantly radioactive. You aren't just a lovable crank who has some outdated, quaint notions; you're untouchable. They insist the idea is laughable, but it's a nervous laughter provoked by a dangerous idea.
Conclusion
The NT Studies guild has erected a guardrail around the consensus, but it protects only one side of the road. On the one hand, scholars in good standing can and do, for example, write books arguing that the entirety of John's Gospel goes back to eyewitness testimony that reflects true, historical events. On the other hand, scholars in the mainstream center will argue that the Fourth Gospel contains some historical truths along with some embellishments. And, as Tevye exclaimed, "There is no other hand!"
I called it a guardrail, but no physical barrier actually exists. In fact, in the post-debate discussion McGrath took great pains to tell us how the guild welcomes all sorts of scholars from diverse backgrounds — Christians, Jews, agnostics, atheists, liberals, conservatives, you name it — and they all believe that Jesus exists. He does not know, we must conclude, how societies protect themselves through a process of filtering and self-selection.
Perhaps a brief primer will help.
The following two tabs change content below.
Tim Widowfield
Tim is a retired vagabond who lives with his wife and multiple cats in a 20-year-old motor home. To read more about Tim, see our
About page.
Latest posts by Tim Widowfield (see all)
---
If you enjoyed this post, please consider donating to Vridar. Thanks!
---