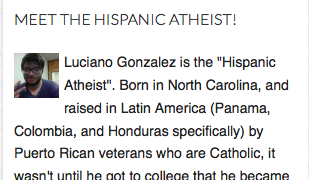 This post follows on from (a) the discussion that took place in the wake of my Atheism without the extras, please post and (b) as a direct response to another Atheist+ (Freethought Blog) post that has recently been published by Luciano Gonzalez: What I Want As an Atheist. I really hope before reading the following you read Luciano's post (I have modeled my own post on his paragraph points) or even the earlier discussion on this blog. So here's saying Hello to Luciano — thanks for your post, and I hope you can appreciate my response even if you don't agree with it.
–o0o–
As an atheist who takes his atheism, like his right-handedness, for granted, I rarely get involved in discussions about my beliefs. If one were to ask me "What do you want as an atheist?" I would agree with Luciano that it is a silly question and probably reply, "to be free not to believe in any gods."
I used to be something of an anti-theist. That was in my first flush of leaving my coffin of religion behind and when I was still struggling to come to terms with what had happened to me (and the pain I had caused others) in all those fantasy years. Religion was a baleful influence in the world and its purveyors needed to challenged or excluded from activities that they were using to promote their 'good works' propaganda to the public.
I lost that angry antagonism after I came to terms with myself and my own experience with my past destructive cult experience. A huge help in that direction (among a number of sources of assistance) was psychologist Marlene Winell's book, Leaving the Fold. I not only came to understand why I had got mixed up with the outfit in the first place, but most importantly, I learned to forgive and accept myself. And from that position I found myself forgiving and accepting others, too. I understood where other religious people were coming from and even felt for their situations.
I was not interested in supporting groups dedicated to attacking religious cults. Such attacks only fueled the persecution syndrome of the cultists themselves. The harm done within cults is enough to prise out defections. What is important is that such members who begin to question their beliefs have support, and that's what I was very keen to offer. (I have described some of my activities at this time several times before: for those not familiar with the story, it involves newspaper advertising, community group meetings, etc. – and eventually even this blog.)
What do I want?
I want to make the most of my short time on this earth, to live well and usefully, to hopefully contribute a little towards making the lives of others in my path a little happier and easier. That sometimes means being a jerk, too, unfortunately, when I see people who ought to know better taking advantage of others or not caring about them when they should.
I want to understand how the world works and why we act the ways we do even when against the interests not only of others but even of ourselves. That means doing a bit of homework and learning what the serious research is uncovering about human behaviour, the nature of religion and religious beliefs, the social, cultural and political dynamics of significant trouble spots in the world. My experience tells me that some of those who are the most hostile against religion and who view it as little more than an ignorant and foolish superstition or set of false beliefs actually have the least understanding of both religion itself and even what scholarly research has taught us about human behaviour. Surely to win a fight one must understand one's enemy.
I don't want any of these things "as an atheist" but as a human being. They are not atheistic desires or values but human ones. There are many people who want the same sorts of things even though they are not all atheists. I also want to do whatever I can to promote social and political justice. I certainly want to do what I can to promote secularism, humanism, rationalism. I don't want these things "as an atheist". I want them as a fellow human being. I am very aware many others who are not necessarily atheists want the same things. In fact, some of the most enthusiastic advocates for fighting the evils of harmful religion are the religious themselves. Often they have a far better idea of how to do this than complete outsiders.
I no longer divided the world between "them" and "us" after I left religion. It was no longer a place where saints struggled in a world of wickedness. We are all humans; we are all the same species; we are all "one" and we are all in this thing together. Not all of us understand what is going on but that means that those who do understand have a weightier responsibility to help out.
To identify as atheists against religious believers means perpetuating the dividing up of the world into black and white, the sinners and the saints, which is the way to inability to truly understand one another, to antagonism, hostility, arrogance, bullying, an all-round withdrawal of compassion.
As a human being I also want to see the end of harmful beliefs and practices, and neither of those is confined to religion. (Today I learned of a horrific bombing in Baghdad once again, just as I heard last week of mass carnage in Istanbul — and it outrages me that "we" don't pause and feel the same shock and anger as we did when we heard of Orlando and Paris.) I don't know if a world without religion would be any better off than an environment free from every creature we consider pests. But of course I want people to be more sceptical and to ask for evidence for their beliefs, but at the same time I am not going to push that line with my octogenarian mother. With some people more than others it is easier to grasp the importance of understanding and compassion over adherence to our rationalist and righteous principles.
The following two tabs change content below.
Neil Godfrey
Neil is the author of this post. To read more about Neil, see our
About page.
Latest posts by Neil Godfrey (see all)
---
If you enjoyed this post, please consider donating to Vridar. Thanks!
---