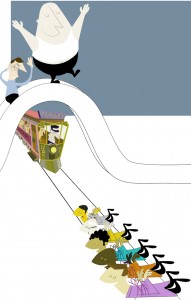 Speaking of the Devil or his doppelgänger, God, in my slightly flippant recent "trolley dilemma" post, what should appear in the serious social science research literature but that very trolley problem applied to Palestinian Muslims and Allah.
God usually gets a bad rap among us atheists but fair's fair so when the research tips in favour of the Ineffable One integrity demands we duly acknowledge it.
Our findings cast doubt on the notion that there is something special about religious faith, including Islamic belief, that invariably favors promotion of violent intergroup conflict.
PNAS (Proceedings of the National Academy of Sciences) has published Thinking from God's perspective decreases biased valuation of the life of a nonbeliever by researchers Jeremy Ginges, Hammad Sheikh, Scott Atran and Nichole Argo. (The supporting data is also published as a supplement.)
Here is the article's own statement of its significance (as usual, all bolding and formatting in quotations are my own):
Significance

Religious belief is often seen as a key cause of human conflict because it is said to promote preferential treatment of adherents and to harden group boundaries. Here, we examined a critical aspect of this link in the context of the Israeli–Palestinian conflict, a multigenerational violent conflict with significant religious aspects.

We find that although Muslim Palestinian participants valued Palestinian over Jewish Israeli lives when making difficult moral choices, they believed that Allah preferred them to make moral decisions that valued the lives of Palestinians and Jewish Israelis more equally.

Beliefs about God may promote more equal valuation of human life regardless of religious identity, encouraging application of universal moral rules to believers and nonbelievers alike.
Gulp! How can that be? Before I discuss details of the article, here's the overview:
Abstract

Religious belief is often thought to motivate violence because it is said to promote norms that encourage tribalism and the devaluing of the lives of nonbelievers. If true, this should be visible in the multigenerational violent conflict between Palestinians and Israelis which is marked by a religious divide.

We conducted experiments with a representative sample of Muslim Palestinian youth (n = 555), examining whether thinking from the perspective of Allah (God), who is the ultimate arbitrator of religious belief, changes the relative value of Jewish Israelis' lives (compared with Palestinian lives).

Participants were presented with variants of the classic "trolley dilemma," in the form of stories where a man can be killed to save the lives of five children who were either Jewish Israeli or Palestinian. They responded from their own perspective and from the perspective of Allah.

We find that whereas a large proportion of participants were more likely to endorse saving Palestinian children than saving Jewish Israeli children, this proportion decreased when thinking from the perspective of Allah. This finding raises the possibility that beliefs about God can mitigate bias against other groups and reduce barriers to peace.
Ouch! Possible that religion can be a force for peace? Well, "religion" is a loaded term. That's not quite what the study is addressing. So here are some details. . . .
Most of us look at the historical record to determine how good or bad religion has served us. It didn't take the New Atheists to point to the relationships between religion and both historical and contemporary wars, tortures, slavery, a host of other evils. Hector Avalos has given us a more economic/philosophical argument (focussing on scarcity of artificially created resources) to show the contribution of religious beliefs to violence in Fighting Words: The Origins of Religious Violence. Others like William Cavanaugh have used history to argue that religion is not so guilty (The Myth of Religious Violence) while the three volumes of Encyclopedia of Wars indicate that explicitly religious disputes or motivations have been responsible for very few wars indeed.
The study by Jeremy Ginges and colleagues takes a different approach to the question:
Debating the relationship between religious belief and violence via theological or historical inquiry is unlikely to yield a clear answer. Perhaps a more pertinent approach may be to ask how religious belief influences the judgments and decisions that ordinary people make about intergroup relations.
Previous studies on the same theme
Self sacrificing violence (suicide attacks) have been positively related to attendance at collective religious services but not related to individual prayer to God. This ties in, I think, with other literature on current terrorism finding strong comparisons between Islamist extremists and factors associated with more traditional anti-social gangs. It certainly syncs with the biographical narratives of Maajid Nawaz and Ed Husain who contrasted their Islamist "gang" experience with the more prayerful piety of their Muslim elders who deplored the Islamists.
Ditto with another study [links to pdf] that
demonstrated that college students in the United States primed with God were more likely to help an outgroup member than an ingroup member, whereas participants primed with thoughts of a religious leader or religious institutions showed the opposite pattern of helping behavior.
The new study
These two studies compared the effects of different aspects of religion — i.e. very generally, strong group identity versus personal relationship with God — on altruistic and parochial behaviour. The new Ginges study, on the other hand, compared personal preferences with those of God. The question of interest is whether belief in God is likely to encourage or discourage intergroup violence. The target group for the study were 555 Palestinian Muslim youth (12 to 18 years), half female.
Thus, our experiments were carried out in the context of the Israeli–Palestinian dispute, a chronic and violent conflict. This conflict is divided along religious lines and many violent actors on both sides are religious. Indeed, Israelis and Palestinians seem partly motivated by attachment to sacred lands and sites (24). Our participants have grown up with persistent exposure to violence between Jewish Israelis and predominantly Muslim Palestinians (25). If religious belief promotes moral judgments associated with ingroup violence, they are likely to do so in the context of this dispute.
The trolley dilemma was modified because the young participants were unfamiliar with rail-lines — none in West Bank and Gaza. See
the comment below
for the actual narratives and dilemmas posed.
A random sample of Palestinians were presented with the trolley dilemma. There were two basic narratives to consider: a Palestinian man being pushed from a bridge of platform to prevent a runaway truck [no railway lines in West Bank and Gaza so trucks replaced trolleys] from killing 5 children; and a Palestinian man jumping from the bridge for the same end.
These narratives were subdivided so that the 5 children would at one time be Palestinians and another time Jewish-Israelis.
Those tested were asked if each sacrificial act was justified from their own personal perspective and then if it was justified from Allah's perspective.
Results
Overall, biased evaluation of human life was almost 30% lower when thinking from the perspective of God. This was consistent across different subsamples and experiments: It was not moderated by residence in the West Bank or Gaza, refugee status, age group, or gender. . . . . .

These results reveal that participants believed that they had preferences different from those of God when it came to answering certain moral dilemmas.

Rather than encouraging divisive tribalism, participants believed that God had relatively stronger preferences than they did to treat the value of human lives equally, regardless of religious identity. That is, participants believed that Allah preferred them to value the lives of Jewish Israeli and Palestinian children more equally.

Prior work suggests that the devout will constrain their behavior to fit in with supernatural preferences (23 – pdf link). If so, thinking about Allah (God), the arbitrator of religious mandates, might mitigate biased valuation of the lives of outgroup members.
One swallow, summer and all that
Still, we need to know more about how people deal with perceived differences between their own preferences and those of God. Although personal preferences are often constrained by God's preferences, as with supernaturally imposed dietary restrictions or environmental practices, in other situations people may ignore or reframe supernatural preferences.
When does God agree with his followers?
A 2009 North American study showed a propensity for people to attribute their own beliefs to their God. The 2015 Ginges, Sheikh, Atran, Argo study discussed here does not support that study. Hence it would be worthwhile investigating under what circumstances egocentric beliefs are attributed to God. Is this more likely among the less devout? Are there consistent cultural variants? Do different communities have different interpretations of God's will in contexts of war or other conflicts? Does a belief in God's will encourage or discourage a sustained commitment to other issues that are central to intergroup violence?
These are questions for future research.
Conclusion
We think it is striking that despite the salience of religious violence in the Israel–Palestine conflict, a random sample of Palestinian Muslims recognize Allah as a deity who is more concerned than they are with the fate of members of a perceived antagonistic group, and more approving of sacrifice on the part of Muslims to save the lives of Jewish children on the other side of a violent conflict. . . .

[O]ur findings cast doubt on the notion that there is something special about religious faith, including Islamic belief, that invariably favors promotion of violent intergroup conflict.
The following two tabs change content below.
Neil Godfrey
Neil is the author of this post. To read more about Neil, see our
About page.
Latest posts by Neil Godfrey (see all)
---
If you enjoyed this post, please consider donating to Vridar. Thanks!
---