Abstract of a recently published article by Princeton University Professor of Classics, Brent D. Shaw:
A conventional certainty is that the first state-driven persecution of Christians happened in the reign of Nero and that it involved the deaths of Peter and Paul, and the mass execution of Christians in the aftermath of the great fire of July 64 C.E. The argument here contests all of these facts, especially the general execution personally ordered by Nero. The only source for this event is a brief passage in the historian Tacitus. Although the passage is probably genuine Tacitus, it reflects ideas and connections prevalent at the time the historian was writing and not the realities of the 60s. 
Brent D. Shaw (2015). The Myth of the Neronian Persecution. Journal of Roman Studies, 105, pp 73-100 doi:10.1017/S0075435815000982
I will attempt to outline some of the points I found of particular interest in his article.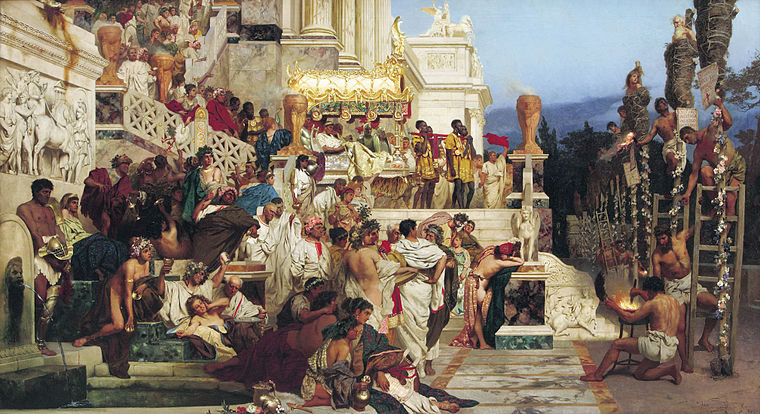 Shaw argues that the famous story of Nero burning and in other ways torturing Christians as punishment for the Great Fire of Rome in 64 C.E. never happened. (As usual, bolded font and formatting are my own.)
Nero's spectacular executions of large numbers of Christians in the aftermath of the fire that raged through the city of Rome in July of 64 is commonly regarded as a foundational event in the history of Christian martyrdom. They were the first executions of Christians performed at the behest of the Roman state. In almost every history of the early Christian Church, the event is marked as a dramatic turning point in the relations between Christians and the imperial government.
Given the surprisingly widespread acceptance of the great significance of this axial event in Christian history, the thinness of the evidence on all aspects of it is quite striking. The paucity and weakness of the data, however, have not prevented acceptance of the historicity of this 'first persecution' as an undisputed fact. Indeed, the degree of certainty in the Neronian persecution stands in almost inverse proportion to the quality and quantity of the data. Those who have expressed even modest scepticism about the historicity of the one explicit passage in the historian Tacitus that attests to the executions have been voces clamantium in deserto.
The simple argument of this essay, deliberately framed as a provocative hypothesis, is that this event never happened and that there are compelling reasons to doubt that it should have any place either in the history of Christian martyrdom or in the history of the early Church.
To begin with, there is no evidence that Christians were crucified as a penalty for their faith. The key reference here is Barnes, T. D. 2010: Early Christian Hagiography and Roman History, Tübingen. So much for the late legend of Peter being crucified, let alone crucified upside down. The late tales of the martyrdoms of Peter and Paul appear to have been expressions of what second century Christians wanted to believe. In the Gospel of John there was a prophecy that Peter would meet an undesirable fate and it seemed appropriate that he should die by crucifixion as had Jesus. For all we know from the available evidence Peter died in the 50s, in Jerusalem, peacefully in his sleep. Paul, according to Acts, was in trouble not for being a Christian but for being a disturber of the peace.
Continue reading "The Myth of Nero's Persecution of Christians"