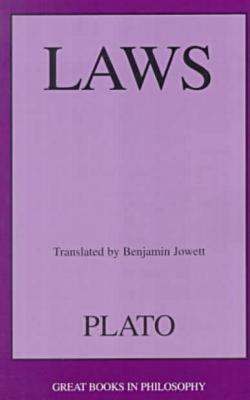 I had long and often read and heard that the values of the Greeks and Jews were an entire world apart. The Greeks embrace the austere and the ribald gods, nudity, homosexuality, worldly wisdom, the arts, beauty and pleasure; the Jews embrace a caring yet moral god, modesty, family values, divine wisdom, spiritual pursuits.
But read one of Plato's last written works, Laws, and those contrasting images begin to blur into monochrome.
Plato's Laws is an exploration of what the ideal laws for a new state would look like. Plato presents his ideas through a three-way discussion involving an Athenian stranger, a Spartan named Megillos and a Cretan, Clinias, as they are traveling to the sacred site of the cave of Zeus on the island of Crete.  Anyone familiar with the Old Testament cannot help but be struck by many points of contact.
I have been wanting to write this post (or series) for a few years now and each time have been put off by the amount of work that organizing the material would take. I have decided now to take the easy way out and simply dot point similarities as one reads through the Laws even though this will involve repetition and disjointedness of themes. Take these posts, then, as a draft document for a more coherent presentation. I will often refer to biblical passages generally without quoting them since most interested readers will know of them anyway and they are details I can fill in later.
There is no reason to think that Plato, writing in the early fourth century BCE, was influenced by the Jewish writings. (Later church fathers did attempt to argue that Plato had indeed been indebted to Moses.) A number of scholars in recent decades have argued that the Pentateuch originated much later than has traditionally been thought — some arguing that the Pentateuch may date as late as Hellenistic (from late fourth century) times. I do not discuss explanations of the similarities of thought here. It is enough at this stage to set out apparent evidence for commonality.
I further comment from time to time on points of contact between Laws and the biblical literature that do not relate to legal content. I am not arguing that Plato's work itself was a direct influence (nor do I deny the possibility) but do want to highlight the literary tropes, the wider literary culture, in which the biblical writings were produced.
I once posted on Hock's admonition that New Testament scholars should read ancient novels; they should also read ancient philosophical works and acknowledge more fully than many of them currently do the extent to which the Bible is a product of its wider contemporary literary and ethical cultures.
We start with Book 1.
Benjamin Jowett translation at Internet Classics Archive is in dark azure.
R. G. Bury translation at Perseus Digital Library is in indigo.
The Purpose of the Law
Deut 28, Exod 19, Lev 26, Psalm 1 . . . . the law bestows blessings, both spiritual and material. Among these are good health and physical strength; also great wealth. Godly wisdom is the chief blessing.
Deut 4:6-8 – Law brings reputation for being a wise and understanding people, a light to the world.
Plato, Laws 1.631b: 
The object of laws . . . is to make those who use them happy; and they confer every sort of good. [=They are true laws inasmuch as they effect the well-being of those who use them by supplying all that are good.]

Now goods are of two kinds: there are human and there are divine goods, . . . Of the lesser goods the first is health, the second beauty, the third strength, including swiftness in running and bodily agility generally, and the fourth is wealth, not the blind god [Pluto], but one who is keen of sight, if only he has wisdom for his companion. For wisdom is chief and leader of the divine class of goods, and next follows temperance; and from the union of these two with courage springs justice, and fourth in the scale of virtue is courage. . . . 
(Note here the taxonomy of virtues: first, wisdom; followed by temperance, etc. Such lists are common tropes in Hellenistic literature and it pays to understand this when we read similar lists in the New Testament writings.)
Plato continues by having the Athenian explain that the ideal laws must lead citizens in all aspects of their lives, regulating their passions, desires, tendencies to anger; including how they respond to both ill-fortune and good in their lives. The laws must bestow honours on those who comply and punishments on those who don't.
For Plato the law is a moral instrument with the purpose of making people good, as seen in 632e:
the rules we discussed just now had goodness for their aim
Or per Jowett:
And when we have gone through all the virtues, we will show, by the grace of God, that the institutions of which I was speaking look to virtue.
God is the source of the Law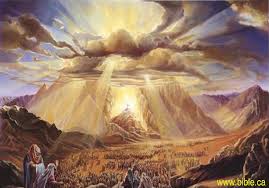 We are familiar enough with the Biblical narratives and teachings that God alone is the source of all its laws. We know from other Second Temple and some New Testament literature that there were alternative traditions claiming that angels gave some of the laws. The overwhelming message of the narratives in the Pentateuch, however, allow no room for such a view. God is always and often declared to be the one who gave the commandments and anyone turning away from this god and his laws was not to be listened to (Deuteronomy 13).
Compare Plato:
For assuming that you have reasonably good laws, one of the best of them will be the law forbidding any young men to enquire which of them are right or wrong; but with one mouth and one voice they must all agree that the laws are all good, for they came from God; and any one who says the contrary is not to be listened to. But an old man who remarks any defect in your laws may communicate his observation to a ruler or to an equal in years when no young man is present.
634e
All shall declare in unison, with one mouth and one voice, that all are rightly established by divine enactment, and shall turn a deaf ear to anyone who says otherwise
Plato was written for the wise elders in the know, for those who knew they were teaching myths for the moral edification of their people. Younger ones dare not criticize any of the laws; elderly men could, if they did so with a "good attitude", point out possible points of law that needed changing. The Bible's narratives hide behind anonymity. We don't know who the "wise men" were who were responsible for its tales.
Homosexuality is unnatural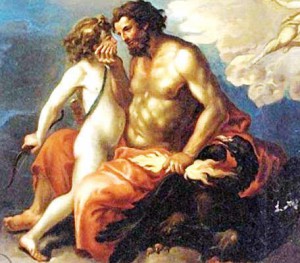 Both the New Testament and Old are very clear that homosexuality is "unnatural". Romans even speaks of those who sought to "justify themselves" in this behaviour that arises from "uncontrolled lusts".
Plato commends the good that come out of the Greek gymnasia and common meals but cannot deny that the same institutions are associated with sexual abuses, too.
Now the gymnasia and common meals do a great deal of good, and yet they are a source of evil in civil troubles. . . [Also…], among whom these institutions seem always to have had a tendency to degrade the ancient and natural custom of love below the level, not only of man, but of the beasts.
The charge may be fairly brought against your cities above all others, and is true also of most other states which especially cultivate gymnastics. Whether such matters are to be regarded jestingly or seriously, I think that the pleasure is to be deemed natural which arises out of the intercourse between men and women; but that the intercourse of men with men, or of women with women, is contrary to nature, and that the bold attempt was originally due to unbridled lust.
The Cretans are always accused of having invented the story of Ganymede and Zeus because they wanted to justify themselves in the enjoyment of unnatural pleasures by the practice of the god whom they believe to have been their lawgiver. Leaving the story, we may observe that any speculation about laws turns almost entirely on pleasure and pain, both in states and in individuals: these are two fountains which nature lets flow, and he who draws from them where and when, and as much as he ought, is happy; and this holds of men and animals-of individuals as well as states; and he who indulges in them ignorantly and at the wrong time, is the reverse of happy.
636c
when male unites with female for procreation the pleasure experienced is held to be due to nature, but contrary to nature when male mates with male or female with female, and that those first guilty of such enormities were impelled by their slavery to pleasure.
Compare Old Testament and New Testament image of two natural sources, two fountains, one representing the way of the law and blessings and the other of disobedience and curses.
Wine is good but avoid drunkenness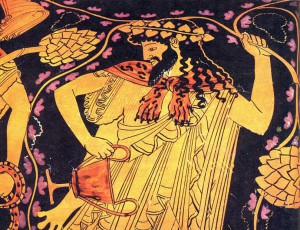 The Pentateuch commands the enjoyment of wine at religious festivals (Tabernacles). But we know drunkenness is condemned.
But the laws of Sparta, in as far as they relate to pleasure, appear to me to be the best in the world; for that which leads mankind in general into the wildest pleasure and licence, and every other folly, the law has clean driven out; and neither in the country nor in towns which are under the control of Sparta, will you find revelries and the many incitements of every kind of pleasure which accompany them; and any one who meets a drunken and disorderly person, will immediately have him most severely punished, and will not let him off on any pretence, not even at the time of a Dionysiac festival; . . . . 

Let us then discourse a little more at length about intoxication, which is a very important subject, and will seriously task the discrimination of the legislator. I am not speaking of drinking, or not drinking, wine at all, but of intoxication. Are we to follow the custom of the Scythians, and Persians, and Carthaginians,and Celts, and Iberians, and Thracians, who are all warlike nations, or that of your countrymen, for they, as you say, altogether abstain?
637a
The rules about pleasures at Sparta seem to me the best in the world. For our law banished entirely from the land that institution which gives the most occasion for men to fall into excessive pleasures and riotous and follies of every description; neither in the country nor in the cities controlled by Spartiates is a drinking-club to be seen nor any of the practices which belong to such and foster to the utmost all kinds of pleasure. Indeed there is not a man who would not punish at once and most severely any drunken reveller he chanced to meet with, nor would even the feast of Dionysus serve as an excuse to save him. . . .
637d
So let us deal more fully with the subject of drunkenness in general for it is a practice of no slight importance, and it requires no mean legislator to understand it. I am now referring not to the drinking or non-drinking of wine generally, but to drunkenness pure and simple . . .
Plato will return to this subject in the context of religious festivals.
More anon.
The following two tabs change content below.
Neil Godfrey
Neil is the author of this post. To read more about Neil, see our
About page.
Latest posts by Neil Godfrey (see all)
---
If you enjoyed this post, please consider donating to Vridar. Thanks!
---