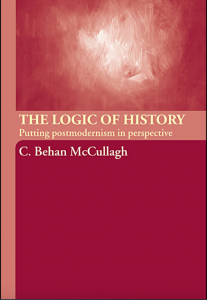 I have finally found two books on the practice of history, each by a scholar (other than Richard Carrier), that address the core questions I have often raised with respect to flawed methods of New Testament historians dealing with Christianity's origins. Both works address historical studies in general and only one from time to time casts a glance at what certain biblical historians are doing.
One is The Logic of History by C. Behan McCullagh (2004). McCullagh is a philosopher of history responding primarily to the postmodernist challenges to traditional historical practices in the field of history generally. Some of his arguments apply not only to postmodernist approaches, however, but equally to a number of flawed arguments by more traditional biblical scholars.
The other is Historical Evidence and Argument by David Henige (2005). In my next post I will address his fourth chapter titled "Unraveling Gordian Knots" where he applies his criticism to sentiments we find expressed repeatedly throughout New Testament historical works — and especially in regard to many New Testament scholars' attacks on the Christ Myth hypothesis.
This post addresses a few excerpts from C. Behan McCullagh's The Logic of History. 
Why has no-one else argued these points before?
The points have been argued before but apparently rarely applied to the methods of scholars specializing in the history of Christianity's origins and early growth. Nonetheless, when I first tried to think through how we came believe certain persons and events in the ancient past were historical and others not I was a little surprised that so little appeared to have been directly addressing this question.
Happily I have now found an explanation for my inability to find what I was looking for back then. On page one McCullagh writes:
Historians often learn how to assess their hypotheses by studying debates in history in the course of their education. They acquire a capacity to evaluate their hypotheses critically, without always being aware of the standards of rationality they are applying. Awareness of those standards, however, will make it easier for historians to ensure that their work is rationally defensible.

There are many good books which explain how students of history should undertake their inquiries, but they contain very little guidance as to the logic of historical reasoning. They are almost entirely about searching for answers to one's questions, and writing up the results. Yet the point of all the good practical advice is to gather information from which sound inferences about the past can be formed. Those inferences and arguments are at the heart of historical practice. (my own formatting and bolding in all quotations)
And in the conclusion of his Introduction on page 4:
I hope that this introduction to the logic of history will quicken historians' interest in the rational justification of their accounts of the past. It should help guide historians in the rational assessment of their own work and that of others.
So McCullough appears to be acknowledging that most of the current works on the practice of history have overlooked and taken for granted "the standards of rationality" being applied and "logic of historical reasoning". 
How to be sure we are reading a text the right way
Continue reading "Failure of the Logic of History in Christian Origins Studies"