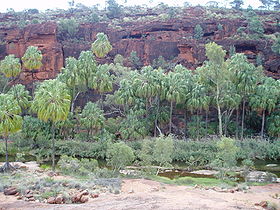 How old can an oral tradition be? How long can a social memory exist?
Surely much depends on the stability of the social organizations that sustain them. But can we imagine a story surviving through generations over 7,000 or even 30,000 years?
Scientists studying certain species of palm trees curiously surviving in Central Australia may have coincidentally confirmed Aboriginal stories that must date back at least 7000 years.
It had until recently been thought that palm trees in Central Australia were survivors from Gondwanaland, from before the time Australia split off from what is now Antarctica, South America and Africa, and a time when Australia was covered in rainforest.
Months of genetic testing by University of Tasmania ecologist David Bowman and a Japanese team eventually confirmed that trees that had long been thought to date from Gondwana ancestors are not nearly so old at all. They in fact date from the time humans inhabited the continent.
The results led him to conclude the seeds were carried to the Central Desert by humans up to 30,000 years ago.

Professor Bowman read an Aboriginal legend recorded in 1894 by pioneering German anthropologist and missionary Carl Strehlow, which was only recently translated, describing the "gods from the north" bringing the seeds to Palm Valley.

Professor Bowman said he was amazed.

"We're talking about a verbal tradition which had been transmitted through generations possibly for over 7,000, possibly 30,000 years," he said. Continue reading "The Oldest Oral Traditions in the World"