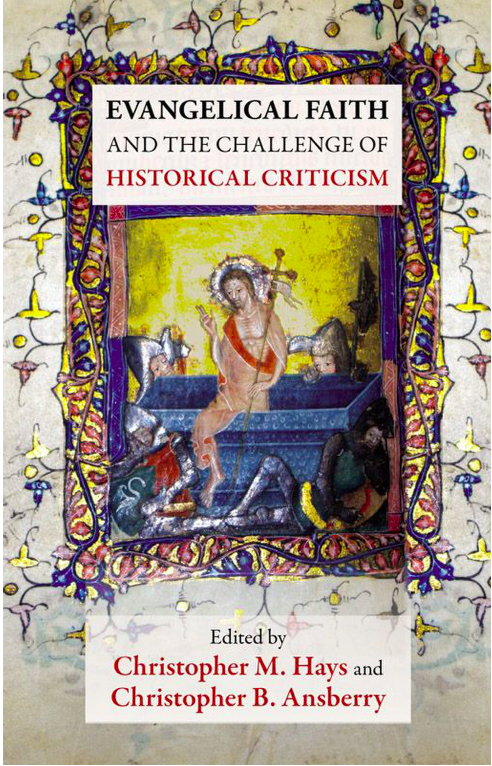 Two evangelical scholars declare as an article of faith that historical criticism has a place in their study of the Bible:
The scholars in this volume believe that we should approach Scripture as a collection of historical texts. . . . As evangelicals, we believe that there needs to be space for an approach to Scripture that is historical critical. 

That credal statement comes from Evangelical Faith and the Challenge of Historical Criticism by Christopher M. Hayes and Christopher B. Ansberry.
I really don't quite know how to respond to a claim that historical critical analysis should be enshrined as a statement of belief. Where does one start?
The contradiction would be mitigated a little if the authors meant that the Bible's books should themselves be approached as historical artefacts that required historical examination and explanation. How do the letters and gospels in the New Testament , for example, compare with other literature of the day? When do they first appear to be independently acknowledged in the historical record How can we best account for their contents and any "traditions" surrounding them?
But reading further it is very clear that what Hays and Ansberry really mean is that the stories found in those books are "believed" to be in some literal sense historically true:
This endeavour ought well to be historical, because we believe that God has chosen to reveal himself in history, to Abraham, to Israel, and ultimately through Jesus.
This leaves no room to question the fundamental core of the Bible's stories of Abraham, Israel or Jesus. Yet a number of scholars without such faith constraints have indeed used historical critical tools to reject completely any truth underlying the stories of the patriarchs and to reshape the Biblical story of Israel beyond all recognition to anyone brought up on Bible stories.
It would appear then that historical criticism is only permissible if it serves to support the faith:
And this endeavour should be critical because, in the footsteps of the great Reformers, we do not want to confuse our human traditions with God's own revelation. . . . 

In fact, refusing to engage in historical criticism at all can only have the effect of preparing the next generation for apostasy — or at least preparing them to leave evangelicalism. 
I'm not exactly sure what defines an "evangelical" but I do suspect that this is the approach of a good many biblical scholars. The difference with many is that they have a more liberal faith that does not require Jesus to have been born of a virgin, have performed miracles and have been literally (and physically) resurrected.
Theology always trumps historical criticism:  Continue reading "Evangelical Scholars and the Limits of Historical Criticism"