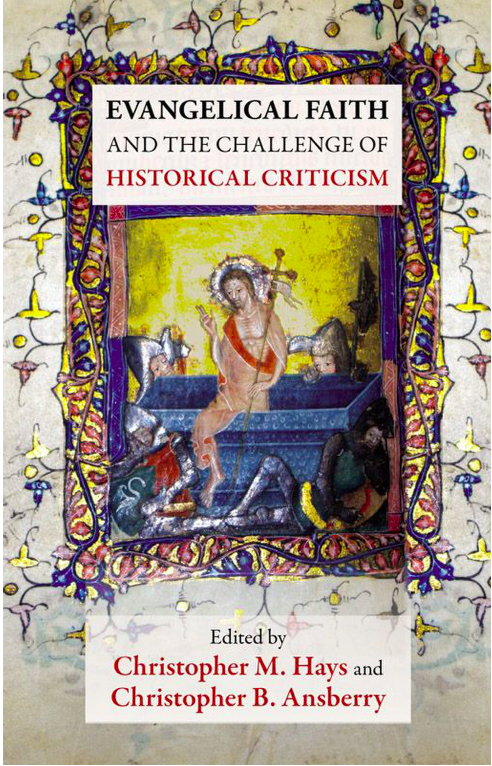 Two evangelical scholars declare as an article of faith that historical criticism has a place in their study of the Bible:
The scholars in this volume believe that we should approach Scripture as a collection of historical texts. . . . As evangelicals, we believe that there needs to be space for an approach to Scripture that is historical critical. 

That credal statement comes from Evangelical Faith and the Challenge of Historical Criticism by Christopher M. Hayes and Christopher B. Ansberry.
I really don't quite know how to respond to a claim that historical critical analysis should be enshrined as a statement of belief. Where does one start?
The contradiction would be mitigated a little if the authors meant that the Bible's books should themselves be approached as historical artefacts that required historical examination and explanation. How do the letters and gospels in the New Testament , for example, compare with other literature of the day? When do they first appear to be independently acknowledged in the historical record How can we best account for their contents and any "traditions" surrounding them?
But reading further it is very clear that what Hays and Ansberry really mean is that the stories found in those books are "believed" to be in some literal sense historically true:
This endeavour ought well to be historical, because we believe that God has chosen to reveal himself in history, to Abraham, to Israel, and ultimately through Jesus.
This leaves no room to question the fundamental core of the Bible's stories of Abraham, Israel or Jesus. Yet a number of scholars without such faith constraints have indeed used historical critical tools to reject completely any truth underlying the stories of the patriarchs and to reshape the Biblical story of Israel beyond all recognition to anyone brought up on Bible stories.
It would appear then that historical criticism is only permissible if it serves to support the faith:
And this endeavour should be critical because, in the footsteps of the great Reformers, we do not want to confuse our human traditions with God's own revelation. . . . 

In fact, refusing to engage in historical criticism at all can only have the effect of preparing the next generation for apostasy — or at least preparing them to leave evangelicalism. 
I'm not exactly sure what defines an "evangelical" but I do suspect that this is the approach of a good many biblical scholars. The difference with many is that they have a more liberal faith that does not require Jesus to have been born of a virgin, have performed miracles and have been literally (and physically) resurrected.
Theology always trumps historical criticism: 
It should be admitted that historical-critical inquiry does have its dark side, and one need not read long to amass many examples of a certain species of tiresome rhetoric among its adherents (e.g. language of the sort claiming that historical criticism at long last wakens its practitioners from their dogmatic slumber and frees the New Testament from the theological bondage to which it has been forcibly suppressed). One wonders if the cavalier confidence of such historical critics might not render them like the guards in the cover art on this volume. They are so certain that dead men do not rise that they snore at their posts. . . .
One reads in so many of the works of these "historians" the own "species of tiresome rhetoric" belittling the "philosophical outlooks" of those who deny the possibility of miracles and the very idea of God acting in history/
Modern rational thought must be kept within due constraints:
[M]ust historical criticism be viewed as an ideology whose demands are total? If we answer 'yes' . . . . then evangelicals should steadfastly refuse to practise it. If an ethics of belief will allow only those things that pass the bar of verifiable history, defined in Late Modern terms, then the ideologically determined historical method can permit nothing approaching an orthodox, much less evangelical, Christianity. . . . 
Evangelical Faith and the Challenge of Historical Criticism testifies to just how all pervasive this very limited application of historical criticism is in the wider field of biblical studies. When the authors explain the various "extremes" of interpretations in the academy for, say, Jesus, they write:
Nevertheless, even many of those disposed to this naturalist world-view do not deny that Jesus was widely known as a doer of spectacular deeds. The biblical texts provide ample testimony to fact that people around Jesus believed that they had witnessed supernatural phenomena. Thus supernatural potency came to contribute to Jesus' reputation even beyond the boundaries of his followers (e.g. Josephus, Ant. 18.63). 
And that's about as far back as "historical criticism" generally does. The Bible says Jesus performed lots of miracles so even though we many not want to naively believe the literal details of each narrative we can substitute a fuzzy idea that somehow people who saw Jesus came to think he had supernatural powers.
The possibility that stories like these were tales made up and inspired by other well-known stories of mythical miracle workers is very rarely even raised as a question let alone seriously examined. Yet that would surely be one of the first questions any serious historian would ask.
A serious historian would also want to comment on a most remarkable fact about the way these miraculous stories are narrated in the gospels. What is most unusual in a work of ancient history or biography is that those miracle stories of Jesus are told as bald facts without any suggestion of an author expressing some sympathy to readers who have want to hear some additional reason to believe them. Such an unsympathetic presentation is most unlike the way other ancient historians occasionally broached a story of a miracle being performed by a historical person. Yet such a necessary historical-critical question is, to my knowledge, scarcely ever raised among works of biblical historians.
The gospels are assumed to be "historically true" to the extent that they depict Jesus as a miracle worker. And if historical criticism wishes to protest then it can take a back seat:
In other words, historical criticism is out of its methodological depth when evaluating the allegedly miraculous. 
Even biblical scholars who profess to be atheists or agnostics — like Casey, Crossley, Ehrman — are caught up in the same presuppositions.
Ansberry and Hays associate more "liberal Christian" scholars such as Robert Funk, the principle figure associated with the Jesus Seminar, among those who would "overthrow Christian dogma":
A historical reconstruction of Jesus that is antagonistic to a theistic world-view can hardly produce a theologically relevant figure, except as an attempt to overthrow Christian dogma (one thinks of Lüdemann or Funk here.) 
That could hardly be plainer. The interest is not in historical criticism for its own sake. Historical criticism must be controlled and applied within strict limits in order to serve theological interests.
The main difference with most other scholars who are not "evangelicals", I suspect, is that the latter have either a more liberal theological agenda (and hence allow a slightly larger play-pen for historical criticism) or they have no theological agenda but they do have academic interests that must work within the models and rules set down by discipline overwhelmingly dominated by various shades of belief.
The following two tabs change content below.
Neil Godfrey
Neil is the author of this post. To read more about Neil, see our
About page.
Latest posts by Neil Godfrey (see all)
---
If you enjoyed this post, please consider donating to Vridar. Thanks!
---