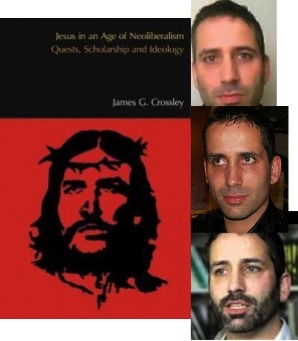 This post is an overview of chapter 4 of Jesus in an Age of Neoliberalism by James Crossley and is part of the series reviewing this book.
Crossley's stated purpose of this chapter is
to show that a dominant feature of the quest for the historical Jesus — Jesus as Great Man — works in harmony with a dominant capitalist understanding of causality, particularly the importance of a freely acting autonomous individual with little concern for material conditions as historical mover. (p. 68)
(Once again we see the ambiguity and and vagueness of definition coming through as so often in Crossley's works: "a dominant understanding", "Jesus as Great Man", "working in harmony with" — these leave lots of room for many exceptions, qualifications and imprecision and even inconsistencies in hypothesized relationships.)
What troubles Crossley is that the traditional focus of historical Jesus studies has concentrated on the qualities and actions of the person of Jesus in order to explain the formation of Christianity and tended to either overlook or minimize the role of larger historical forces (sociological, economic, political) in Christianity's emergence.
Most historical Jesus studies attempt to identify sayings and doings of Jesus the individual. They assume he personally is the decisive factor, effectively independent of other historical forces or trends, that produced the Christian religion. Crossley links this approach to what he calls "individualism" or "individualistic history", both in this context said to mean that the historian writes as if the individual acts all powerfully and autonomously in apparent disregard for larger forces in the material world.
So far I can sympathize with Crossley's concern. This contrast between historical Jesus studies and the sorts of historical studies in other fields (including historical biographies) was the first thing that struck me when I began to read works about the historical Jesus. To anyone who is even slightly familiar with other historical biographies it is very clear that the study of Jesus is in a class of its own.
But Crossley goes further and directly associates such an "individualism" with capitalist values.
And as (sic) the idea of individualism has, of course, been widely highlighted as typical of capitalist thought, not least because it has the positive (and convenient) connotations of freedom, though it can also (just as conveniently) blame the individual for their plight rather than any deeper rooted societal issues. (p. 80)
Crossley posits that the "great man" approach to the study of Jesus is "in harmony with" the capitalist system and values. (Some may question the relevance of this and argue that neoliberalism should really be associated with corporate values rather than the individualism that was so integral to capitalist philosophy up until the 1930s.)
Again I have to confess I find Crossley's message unclear. Scholarly reconstructions are not said to be making Jesus himself to be a capitalist. Crossley's target appears to be the politics of his peers even if these political views are not clearly linked with the particular types of Jesus they produce in their scholarship.
But Crossley for most part in this chapter tackles the historiographical question itself. He faults scholars for failing to address the larger historical questions of why Christianity emerged at the time and place it did. John Dominic Crossan, Crossley explains, did indeed attempt to do this to some extent, but at the same time he failed to the extent that his references to background sociological and economic forces were really used to explain what sort of person Jesus was. Moreover, readers of Crossan's work likewise focused on Crossan's view of Jesus as a Cynic-like peasant sage and tended to lose sight of the broader historical forces.
Thus for Crossley the fault lays not only with the authors but also the readers of the works on the historical Jesus.
Crossley is quite right in that historical Jesus studies do not produce the sort of historical biographies we find in other historical inquiries. Unfortunately he fails to grasp what I consider to be the real reasons for this quirk.
Jesus studies are primarily attempts to discover what qualities Jesus had, what he did, what he said. They do not work with a set of givens and demonstrate the ways that "great man" changed events and influenced people. Such ideas are very often found in the afterthoughts or prologues where the author expresses some devotional sentiment. The studies begin with the assumption that he did influence people and attempt to find out what it was that he said or did that had such an impact.
What I am getting at here is that there is no secure bedrock historical data that unambiguously testifies to the type of person Jesus was or the things he said did. Those historical biographies that dive in on the assumption that the gospels can be trusted as historical evidence are not going to be accepted among critical scholars. Increasingly now we see a number of critical scholars falling back to the "general impressions" of Jesus in the gospels as their bedrock data.
Of course these general impressions — e.g. that Jesus appealed to the poor because of his attacks on the rich (this is Crossley's own impression of Jesus that he takes as a historical given) — are really theological products. It is theology and literary mimesis that can be demonstrated as the core inspiration and source of the gospel narratives. A good number of scholars continue to sidestep the studies that clearly demonstrate the literary origin of the baptism, the miracles, the teachings of Jesus; they continue to work on the assumption that the canonical gospels are by and large the products of oral tradition and memories of the historical figure.
Given the long-held understanding that the gospels are indeed theological tracts scholars have sought to find ways and means to uncover the historical person beneath them. This indirect and inconclusive method is what makes historical Jesus studies unique. There are no clear criteria or methods that can reliably discover a real historical person that all scholars can agree upon.
This is quite unlike studies of other historical persons for whom we do have qualitatively different sorts of evidence. I won't delve into all the details of this now since it's a topic I have covered repeatedly in the blog and elsewhere.
My point is that Crossley fails to grasp why scholars have never been able to get beyond struggling to find what sort of person Jesus was and what sorts of things he did. The evidence is hidden beneath theological claims and there are no controls to guide historians or theologians to peel away theological layers in a way that will guarantee unambiguous historical data beneath.
And until we know what Jesus really did and what sort of person he was it remains impossible for us to know how he interacted with, or how he was shaped by, the broader historical (economic and cultural and political and sociological) trends of his day.
In historical biographies of Alexander the Great or Julius Caesar historians have clear evidence of what the persons did and the larger forces of social and political developments with which they operated. There are controls by which we can test much of this evidence. The reason historical Jesus studies are so different is not only because of the theological importance of Jesus the person but because all the undisputed evidence that we have from sources that qualify as possibly being informed by eyewitnesses or by people who knew eyewitnesses is theological. Every deed and saying in the gospels serves a theological function. Even Jesus' death has significance solely because of its theological meaning. When Jesus' family rejects him we are reading another patently theological datum: the prophet (like Joseph, David, Moses, and all the others) must be rejected by their own to affirm their validation by God.
Crossley's claim that a "great man" view of Jesus (as opposed to a study that finds Jesus to be a product and agent of larger historical forces) is debatable from another angle, too. Jesus does not teach "individualism" as a prized value. Quite the contrary. Jesus is presented as acting as a slave of God who calls others to become slaves who show the same kind of love and obedience that slaves were expected to have for their masters. Followers must lose their individualism, their lives, to follow him.
In sum, yes, Crossley is correct in noting that studies of the historical Jesus do tend to dwell upon the individual at the expense of addressing wider forces that might explain why Christianity happened where and when it did.
I believe he misses the key reasons for this failing of his peers, however. It is not only that Jesus is of theological importance, but the nature of the evidence for a historical Jesus is virtually non-existent. At least it is hidden, we must assume, behind theological narratives and sayings and ecclesiastical epistles that tell us precious little about a historical Jesus.
And yes, most of Crossley's peers are Christians or "lapsed Christians" (as Crossley himself reminds us) and we might therefore expect their political views to reflect the conservatism of the Christianity to which they belong. Crossley has not at this point suggested that these political views actually shape the character of the Jesus they produce in their scholarly studies.
The following two tabs change content below.
Neil Godfrey
Neil is the author of this post. To read more about Neil, see our
About page.
Latest posts by Neil Godfrey (see all)
---
If you enjoyed this post, please consider donating to Vridar. Thanks!
---