Most of us understand that the Gospels are theological narratives and do not report literal history. At the same time, probably most critically inclined readers believe that those theological narratives are ultimately inspired by historical persons and events. Their authors (or those responsible for their source information) are so "spiritually overwhelmed" by the inexpressibility of the wonder of these historical events that they are compelled to write about them through a language of theological surrealism.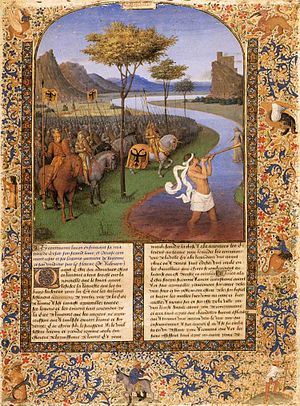 Comparisons are even drawn with ancient historiography. Ancient historians regularly introduced supernatural events and persons into their accounts of historical persons. It is worth looking at a few examples. We are meant to be assured that the Gospel narratives are of a similar ilk.
As he [Caesar] stood in doubt, this sign was given him. On a sudden there appeared hard by a being of wondrous stature and beauty, who sat and played upon a reed; and when not only the shepherds flocked to hear him, but many of the soldiers left their posts, and among them some of the trumpeters, the apparition snatched a trumpet from one of them, rushed to the river, and sounding the war-note with mighty blast, strode to the opposite bank. Then Caesar cried: "Take we the course which the signs of the gods and the false dealing of our foes point out. The die is cast," said he. (Suetonius, Life of Julius Caesar, 32)
No one doubts the reality of Augustus Caesar despite it being "recorded" of him by Philo that he stilled storms and healed diseases:
This is Caesar, who calmed the storms which were raging in every direction, who healed the common diseases which were afflicting both Greeks and barbarians . . .(Philo, Embassy to Gaius, 145)
The stilling of the storms may have been a metaphorical synopsis of Augustus putting an end to the wars that had long ravaged the empire but the philosopher Empedocles was reputed to have done as much literally:
Ten thousand other more divine and more admirable particulars likewise are uniformly and unanimously related of the man: such as infallible predictions of earthquakes, rapid expulsions of pestilence and violent winds, instantaneous cessations of the effusion of hail, and a tranquillization of the waves of rivers and seas, in order that his disciples might easily pass over them. Of which things also, Empedocles the Agrigentine, Epimenides the Cretan, and Abaris the Hyperborean, receiving the power of effecting, performed certain miracles of this kind in many places. Their deeds, however, are manifest. To which we may add, that Empedocles was surnamed an expeller of winds (Iamblichus, Life of Pythagoras, 135-136)
And of course we know of the tales of miraculous births of Alexander the Great and Plato. Both were conceived by a god. There are many more. King Pyrrhus healed by touching a reclining patient with his foot. Emperor Vespasian healed a withered hand and restored the sight of a blind man.
So there we supposedly have it. The gospels, we are assured, are no different from other ancient accounts of famous historical persons, mixtures of fact and fable.
I don't think so. Continue reading "How Historical Imagination Destroys the Gospels"