R. (Rabbi?) Joseph Hoffmann's "semi-sincere New Year's resolution for 2013 is to be nicer to the mythicists". I'm touched. He explains the reason for his semi-sincere change of heart. It is not the ghetto-dwelling buggers' fault for carrying diseased ideas. The fault lies with his fellow scholars who have fed them "stammering indecision, deconstruction, conspiracy-theories, and half-baked analogies of a hundred years of uncongealed scholarship." I think that's Hoffmann's way of complimenting the mythicists for making the effort to engage with New Testament scholarship.
But like Bart Ehrman, Hoffmann thinks it is time to come out and say that though just about everything you read in the gospels is a myth, if you look carefully you will see that it can all be rationalized so that at least its foundation is not myth. Scholars have indeed been wise enough to see that the emperor's or king of kings' clothes are nothing but the finest embroidery.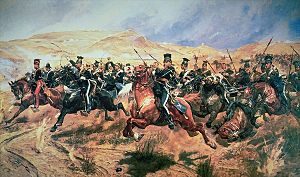 So with incompetent peers to the right of him and disease carrying mosquitoes to the left of him, Hoffmann (who, like Jesus, probably thinks he is the deliverer) rides down into the valley to sort it all out. But in a nicer way than before (semi-sincerely). I hope I will be able to handle all the love-bombing.
Everyone's reconstruction about Jesus has been wrong — except Hoffmann's. It's the claim of probably every HJ scholar.
If only those stupid mythicists (whose stupidity is not their fault, let's be a bit nice about this) had heard "the right" reconstruction of the HJ they wouldn't be buggerizing around down there in their intellectual ghetto. This echoes a well-known refrain of the Christian devout: if only we had heard the true gospel preached or known the true Christians we would not be such regenerate apostates today.
Bypassing Claude Lévi-Strauss who reminds us that any retelling of a myth (including a rationalization of it) is itself a variant of the myth and nothing but a new version of the myth, Hoffmann lays out what he thinks "the gospels tell us" we can be "relatively sure" is not-myth – that is, "true". He writes:
Think of this as a preview; I'll save persuasion, argument and evidence for later.
So let's list the points that the gospels assure us, relatively, is "true". We can tick them off as the evidence comes in for each one — which we are told will be soon. The following is taken verbatim (with only minor edits and reformatting) from Hoffmann's own post:
Jesus of Nazareth was born toward the beginning of the common era
to a peasant woman named Miriam. *
He was from the region known as the Galilee (ha-Galel: Josh. 20.7), *
and according to an early but dubious tradition from "Nazareth."
But the tradition soon lost track of the ascription
and seems to have used a place name for an imperfectly understood epithet based on the common Hebrew word נֵ֫צֶר or branch. *

* I like these little touches of Hebrew characters and transliterations. They all add to the appearance of serious scholarship — helping to make it appear quite "irrelevant" to the backwoods "hometown" types of #18)

No one knows what Jesus is supposed to have been a branch of, but the two likeliest prospects are of the sect associated with John the Baptist or the sect associated with Judas of Galilee.
The true identity of his father is unknown,
and both the Joseph-tradition and the ben-Panthera (Jewish polemical) tradition are flimsy attempts, respectively, to provide cover and to attack the shadowy circumstances of his origin.
the likeliest scenario is that Jesus was taken by his mother to Jerusalem as a boy,
As a teenager, he probably found work in the building projects associated with the reign of the Herodians.
He listened to apocalyptic preaching
and became an ardent opponent of the Roman occupation of Palestine.
He commenced his own preaching career in Jerusalem
and retreated to the Galilee during the sporadic but increasingly intense crackdowns on tax revolts and anti-government agitation that extended from Judas the Galilean to Theudas. (6 CE-46CE)
where he began to find followers and build a small movement.
this movement was a crashing failure in the outposts of the province since the iron fist of Rome affected city-dwellers in ways hardly imaginable outside Jerusalem.
In his "home town," the message of Jesus was largely irrelevant.
the political message of Jesus seems identical to the person described by Josephus (Ant. 18.1) as Judas of Galilee, who opposed the tax structure imposed on the Jews following the census of Quirinius
scurrying between the villages of the Galilee and the parlous environment of Jerusalem . . . seems to have characterized Jesus'career. . . .suspected of political agitation and holding reformist views about religion
accompanied by the followers who had come to believe he was a deliverer (perhaps believing it himself)
Jesus was arrested, accused of fomenting rebellion against Roman rule, and (possibly) with the capitulation of Jewish leaders, executed.
Jesus used apocalyptic utterances and threats as political cover. . . . he used it as a stereotype ritual curse and not as a prophecy of messianic return.
The securest parts of the Jesus-tradition therefore are the apocalyptic sections of the gospels such as Mark 13, though these have been repeatedly altered to conform to the changing expectations and beliefs of the community Jesus left behind.
That community was unalterably changed by two events: the destruction of the Temple, which eviscerated apocalyptic of its historical power, and the preaching of Paul, which deprived Jesus of his historical context and turned him into a mixed-messianic figure.
In Jerusalem, Jesus was remembered as a charismatic outlaw.
the Romans conducted his trial with disptach.
It would have been handled by a magistrate and not by the governor of the province.
Jesus seems to be a typical purist member of "the fourth sect," the religious group Josephus associates with the final troubles leading to the wars of 66-70.
These "threats" are primarily cosmopolitan issues that were more intense in Jerusalem than the provinces, making a "Galilean" provenance for Jesus, or his inexperience (a one week acquaintance!) of the city, implausible.
the injunction to "love" one's enemies — Jesus does not display any of these characteristics in his remembered controversies with members of other sects, so there is no reason to suppose he would have encouraged others to display them to total strangers. In this respect, the controversy stories, though not in every detail, are the best indicators of what the "personality" of Jesus may have been like.
Jesus' critical agenda that flows from a general distaste for ritual,
Jesus also taught the irrelevance of social caste,
and was suspicious of priestcraft and law,
and conscious of the meaning of sin and the "power" of God.
None of this, I am sure (?), rests upon an a priori assumption that there was an historical Jesus behind the myths to be rationalized in the first place. Haven't we heard it all before? Don't we already know the "evidence" that is going to be touted for each of these points? Maybe Hoffmann has some innovative surprises for us. He has certainly surprised us before. His amazingly courageous argument that the "born of a woman" phrase in Galatians 4:4 was evidence of Jesus' bastardry certainly left many onlookers amazed with a great amazement.
Speaking of surprises, I like his "Jesus did not teach love", touch — "controversy was his thing", "Jesus probably saw himself as a deliverer but his movement was a crashing failure", he belongs nowhere in this world, neither in Jerusalem nor in Galilee — How much of this Jesus, we must ask, is a projection of the cantankerous Hoffmann in controversy with the whole world (à la Schweitzer)? One cannot help but wonder!
The logic seems to be:
Each point can be shown to be a rationalization of some myth or contradiction in the Gospels,

and altogether it makes a plausible story,

therefore it is (we can be relatively sure) true history.
Of course all of this overlooks entirely the only reason the subject is of any interest to anyone in the first place. Jesus came to be worshiped as part of the divine being. That's what any reconstruction has to explain.
We need something like this:
Each point can be shown to naturally give rise to a particular myth or contradiction in the Gospels,

the plausible story can plausibly explain Christianity,

therefore it is (we can be relatively sure) true history.
But that will only work if we can establish, by some external verification, that "each point" in #1 really did happen
There is a better way:
Apply the more scientific/objective methods of classical source-criticism for ascertaining the date and origins of the gospels. (This will avoid the circularity of relying upon the texts themselves and the construction of hypothetical sources. It will also avoid the pitfalls of constructing hypotheses about oral traditions that are not supported by scholarly studies of oral traditions.)

From this base, assess by comparative-analytical studies the exact nature of the evidence we have. What is it? What sorts of questions can legitimately be asked of it? Is its narrative a reference to real external events or is the thought-world it depicts something else?

Seek the best explanation for the evidence of #2 by means of reference to other evidence — not by means of hypothetical scenarios that have no external verification.
Maybe Hoffmann does follow the better way. Let's see.
The following two tabs change content below.
Neil Godfrey
Neil is the author of this post. To read more about Neil, see our
About page.
Latest posts by Neil Godfrey (see all)
---
If you enjoyed this post, please consider donating to Vridar. Thanks!
---