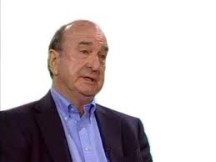 Historical Jesus scholars cannot deny the archaeological and literary evidence testifying to the grand economic importance of the major city of Sepphoris which was a mere one hour's walk away from the "nobody-ever-heard-of-it" village of Nazareth. Why does such a major metropolis not once appear in the Gospels? Here is E. P. Sanders' answer:
Jesus was not an urbanite. The cities of Galilee — Sepphoris, Tiberias and Scythopolis (Hebrew, Beth-Shean) — do not figure in the accounts of his activities.  He doubtless knew Sepphoris, which was only a few miles from Nazareth, but he nevertheless seems to have regarded his mission as being best directed to the Jews in the villages and small towns of Galilee.  Nazareth was quite a small village.  It was in the hill country, away from the Sea of Galilee, but Jesus taught principally in the villages and towns on the sea. . . . . (p. 12. The Historical Figure of Jesus)
Okay, that's fine. But it also raises a question. Why do the Gospels so consistently speak of Jesus attracting a massively large following from far and wide — Tyre and Sidon and places beyond the Jordan and "Edom", for heaven's sake, many days' walk from Nazareth — yet fail to mention Sepphoris. Why is Capernaum cursed as if it were a great metropolis whose inhabitants had rejected him, but nary a word of Sepphoris?
No.  To fob this off by rationalizing that Jesus was "not an urbanite" is nonsense.  The clear implication of the Gospels is that Jesus did at times venture into urban areas more sizable than Nazareth. We have to accept reports that indicate Jesus was interested in reaching out to people. In Mark 1 and 2 we read that Jesus did enter Capernaum, clearly a larger urban centre than Nazareth, on the shore of the Galilee lake. Yet even quite apart from the question of where Jesus went to deliver his message to save as many souls as he could, we are still left with the Gospel narrators' perception that when hundreds and thousands flocked to see Jesus, they came from places we know as Lebanon, Syria and Jordan, as well as from sizable urban areas around the Galilee lake, the major city rubbing shoulders with Jesus' supposed birthplace, Nazareth so famous that it attached itself as an epithet to Jesus' name (Jesus of Nazareth), — yet not a single whisper of Sepphoris!
Note what we are told about Jesus and the big cities. Jesus frequented Capernaum and later described that place as having witnessed his works and being such a centre as to be "exalted unto heaven":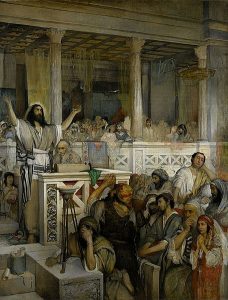 Matthew 11:23
[23] And thou, Capernaum, which art exalted unto heaven, shalt be brought down to hell: for if the mighty works, which have been done in thee, had been done in Sodom, it would have remained until this day.
If Sepphoris were a major metropolis not far around that last bend in the road, then it surely sounds ridiculous to signify fishing village Capernaum — the scene of many of Jesus' miracles and teachings — as an urban area "exalted to the heavens".
When the author of the Gospel of Mark wanted to convey the wide extent of Jesus' influence he mentioned major urban dwelling after urban dwelling but always happened to miss the one historical major urban dwelling but an hour's walk from Jesus' home-town:
Matthew 11:21-22
[21] Woe unto thee, Chorazin! woe unto thee, Bethsaida! for if the mighty wo

rks, which were done in you, had been done in Tyre and Sidon, they would have repented long ago in sackcloth and ashes.
[22] But I say unto you, It shall be more tolerable for Tyre and Sidon at the day of judgment, than for you.
And in Mark 3 we have major urban centres from as far off as Idumea, Jordan, Tyre and Sidon and Jerusalem. But still no Sepphoris!
[7] But Jesus withdrew himself with his disciples to the sea: and a great multitude from Galilee followed him, and from Judaea,
[8] And from Jerusalem, and from Idumaea, and from beyond Jordan; and they about Tyre and Sidon, a great multitude, when they had heard what great things he did, came unto him.
[9] And he spake to his disciples, that a small ship should wait on him because of the multitude, lest they should throng him.
Conclusion? 
His "biographers" knew nothing of Sepphoris. 
The conclusion from that conclusion?
The literary heritage of Jesus bears no relationship to historical geographic reality.
The rest?
Up to you. This is just one of many possible beginnings.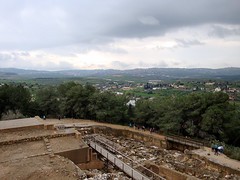 The following two tabs change content below.
Neil Godfrey
Neil is the author of this post. To read more about Neil, see our
About page.
Latest posts by Neil Godfrey (see all)
---
If you enjoyed this post, please consider donating to Vridar. Thanks!
---