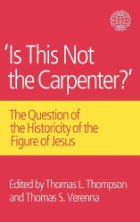 The opening chapter of Is This Not the Carpenter? is "A (Very, Very) Short History of Minimalism: From the Chronicler to the Present" by Jim West of the unaccredited Quartz Hill School of Theology (West has said he believes accreditation is "a scheme and a scam") that is a "ministry" arm of the Quartz Hill Community Church.
When I first read Jim West's article online in 2010 (before it was edited as part of Is This Not the Carpenter?) I was very surprised indeed. I responded with a blog post, The Refreshing Honesty of Jim West. Here is a section of his article/chapter that I quoted then:
Most "histories" of Ancient Israel and Earliest Christianity are simply examples of circular reasoning. Many historians use the Bible as a historical source; they reconstruct a history which is often nothing more than a recapitulation of the biblical telling; and the Bible is affirmed as historical because of the history so constructed. Similarly, the life of Jesus, for instance, is gleaned from a reading of the Gospels. Said reconstruction is named a 'history of Jesus' life." That "history of Jesus' life" is then utilized to prove historically the life of Jesus as described in the Gospels. One need only pick up John Bright's "History of Israel" or Joseph Ratzinger's "Jesus" to see circularity in action. True, ancillary materials are added to these histories (on the very rare occasions that they are available) – but these only reinforce the circularly circumscribed reconstruction.
As I mentioned in my initial response, Jim West has distorted the meaning of "minimalism" to sustain the conceit throughout his article/chapter. Minimalism is not, primarily, a denial of the value of texts for historical information. They certainly are valuable as historical sources. The question is what the "hard evidence" of archaeological finds and external controls can inform us about the nature and value of the texts as historical sources. Are their narratives true accounts of what happened or are they creative literature that is best explained as the ideology (or theology) of a people, time and place that can only be pinpointed with the aid of other sources external to those narratives?
Jim West's point is that the authors of our biblical texts were not interested in historical reconstruction or recording. To illustrate, he points to the author of 1 Chronicles changing 2 Samuel's account of God (Yahweh) causing David to take a census of Israel into Satan being David's motivator. The author, we thus can see, was doing theology, not history. Continue reading "'Is This Not the Carpenter?' — A (Very, Very) Strange History of Minimalism"