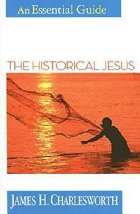 "This book is an essential guide to the life and thought of Jesus . . . "
That's James H. Charlesworth's opening line in the preface to The Historical Jesus: An Essential Guide, one title in Abingdon Press's Essential Guide series.
James H. Charlesworth is George L. Collord Professor of New Testament Language and Literature and Editor and Director of the Princeton Theological Seminary Dead Sea Scrolls Project, an internationally recognized expert in the Apocrypha and Pseudepigrapha of the Old and New Testaments, the Dead Sea Scrolls, Josephus, Jesus Research, and the Gospel of John.
In the twenties of the first century C.E., this man walked out of the hills of Nazareth and into world culture. (p. xiii)
Scholars say Jesus avoided large and cosmopolitan cities (until the last week of his life) so I look forward to learning what Charlesworth means by Jesus stepping out into "world culture". At the same time Charlesworth describes Jesus as one who happened to "stand out as one of the most Jewish Jews of the first century".
Jesus was driven by one desire: to obey God at all times and in all ways. For him, not a word of Torah may be ignored or compromised.
I'm not quite sure how one "stands out" for being "most Jewish" among other Jews. But the message Charlesworth wants to convey is clear.
More accurate historical knowledge
Charlesworth explains that today it is possible to "more accurately retell the story of Jesus" than it was 2000 years ago. This is because today we have more accurate historical knowledge of Jesus' world of Second Temple Judaism than the authors of the Gospels did.
Jesus lived when the Temple defined Judaism and the cosmos for most Palestinian Jews, even though there were many creative definitions of Judaism. Mark, Matthew, Luke, and the author of the Gospel of Thomas forgot, or never knew, the vibrant, exciting, and diverse Jewish culture that shaped and framed Jesus' brilliantly poetic insights. . . . John may be intermittently better informed of Jesus' time than the first three Evangelists. . . .

It seems obvious now, given the date of the Gospels and the struggle of the Evangelists to establish a claim that was unpopular to many Jews and Gentiles, that the Evangelists missed much of the dynamism in the pre-70 world or Jesus and the Jewish context of his life and thought. These are now clearer to us because of the terms, concepts, and dreams preserved in the Dead Sea Scrolls . . . (p. xiv)
My question is this. What would happen if we study the Gospels as if they are drawing upon post-70 C.E. understandings, concepts and interests and the Jesus narrative with all his deeds and sayings, though set in the past, is really addressing questions and issues that preoccupied the post-70 world? Would we find a coherent explanation of the Gospels this way and, if so, what need would there be to postulate a narrative based on an earlier time and setting that introduces anomalies and problems? Now that is what many form critics have believed to a large extent anyway, but even they have worked on the assumption that there was a good deal of oral tradition originating with Jesus that formed the underlay of much of what they wrote. Is there any reason not to see what happens if we work with a model the first Jesus narrative was entirely a post-70 creation?
Charlesworth explains his view of how the gulf arose between what Jesus meant and what later Gospel authors (mis)understood:
Terms such as God's Rule (the Kingdom of God), the Son of Man, and the Messiah are found in pre-70 Jewish writings that have been recovered in the past three centuries. Since Jesus' closest followers were fishermen or workers, it seems unlikely that they had access to such documents or were conversant with such concepts and terms. (p. xiv)
Is Charlesworth here saying that the average commoner Jew of the day was unfamiliar with concepts like the Kingdom of God or The Son of Man or even The Messiah? Don't so many scholars say that Jews of the day were all eagerly expecting a Messiah to come and overthrow Rome and establish the Kingdom of God from Jerusalem? I look forward to seeing how Charlesworth clarifies his meaning.
In the meantime, he continues:
However, because he was inquisitive, and occupied himself by discussing Torah with Pharisees and others, and was obsessed with knowing God and the traditions of Israel, Jesus probably knew such learned traditions and even perhaps some of the early Jewish documents that have been rediscovered in the past two centuries. While many of Jesus' terms might have been unfamiliar to his disciples, he might have clarified their meaning in private conversations (as in Mark 4:34). Also, one must not overlook that Jesus' followers are not portrayed asking him about the meaning of the terms he used. (p. xiv)
Charlesworth nowhere argues that Jesus grew up anywhere but the village of Nazareth. He will later point out that Jesus' interests were the farming and fishing life of rural Galilee. At the same time he was not poor otherwise he would have no time to reflect on all he was learning about the Scriptures and his own destiny or mission. I am personally unaware of any evidence that Pharisees were common in Galilee generally until after 70 CE (the fall of Jerusalem) — and would be very surprised to find a persuasive argument that they frequented the village of Nazareth during Jesus' growing-up years.
I would also be very interested to know how even a genius (as Charlesworth describes Jesus) was able to find opportunities to become not only literate, probably bilingual, but to have access to copies of the Scriptures and other texts — and learned teachers — in Nazareth. But Jesus was known, according to the tradition, as "from Nazareth". And it's not only copies of the Scriptures that Jesus is said to have accessed: Jesus is said to have been "deeply influenced by early Jewish theology . . . teachings, traditions" (p. xv). And how does one living in Nazareth in those days earn enough to have the luxury to have the time to become the equivalent of a philosopher or rabbi?
Charlesworth (henceforth JHC — not to be confused with the Journal of Higher Criticism; or should I just use JC?) himself does not raise these questions but they do come to mind nonetheless.
But JHC does also attribute to Jesus a number of "creative" and "revolutionary concepts".
His concept of suffering was extremely challenging to those Jews who expected a triumphant Messiah. His inclusion of the outcasts and the marginalized was unprecedented and especially offensive to many priests in Jerusalem. (p. xv)
Again I find JHC's points intriguing. One of my favourite studies is the place of the Akedah (the binding/offering of Isaac) and its development throughout Second Temple (pre 70) Judaism, especially in the context of the suffering of the Maccabean martyrs. Even the Davidic Psalms are largely devotional reflections on the need for suffering until God rescues the afflicted. But according to JHC, if the everyday commoner Jew was "not conversant" with concepts like the Kingdom of God or the Messiah then what was offensively or startlingly challenging to this very commonplace Stoic idea in the Hellenistic-Roman imperial world where most people were long attuned to the need for less than fulsomely abundant lives? And what offense to "many priests in Jerusalem" was a Galilean preacher whose outcast and marginalized followers were likewise confined to the area of Galilee? Besides, if those "outcasts" stopped being prostitutes and tax collectors and experienced healings then why would they be offended?
More objective methods
There is another reason JHC says is a reason we can write a more accurate story of Jesus than the Gospel authors did: we have more objective methods.
The Gospel authors (Evangelists), according to JHC, who wrote "biographies" of Jesus
did not have the inclination to explore historical issues or ponder the complexities of Jesus' life. They belonged to an ostracized and insignificant "sect" within the Roman Empire, and they were struggling to survive. They knew it was necessary to focus solely on Jesus and to proclaim Jesus' relation to God and his place within God's final plan of salvation. (p. xv)
That is why, says JHC, they told wrote narratives depicting Jesus as "the Son of God, the Good Shepherd, and, especially, the long-awaited Messiah" and not historically-true biographies.
Not even "inclined" to enquire and record anything about the "real" Jesus? One may wonder if there might lie at hand a simpler explanation for their interest in proclaiming "the Son of God, the Good Shepherd, and, especially, the long-awaited Messiah".
But JHC points out that modern historians have no such excuses.
We may, and should, ask questions the Evangelists could not ponder.
One wonders if conditions facing the authors were so dire that they "could not ponder" what Jesus may have been like in reality then how was it they were able to compose the works they did at all.
We should be more self-critical, especially in the light of the perennial penchant to create a Jesus who is admirable, even worthy of worship, because he is like us. We have access to new scientific methods for asking historical and sociological questions. We should not be blind to the fuller landscape of Second Temple Judaism and Jesus' place within it.

To peer through history to Jesus' time, as with a telescope, now seems possible, thanks to monumental archaeological discoveries and refined historical sensitivities and methodologies.
JHC has described Jesus as someone renowned for "brilliant poetic insights", "a genius" in the first two pages of chapter one but we will resist the perennial penchant to create a Jesus is who admirable because he is "like us". 😉
I especially look forward to learning of our "new scientific methods for asking historical and sociological questions." Sociological questions are certainly something new to our era. What disappoints me, however, is JHC's apparent blindness to less "scientific" and more "artistic" questions such as the nature of literary compositions in the first and second centuries C.E. The modern world has also seen remarkable advances in literary studies that potentially open up ground-breaking insights into the nature of the Gospels and other early Christian literature. Studies in intertextuality, mimesis, midrash, pseudepigrapha, genre have surely opened up major new understandings of the nature of the Gospels as both literature and theology. Why do we even assume that the narrative is genuinely about a real person and event from a generation earlier, to begin with, and not a personification from the get-go designed to address post 70 issues? Add to this the advances made by the "Copenhagen School" and so-called "minimalists" in studies of the Old Testament that have brought OT studies more frequently in line with normative non-biblical historiographical studies, and we have a whole new paradigm through which we may construct hypotheses for the origin of the Gospel literature — even Christianity itself.
Some readers may be wondering how archaeology casts lights on Jesus, so JHC explains:
By perceiving how small a "lamp" was in Jesus' time, we can comprehend why the young women lost the light of their lamps and were left in darkness (Matt. 25:1-12). Archaeology and sociology thus become important methods for re-creating and imagining Jesus' time and society.
Later JHC will suggest that we are not interested in mundane details that archaeology might offer us — such as a piece of pottery recording how much wheat JC might have threshed in a day — but only "meaningful" things he said and did. Don't misunderstand. I've been in love with archaeology since my high school years. And if archaeologists ever uncovered a shard that suggest Jesus the son of Mary and Joseph/Jahweh so much as looked at a handful of wheat I would be far more interested than any of those Evangelists who were so "struggling to survive" that they could not write a word about Jesus that was anything less than worshipful. Imagine the literature that would generate!
Disappointing conclusion
JHC concludes his "Introduction" with sub-headings like "Purpose", "History and Christian Faith" (a subsection in which JHC savages the very notion of 'Existentialism'), "Faith and History" and "Why is Jesus Research Necessary?" I will bypass these and conclude on JHC's remark that all this is necessary because, in JHC's own words:
How much reliable history can be discovered behind the proclamations concerning the one announced to be the Messiah? That question seems central, especially for Christians, since Christian faith is based on historical facts.
As an atheist who has read a little by Albert Schweitzer that statement does disappoint me. Does not this relegate Christianity to a very worldly religion? But that is something for Christians to sort out among themselves. But it does not bode well for a neutral observer's confidence in any studies of Christian origins undertaken by anyone of the Christian faith. But let's continue. I may be proved wrong.
The following two tabs change content below.
Neil Godfrey
Neil is the author of this post. To read more about Neil, see our
About page.
Latest posts by Neil Godfrey (see all)
---
If you enjoyed this post, please consider donating to Vridar. Thanks!
---