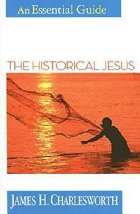 "This book is an essential guide to the life and thought of Jesus . . . "
That's James H. Charlesworth's opening line in the preface to The Historical Jesus: An Essential Guide, one title in Abingdon Press's Essential Guide series.
James H. Charlesworth is George L. Collord Professor of New Testament Language and Literature and Editor and Director of the Princeton Theological Seminary Dead Sea Scrolls Project, an internationally recognized expert in the Apocrypha and Pseudepigrapha of the Old and New Testaments, the Dead Sea Scrolls, Josephus, Jesus Research, and the Gospel of John.
In the twenties of the first century C.E., this man walked out of the hills of Nazareth and into world culture. (p. xiii)
Scholars say Jesus avoided large and cosmopolitan cities (until the last week of his life) so I look forward to learning what Charlesworth means by Jesus stepping out into "world culture". At the same time Charlesworth describes Jesus as one who happened to "stand out as one of the most Jewish Jews of the first century".
Jesus was driven by one desire: to obey God at all times and in all ways. For him, not a word of Torah may be ignored or compromised.
I'm not quite sure how one "stands out" for being "most Jewish" among other Jews. But the message Charlesworth wants to convey is clear.
More accurate historical knowledge
Charlesworth explains that today it is possible to "more accurately retell the story of Jesus" than it was 2000 years ago. Continue reading "Essential Guide to the Historical Jesus: Introduction (James H. Charlesworth)"