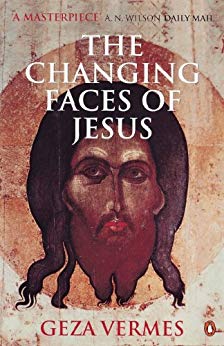 Catching up with Géza Vermes' The Changing Faces of Jesus I was surprised to find Vermes suggesting that the entire Philippian Hymn (2:6-11) is an interpolation inserted probably around the early second century!
I guess anti-mythicist crusaders have been on my back so much that I had begun to lose sight of what is acceptable and respectable fare in the works of mainstream biblical scholars.
For those not in the know Géza Vermes, according to the Wikipedia article (and I don't apologize for using Wikipedia since, for all its many faults, it has been recognized by a study published in Nature as no less authoritative than the Encyclopedia Britannica in science articles, so we may reasonably feel entitled to some confidence in the rest) is described as:
a noted authority on the Dead Sea Scrolls and other ancient works in Aramaic, and on the life and religion of Jesus. He is one of the most important voices in contemporary Jesus research,[1] and he has been described as the greatest Jesus scholar of his time.[2] (I retain the linked footnotes)
In the prologue Vermes reinforces his well-groundedness within the scholarly mainstream:
I have read a great deal over the years and learned much, positively and negatively, from other scholars. I have assimilated their learning and understanding and stored everything up in my heart. (p. 4)
Two or three posts ago I addressed the way not a few biblical scholars find ways to interpret the "Philippian Hymn" through Gospel presuppositions in order to make it conform to what they should expect from it if Christianity did begin with a historical Jesus (Turning the Philippian Hymn into a Precambrian Rabbit).
Géza Vermes, however, approaches it from another perspective and focusses on the way it promotes Jesus Christ "to quasi-divine status". Could Paul have really thought of Jesus in such terms? Vermes is sceptical. (This is clearly a troubling passage for the historical Jesus hypothesis: many other scholars, as noted in my earlier post, attempt to resolve it with their historical model by interpreting in the opposite direction from where Vermes takes it — as an indicator of Jesus' earthly humanity!)
Have this mind among yourselves,
which you have in Christ Jesus, who,
though he was in the form of God,
did not count equality with God a thing to be grasped,
but emptied himself, taking the form of a servant,
being born in the likeness of men. [cf other translations]
And being found in human form, he humbled himself
and became obedient unto death, even the death of a cross.
Therefore God has highly exalted him
and bestowed on him the name which is above every name,
that at the name of Jesus every knee should bow,
in heaven and on earth, and under the earth,
and every tongue confess that Jesus Christ is Lord,
to the glory of God the Father.
Vermes comments:
The expressions 'in the form of God', 'grasping equality from God', and 'emptying himself' echo mythological concepts familiar from the Gospel of John* and from later heretical Gnostic speculation. If so, chronologically they point to the early second century AD rather than the age of Paul. The hymn makes much better sense if it is taken as an existing liturgical composition inserted into the letter of the Philippians not by Paul himself but by a later editor. The fact that this poem can be removed without spoiling the general meaning of the chapter strongly favour the theory of its post-Pauline origin. (pp. 78-9)
*As for the date of John Vermes likewise places this in the second century:
. . . the so-called Gospel of John . . . reflects . . . the highly evolved theology of a Christian writer who . . . completed his Gospel in the opening years of the second century AD. (p. 6)
Géza Vermes, after all, is arguing that the most grandiose views of Jesus only appeared late. This clearly makes "sense" given a model of Christian origins that began with a despised law-breaker, blasphemer and crucified criminal. (At least if you find it plausible that a despised crucified criminal could evolve in people's imaginations to become essentially equal with God over a relatively few years — though Vermes speaks of three generations — I suppose it makes "sense".)
So there you have it. The next time a mainstream biblical scholar tries to tell you it is a spurious cop-out to propose interpolation in order to support your views of the way Christian thought developed and what Paul really meant or thought, then ask him or her if Géza Vermes is not being kosher when he does the just that. Maybe they will agree that in this Vermes is going too far. That's fine, but remind them that this sort of "going too far" seems to be one of those flaws that even the aristocrats of historical Jesus scholarship are from time to time permitted.
The following two tabs change content below.
Neil Godfrey
Neil is the author of this post. To read more about Neil, see our
About page.
Latest posts by Neil Godfrey (see all)
---
If you enjoyed this post, please consider donating to Vridar. Thanks!
---