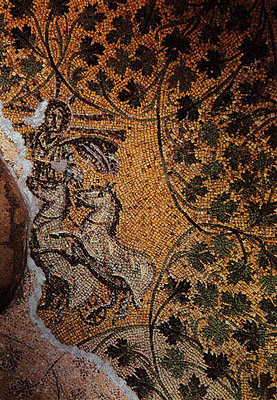 This post belongs to a series of chapter by chapter reviews archived here.
I have yet to read the pioneering Christ myth arguments of the eighteenth century French savants Dupuis and Volney who, I understand, argued that Jesus Christ was based on astrological, in particular solar, myths. So I looked forward to Derek Murphy's chapter 5 where he (re-)introduces astrological arguments purportedly underlying the Gospel Jesus myth.
This chapter of Jesus Potter Harry Christ turned out to be a mixed bag for me. I'll give the good stuff first. This is from the second page of the chapter, with the underlining and bold being my own emphasis:
While I will not claim that Jesus Christ is just a sun myth or solar deity, I hope to demonstrate that certain symbols and motifs found in Christianity can only be fully explained after exploring this ancient tale of the sun's journey. I will also establish that at least some early Christian communities associated Jesus with the sun (or previous solar deities) and deliberately incorporated astrological symbolism into their texts, rituals and practices. (p. 186)
Most biblical scholars would acknowledge that there is much mythology bound up with the Jesus tales in the canonical gospels, and Murphy himself reminds readers that to this extent there is nothing radically new about the grounds upon which the question of Jesus' historicity can be asked.
Murphy discusses here the place of astrology in ancient cultures, and describes a number of myths that are mapped out in several of the heaven's constellations. He also describes what he sees as the astrological origins of various religious symbols such as the solar cross and the serpent. His most detailed account is of the solar myths. It is here that we learn of the astronomical bases for several key motifs in Christianity and other religious myths: the cross, death for three days, death and resurrection, darkness and the underworld, conflict and overcoming of darkness and the power of the underworld, significances of the numbers 12 (disciples), 30 (Jesus' age, betrayal amount, John's disciples) and 40 (days in the wilderness), relationships to a ram and to fish.
Murphy makes an interesting suggestion of a link between Herod's massacre of the innocents and earlier tales of an escape of an infant hero from an evil tyrant being traced back even beyond the story of Moses and as far back as the myth that, in its Greek form, spoke of Chronos (Saturn/Time) who, on learning from a prophecy that one of his children was to replace him as ruler, began to eat his infant offspring one by one.
What is distinctive about Murphy's presentation is that he shows how such themes as these from ancient mythology have been with us in literature for centuries and continue to reappear in popular literature today. The solar myth tropes are applied both to historical and fictional characters: Alexander the Great (Murphy discusses the 2004 movie), Peter Pan, The Chronicles of Narnia, the Lion King (1994 movie). The basic story is millennia old, and each culture (and religion) re-presents it in new garb.
This leads to the obvious question:
The question now is to explore how deeply these symbols go in the story of Jesus, and whether they came from the sun myth either unconsciously or deliberately. If inclusions were accidental, or later additions, then we should be able to take them away from the figure of Jesus Christ without any ill-effect; without changing the basic core structure of Christian belief. (p. 205)]
Murphy's answer in the case of Jesus is:
However, we will see that astrological symbolism permeates the gospel story in such a way that it is unlikely to be coincidental, and also impossible to extricate it from "the real Jesus."
Murphy draws on Ulansey's research into the significance of the precession of the equinoxes for certain changes in religious symbols across the millennia, and the related mutations or extensions of certain myths.
Jesus today, of course, is far removed from any conscious association with the solar myths, but Murphy seems to point to some evidence that some early Christians depicted Jesus as a sun god. The Gospel of Matthew's narrative is set out chronologically against "subtle clues" that it is structured along a twelve-month zodiacal cycle from Aquarius to Capricorn. Not everyone will find this a slam dunk argument, but it could well serve as a discussion starter that has the potential to lead into many areas of gospel studies.
Now for the less good.
I would have liked more consistency or clarity of referencing by Derek Murphy. Specialist scholars like Walter Burkert are quoted alongside works of others like Joscelyn Godwin. I have no problem with that in principle, but without further elaboration it does potentially lead to confusion over what views are grounded in research and those that are better described as opinion pieces. One can try too hard to link the Christian motifs to the solar myth. I don't think anything would be lost by addressing more bluntly the fragile nature of some of the evidence for this view. This still leaves the door for debate open, and minimizes the risk of less informed readers prematurely attempting to place too much weight on certain claims. Murphy does from time to time qualify his arguments (e.g. the Chi-Rho symbol "may also have been a solar symbol . . ." — my emphasis) but my sense is that overall such qualifications are too easily missed under the mass of material that is presented.
I would also have liked to have seen a clearer elaboration of the chronological strata to which much of the evidence belongs, and where the evidence cited is late, to include a justification for applying its relevance to an earlier period. Evidence for Egyptian astrological beliefs is taken from a third to fourth century text (Iamblichus), but why not justify its relevance for the time when the Christian myth was in development?
Derek Murphy seems at times to say that the ancients derived much the same ideas or myths from their observation of the stars, whether they were in South America, China, or the various regions of the Levant. Yet there were significant differences. The stars don't obviously present themselves as certain shapes to all people; pre-existing cultural ideas have to be read into them.
Conclusion
Murphy concludes this chapter with the following questions —
But if the similarities between Jesus and pagan gods were accidental, how can we reconcile the evidence that many early Christians themselves worshiped Jesus as the sun? . . . .

If these events in the life of Jesus were taken from solar mythology, was the sun used as a metaphor to enhance Jesus' saving role? Or, conversely, was Jesus the metaphor . . . . ?

If we let go of the biographical details of the historical Jesus that are similar to solar worship, can we maintain, at the very least, the spiritual image of Jesus? . . . . (p. 224)
If Derek Murphy's purpose in chapter 5 has been to push such questions to the consciousness of readers then he has succeeded. My understanding of the stated purpose of the book is to raise awareness that the evidence is such that it allows for the asking of such questions.
I do not find every datum in chapter 5 convincing. But I do know that much evidence from early Christian times (into the second, third and fourth centuries) does not sit well with our canonical view of Jesus. The main features of the solar myth certainly do raise questions about the number of coincidences one finds with the gospel narrative of Jesus and the Christ myth in general. Will explore some (or one in particular) of these in the next chapter.
The following two tabs change content below.
Neil Godfrey
Neil is the author of this post. To read more about Neil, see our
About page.
Latest posts by Neil Godfrey (see all)
---
If you enjoyed this post, please consider donating to Vridar. Thanks!
---