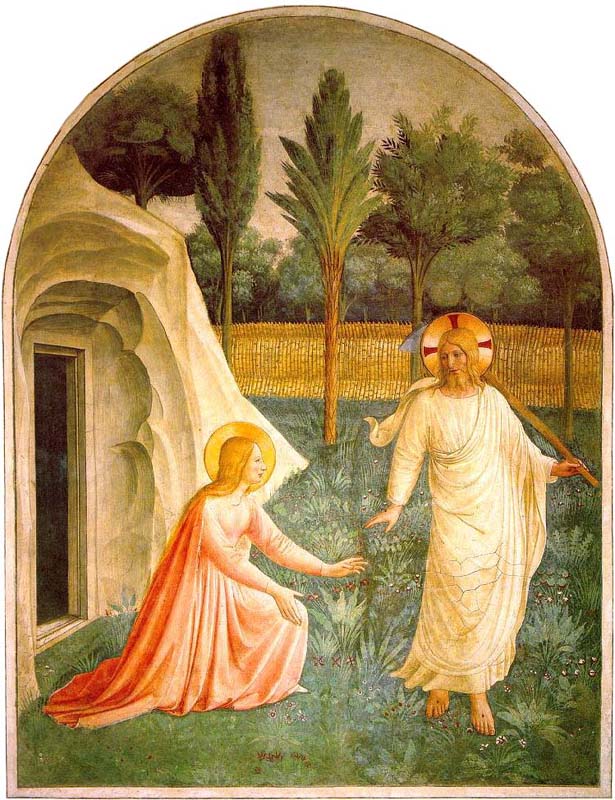 Or more specifically, what was the state of play around five years ago when Research Distinguished Professor and Chair of the Department of Philosophy and Theology at Liberty University, Gary R. Habermas, had a chapter published in The Resurrection of Jesus: John Dominic Crossan and N. T. Wright in Dialogue? Habermas outlines four broad positions found among contemporary scholars and identifies a trend in which a strong majority of scholars do favour the idea that Jesus really was raised from the dead "in some sense". I find his findings noteworthy for another reason that I will save for the end of this post. The link above is to the Wikipedia article on Habermas where he is described as an evangelical Christian apologist. Still, I was interested enough to know what the general state of biblical scholarship appears to be on the question, so I included his chapter in my reading.
"One of the indisputable facts of history"
Habermas writes (my emphasis throughout):
As firmly as ever, most contemporary scholars agree that, after Jesus' death, his early followers had experiences that they at least believed were appearances of their risen Lord. Further, this conviction was the chief motivation behind the early proclamation of the Christian gospel.

These basics are rarely questioned, even by more radical scholars. They are among the most widely established details from the entire New Testament. (p. 79)
He quotes Reginald Fuller claiming some years earlier that "one of the indisputable facts of history" is that the disciples of Jesus believed he had been raised from the dead. Both believer and unbeliever, Fuller said, can agree on "the fact" that the early disciples experienced what they believed were resurrection appearances of Jesus.
He also quotes D. G. Dunn:
It is almost impossible to dispute that at the historical roots of Christianity lie some visionary experiences of the first Christians, who understood them as appearances of Jesus, raised by God from the dead. . . . They clearly meant that something had happened to Jesus, God had raised him, not merely reassured them."
And also "more skeptical scholars" who make the same point. Thus Norman Perrin:
The more we study the tradition with regard to the appearances, the firmer the rock begins to appear upon which they are based.
And Helmut Koester:
We are on much firmer ground with respect to the appearances of the risen Jesus and their effect. . . . That Jesus also appeared to others (Peter, Mary Magdalene, James) cannot very well be questioned. (p. 80)
Habermas writes that therefore
The crux of the issue, then, is not whether there were real experiences, but how we explain the nature of these early experiences. What best accounts for the early Christian belief that Jesus had appeared after his death?
There is no doubt that the first disciples interpreted the Easter visions or appearances as signs of the heavenly presence of Christ. . . (p. 81)
Historians, of course, have no difficulty whatsoever speaking about the belief in Jesus' resurrection, since this is a matter of public record. For it is a historical fact that some of Jesus' followers came to believe that he had been raised from the dead soon after his execution. (p. 81)
Given the weight of such "unquestionable" conviction among biblical intellectuals, the only question to be raised is how to account for this belief of the disciples. Habermas maps four basic theories that fall into natural and supernatural options.
Habermas writes that biblical scholars who hold naturalistic hypotheses to account for the "undoubted fact" of Jesus' followers believing he had been resurrected are in "a decidedly minority position among the total number of commentators", although there had been at the time of his writing a slight increase in their ratio. (I don't know if any biblical scholars would go so far as declaring that laypeople should have enough respect for the intellectual authority of the majority of their peers and likewise embrace the belief that Jesus rose from the dead "in some sense".)
Natural Internal Theories
These explain the belief in the resurrection of Jesus in terms of subjective inner states of the early disciples. One such theory (William Marxsen) is that Peter was convinced Jesus was alive and that it was his contagious enthusiasm that persuaded others of this belief, too.
Gerd Ludemann likewise explains the belief as a result of visions brought on by "religious intoxication" and "enthusiasm" among the disciples.
Essentially this position is that visions were entirely subjective experiences, even hallucinations.
Habermas also includes here something he calls an illumination thesis, such as that of Robert Pesch. This is the view that the disciples were so impressed by Jesus' authority and teaching while he was alive that not even his crucifixion shook their faith. Habermas remarks that Pesch has modified this earlier view of his and now recognizes that appearances of Jesus can be established by "careful research". (I would like to follow up Pesch's arguments for this.)
Natural External Theories
Of these Habermas lists:
the swoon or apparent death theory, that Jesus revived once in the tomb (e.g. Margaret and Trevor Lloyd Davies)
questioning of the burial and empty tomb stories (e.g. John Crossan)
gospels are fabrications and the story of the resurrection appearances was a gradually emerging legend (e.g. G. A. Wells)
comparing the gospel story to ancient mystery religions and Near Eastern mythical figures such as Isis, Osiris, Adonis, Tammuz (e.g. Evan Fales)
illusions of the kind that lead to people believing they have seen UFOs, witches, Bigfoot (e.g. Michael Martin)
Unfortunately this list is a warning that Habermas is losing the thread of his argument. #2 above has no bearing on why the disciples believed Jesus was resurrected. Habermas is sounding like he is beginning to lash out at anyone who disagrees with the gospel account, period. # 3 and #4 have no bearing on the question, either, since they do not allow for any original disciples to believe in the resurrection in the first place.
Status of the Naturalistic Theories
Habermas turns to making claims about the resurrection itself, thus declaring his own belief that the reason the disciples of Jesus believed Jesus had been resurrected was that he really was literally resurrected.
In the twentieth century, critical scholarship has largely rejected wholesale the naturalistic approaches to the resurrection. For example . . . Raymond Brown calls the attempts "gratuitous charges" and points out that they are at odds with the information we have on these subjects. N. T. Wright treats a number of what he terms "false trails" and concludes that the problem with each attempt is that it runs up against "first-century history." Similarly, James D. G. Dunn asserts that "alternative interpretations of the data fail to provide a more satisfactory explanation" than the New Testament message that God raised Jesus from the dead." (p. 86)
Habermas even finds a couple of philosophers to support his belief in the resurrection of Jesus (not in the mere "fact" that it was the early disciples who believed in the resurrection), Steven T. Davis and Richard Swinburne. (If he has so little confidence in his own discipline, why not choose to quote an entertainment or sports celebrity?) Here Habermas sounds like he is slipping into polemic to convert any doubting readers:
All the alternative hypotheses with which I am familiar are historically weak. . . . The alternative theories that have been proposed are not only weaker but far weaker at explaining the available historical evidence." (Davis)

Alternative hypotheses have always seemed to me to give far less satisfactory accounts of the historical evidence than does the traditional account. (Swinburne)

Honestly, I think we should just trust our president in every decision that he makes and we should just support that, you know, and be faithful in what happens. (Britney Spears)
So Habermas consigns naturalistic explanations for early Christian belief in the resurrection to something that sounds like a fringe within biblical studies:
Exhibiting an amazing amount of consensus, most researchers across a very wide conceptual spectrum have rejected naturalistic approaches as explanations for the earliest Christians' belief in the resurrection of Jesus. . . . Accordingly, the path of natural alternative theories is definitely a minority approach. (p. 86)
One might as well simply state bluntly that biblical studies generally has no time for post-Enlightenment intellectual values. One is reminded of Niels Peter Lemche's point that critical scholarship should not even be engaged in professional discussion with such academics.
Still, I'm curious to know what explanations do dominate the field, so here are the supernatural "theories" as mapped by Habermas.
Supernatural Subjective Theories
The "theory" maintains that the early Christians experienced visions of light that were accompanied "with meaning". Habermas sums up these theories as involving "nonbodily visions", "most likely from heaven", through which the risen Jesus communicated messages.
Exponents Habermas mentions are Theodor Keim, Hans Grass, Reginald H. Fuller and "many major scholars" (Pannenberg, Moltmann, Jeremias, Kummel, O'Collins and Wilckens).
While Jesus was actually raised as an act of God, it was usually said that this event cannot be historically demonstrated, although there may well be some decent arguments in its favour. (p.88)
This view, Habermas informs us, was more popular up to the middle of the last century. Since then it has been largely replaced by a "supernatural objective theory".
Supernatural Objective Theories
These theories claim that Jesus appeared as far more than a body or vision of light, and even that historical evidence can confirm the objective reality of a resurrected Jesus.
Even before the publication of N. T. Wright's monumental volume The Resurrection of the Son of God in 2003, the tide had begun to turn toward the view that Jesus not only was raised miraculously from the dead but also appeared in a spiritual body. (p. 88)
Here Habermas appears to object to scholars (e.g. Ludemann, Crossan) acknowledge that the biblical characters believed this while not believing it themselves.
Habermas considers one milestone in the widespread scholarly acceptance of this view to be the 2002 publication of Resurrection edited by Ted Peters, Robert John Russell, and Michael Welker.
The eighteen contributors argue repeatedly that the resurrection of both Jesus and believers will be embodied, with most all holding some form of reconstitutionalism. (p. 89)
Habermas applauds N. T. Wright's contribution:
N. T. Wright furthered the argument yet another step. For more than five hundred pages in his recent volume, he argues very persuasively that, among both pagans and Jews in the ancient Mediterranean world up until the second century C.E., the term anastasis and its cognates . . . along with related words . . . almost without exception referred to bodily resurrection. Even the ancients who rejected the doctrine still used the relevant terms in this manner. Conversely, if they spoke about the soul or spirit being glorified or otherwise living after death, they used terms other than resurrection. Moreover, even Paul, who is most often said to have taught otherwise, held strongly to Jesus' bodily resurrection, as did the rest of the New Testament authors. (p. 89)
Habermas notes that Crossan has also said that he has been moving closer to Wright's position on the meaning of bodily resurrection in a Jewish-Christian context.
So,
the view that Jesus was raised bodily is currently the dominant position, if judged in terms of scholarly support. Moreover, some scholars who reject this view still hold that it was at least the New Testament position, including Paul's own teaching. This is a marked change from recent decades when Paul's view was often interpreted far differently. (p. 90)
Conclusion
Habermas observes that of the most influential scholars in the Third Quest for the historical Jesus not one subscribes to a naturalistic explanation as above.
Of 2000 scholarly publications from about 2000 to 2005 that dealt with the resurrection Habermas estimates that less than one-quarter of the scholars embraced a naturalistic explanation as a historical explanation. Almost all the others adhere to the view that Jesus was raised from the dead "in some sense". I would have liked Habermas to have clarified exactly how he defined "scholarly publications" in this context, and to have been a little more clear as to whether he was counting publications or different authors. Even a citation measure to help readers assess the impact of each of the different views would have been more helpful.
Thus, according to Habermas, was the scholarly climate around 2006 when Habermas's chapter was published.
I suppose Christian believers might be heartened by such a state of the game. But surely if this really is the way it is, surely it ought to raise questions about the place of such studies in publicly funded secular institutions. I wonder what Habermas would think if he uncovered similar results among the higher educational institutions in a predominantly Muslim nation, perhaps in relation to Muhammad's ascent to heaven.
What hope is there in such a climate of applying normal secular-historical analysis to the Gospels? Is this climate reflective of the general upsurge (swansong?) of fundamentalism in America in particular at this time?
What if the Gospels really are very much more like ancient Jewish novels, let's say, than historiography or biography? What if the real question is not why the characters in a narrative believed something, but why was the narrative written at all? What was behind it? Was it really historical memory? Habermas began by noting that certain views are in effect beyond question. Maybe that's the problem.
The following two tabs change content below.
Neil Godfrey
Neil is the author of this post. To read more about Neil, see our
About page.
Latest posts by Neil Godfrey (see all)
---
If you enjoyed this post, please consider donating to Vridar. Thanks!
---