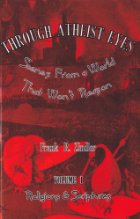 Frank Zindler's Through Atheist Eyes: Scenes From a World That Won't Reason is a treasure chest of reflections on religion, Christianity in particular. I'm sure he won't mind if I share a few of them here from time to time.
In chapter 15 of volume 1 he captures the essence of a curiosity in the New Testament that seems to generally fly right over the heads of anyone prone to take reputed Holy Writ far too seriously. How often do we hear even professors of religion declaring that the Christ Myth is patently false because the apostle Paul wrote that Jesus had a body! They are usually more specific than that. They'll say Paul wrote that Jesus was born to a woman! And that Jesus had flesh and blood. There it is! In plain print! Jesus was no myth!
The sorts of passages they'll usually quote are:
Galatians 4:4-5   But when the set time had fully come, God sent his Son, born of a woman, born under the law,to redeem those under the law
Romans 1:3   concerning his Son, who was descended from David according to the flesh
Romans 8:3  For God has done what the law, weakened by the flesh, could not do. By sending his own Son in the likeness of sinful flesh and for sin, he condemned sin in the flesh,
Colossians 1:21-22  Once you were alienated from God and were enemies in your minds because ofyour evil behavior. But now he has reconciled you by Christ's physical body through death
1 Timothy 3:16  Great indeed, we confess, is the mystery of godliness: He was manifested in the flesh, vindicated by the Spirit, seen by angels, proclaimed among the nations, believed on in the world, taken up in glory.
1 Peter 3:18   For Christ also suffered once for sins, the righteous for the unrighteous, that he might bring us to God, being put to death in the flesh but made alive in the spirit,
1 Peter 4:1   Since therefore Christ suffered in the flesh, arm yourselves with the same way of thinking, for whoever has suffered in the flesh has ceased from sin,
1 John 4:1-3   Dear friends, do not believe every spirit, but test the spirits to see whether they are from God, because many false prophets have gone out into the world. This is how you can recognize the Spirit of God: Every spirit that acknowledges that Jesus Christ has come in the flesh is from God, but every spirit that does not acknowledge Jesus is not from God. This is the spirit of the antichrist, which you have heard is coming and even now is already in the world.
2 John 1:7  For many deceivers have gone out into the world who do not confess Jesus Christ as coming in the flesh. This is a deceiver and an antichrist.
Frank Zindler delves a little into the consensus dates for these texts and other extra-biblical writings expressing similar thoughts. I'm in the mood for a much simpler post for now so here's the pertinent point: Continue reading "Did Jesus Have A Body?"