This post continues from my earlier one that concluded with Mark W. G. Stibbe's "very broad list of similarities" between Euripides' Bacchae (a play about the god Dionysus) and the Gospel of John. Stibbe discusses these similarities in John As Storyteller: Narrative Criticism and the Fourth Gospel.
What Mark Stibbe is arguing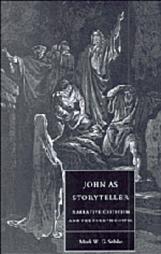 Stibbe makes it clear that he is not suggesting the evangelist
necessarily knew the Bacchae by heart and that he consciously set up a number of literary echoes with . . . that play (p. 137)
What he is suggesting is that
John unconsciously chose the mythos of tragedy when he set about rewriting his tradition about Jesus and that general echoes with Euripides' story of Dionysus are therefore, in a sense, inevitable.
Stibbe firmly holds to the view that the Gospel of John is base on an historical Jesus and much of its content derives from some of the earliest traditions about that historical Jesus. The evangelist, he argues, was John the Elder, and he has derived his information from
a Bethany Gospel (now lost) that was based on the eye-witness reminiscences of Lazarus, who was also the Beloved Disciple in the Gospel;
a Signs Gospel (now lost);
the Synoptic Gospels (Matthew, Mark and Luke)
His final chapter in John as Storyteller consists largely of a point by point argument that the events of the arrest, trial and crucifixion of Jesus in the Gospel are based on historical events.
At the same time, Mark Stibbe is arguing that the author, John the Elder, is constructing his supposedly historical source material in a quite literary manner. He has chosen to write about the life and death of Jesus as a tragedy, argues Stibbe, and this was quite a natural thing to do because, we are assured, Jesus' life and death just happened to be acted out in real life like a tragedy. It was a natural fit.
That's where Stibbe is coming from.
Mark Stibbe, a vicar of St Mark's Church at Grenoside (Sheffield) and part-time lecturer in biblical studies at the University of Sheffield when he wrote this book, writes from the limited perspective of formal New Testament studies. So he writes from the viewpoint of a Christian studying why the Gospel of John wrote about the very real founder of his faith, Jesus, would echo aspects of a Greek tragedy.
What this post is questioning
I'm interested in a different perspective. A proper study of religion from a scientific perspective would be through anthropology, I would think. New Testament studies are primarily about analysing and deconstructing and reconstructing biblical or Christian myths. The end result must always be a new version of their myth, if we follow Claude Lévi-Strauss.
I last posted along this theme in 2011:
Since I began this new series I have found another who takes a similar perspective. Frank Zindler writes: Continue reading "Jesus and Dionysus (2): Comparison of John's Gospel and Euripides' Play"