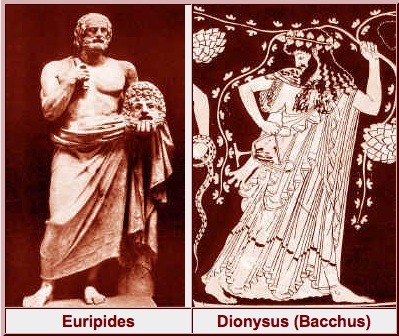 "Jesus and Dionysus in The Acts of the Apostles and early Christianity" by classicist John Moles was published in Hermathena No. 180 (Summer 2006), pp. 65-104. In the two years prior to its publication the same work had been delivered orally by John Moles at Newcastle, Durham, Dublin, Tallahassee, Princeton, Columbia, Charlottesville and Yale.
The names Moles thanks for assistance with this work are many: Loveday Alexander, John Barclay, Stephen Barton, Kai Brodersen, John Dillon, Jimmy Dunn, Sean Freyne, John Garthwaite, Albert Henrichs, Liz Irwin, Chris Kraus, Manfred Lang, Brian McGing, John Marincola, Damien Nelis, Susanna Phillippo, Richard Seaford, Rowland Smith, Tony Spawforth, Mike Tueller and Tony Woodman.
John Moles begins his article with two questions. The first of these is a dual one:
Is Acts influenced by Dionysiac myth or ritual and does it quote the play Bacchae?
Old questions, yes, but they are still being raised in the literature, as Moles indicates with the following list:
E.g. Nestle (1900); Smend (1925); Fiebig (1926); Rudberg (1926); Weinreich (1929) ; Windisch (1932); Voegeli (1953); Dibelius (1956) 190; Hackett (1956); Funke (1967); Conzelmann (1972) 49; Colaclides (1973); Pervo (1987) 21-2; Tueller (1992); Brenk (1994); Rapske (1994) 412-19; Seaford (1996) 53; (1997); (2006) ch. 9; Fitzmyer (1998) 341; Dormeyer-Galindo (2003) 49 ff.; 95; 365; Hintermaier (2003); Lang (2003); (2004); Weaver (2004); Dormeyer (2005).
The second question is the one that is the main point of the article and the one given the most space in answering:
If the answers to the above are affirmative, what are the consequences?
I have it on authority that John Moles is not a mythicist so those who read this blog with a jaundiced eye can look elsewhere for material that serves their agenda.
Broad thematic parallels between Acts and Bacchae
John Moles lists the following:
the disruptive impact of the 'new' god
judicial proceedings against the 'new' god and his followers
'bondage' of the 'new' god or his followers
imprisonments of the 'new' god's followers
their miraculous escapes from prison
divine epiphanies
warning that persecution of the 'new' god or his followers is 'fighting against god'
a direct warning by the unrecognized 'new' god to his persecutor
'fighting against god' by the 'new' god's persecutor
'mockery' of the 'new' god or his followers
general human-divine conflict
kingly persecutors
a kingly persecutor who arrogates divinity to himself
divine destruction of impious kingly persecutor
rejection of the 'new' god by his own, whom he severely punishes
the destruction of the palace/temple
adherence of women to the 'new' religion
Dionysiac 'bullishness'
Though some of these parallels need justification, as Moles points out, it is clear that the two texts "share numerous important themes". The possibility that the Bacchae influenced Acts is thus not implausible.
Detailed thematic parallels between Acts and Bacchae
Moles lists three "crucial cases". Continue reading "Jesus and Dionysus in The Acts of the Apostles and early Christianity"