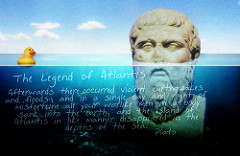 There was an interesting article in the Scandinavian Journal of the Old Testament in 2007 by Lukas Niesiolowski-Spano (LN-S) of Warsaw University titled "Primeval History in the Persian Period?" (SJOT, Vol.21, no. 12, 106-126, 2007). The paper was first presented at the Seminar of Historical Methodology in Groningen, The Netherlands, 2004.
The Genesis creation stories are unlike other ancient Middle Eastern myths. LN-S refers to the "unparalleled character of the Primeval History in its Near Eastern environment", and attributes this to the influence of Platonic philosophy in their making.
The assumption throughout the discussion is that no text can be dated earlier than external testimony permits. Genesis, in particular, its first two chapters, cannot be dated any earlier than when we find other texts making reference to them. In other words, normal practical historical methodology that applies to any nonbiblical study is followed. Dr LN-S is a lecturer in the Department of Ancient History at the University of Warsaw.
I begin here with some evidence for the earliest knowledge of Genesis, though LN-S really adds this at the end of his article. (I have colour coded some of the following sections to make for easier browsing of the main thought sections I have taken from LN-S's article.)