Associate Professor of Classics specializing in Hellenistic Judaism, Sara Johnson, may suggest an answer to the question implicit in this post's title even though she does not address the Gospels directly. Johnson has a chapter in Ancient Fiction: the Matrix of Early Christian and Jewish Narrative (2005) discussing the way 3 Maccabees was composed to help shape Jewish identity in the Hellenistic world. One way it accomplishes its ideological goal is to blend history and fiction. Historical verisimilitude serves to anchor the Jewish reader to the "historical tradition" of the community, while the infusion of fictional elements ensure the correct message and proper identity are inculcated. A reader such as myself with a strong interest in questions of Gospel origins cannot help but wonder if the Jesus narratives were written for a similar purpose in the same literary tradition.
Sara Johnson's chapter is "Third Maccabees: Historical Fictions and the Shaping of Jewish Identity in the Hellenistic Period". 3 Maccabees, if you have not yet read it, is available on the University of Michigan Digital Library site. It's not too long. It opens with a scene of one of the "great" battles in the Hellenistic era, the battle of Raphia, in which the forces of Ptolemaic Egypt (King Philopater) routed the Syrian army of Antiochus III, 217 BCE. On the eve of the Battle there is an attempt on Philopater's life but he is saved by a Jew.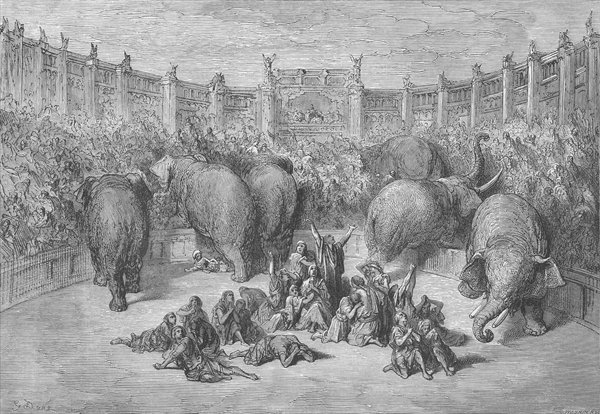 In the euphoria of victory Philopater invites himself into the most sacred area of the Jewish Temple to offer thanks to the divinity. (It is the custom of victorious kings to enter temples that way.) The Jews protest, we we would expect and Ptolemy is prevented by some divine action to from carrying out his plan. He returns to Egypt, enraged, and orders the Jews of Egypt be rounded up and crushed to death by drunken elephants. God maintains the suspense by holding off his several rescue missions to the very last moment, and finally changes Philopater's mind altogether so that he even tells the world what wonderful and loyal folk all those Jews are. Jews who had apostasized under his pressure are quite rightly slaughtered instead.
The tale is a rich mix of genuine historical details and fables. Historical persons talk with fictional ones. Accurate details of the battle and the preliminary attempt on Philopater's life are as detailed and accurate as we find in the works of the historian Polybius. The same accuracy is found in the Egyptian's tour of the cities of Syria and offering of thanksgiving sacrifices in their temples.
This prepares the reader for a tale firmly rooted in the known facts of the past. (p. 86)
But the historical and fictional sit side by side: Continue reading "Why the Gospels Blend History with Fiction"