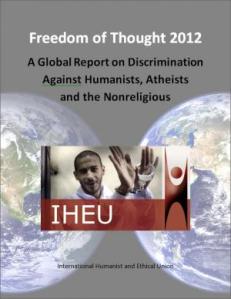 From the International Humanist and Ethical Union website: New global report on discrimination against the nonreligious
From the site:
The International Humanist and Ethical Union (IHEU) has produced the first report focusing on how countries around the world discriminate against non-religious people. Freedom of Thought 2012: A Global Report on Discrimination Against Humanists, Atheists and the Non-religious has been published to mark Human Rights Day, Monday 10 December.

Freedom of Thought 2012 covers laws affecting freedom of conscience in 60 countries and lists numerous individual cases where atheists have been prosecuted for their beliefs in 2012. It reports on laws that deny atheists' right to exist, curtail their freedom of belief and expression, revoke their right to citizenship, restrict their right to marry, obstruct their access to public education, prohibit them from holding public office, prevent them from working for the state, criminalize their criticism of religion, and execute them for leaving the religion of their parents.
From InformationClearingHouse, citing RT, Continue reading "Global Report on Discrimination Against Humanists, Atheists and the Nonreligious"