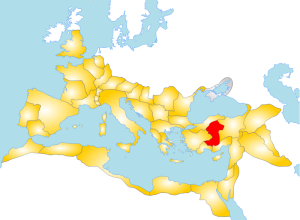 This post continues from the previous two that argue for an unconventional understanding of Paul's — and his contemporaries' — understanding of what it meant to be an apostle and how this related to the truth of a gospel message being preached.
This post examines an argument that Paul's opponents in Galatia were Gnostic Jewish Christians. It also incorporates a view of Paul that defines him, too, as embracing a certain Gnostic view of Christianity. In the course of discussion I discover reasons to refer to both Earl Doherty's discussion of Paul's view of Jesus being a son of David and Roger Parvus's argument that the Ignatian correspondence was from the pen of an Apellean Christian who broke from Marcionism.
A minority view among biblical scholars holds that Paul's opponents in the Galatian churches were not "judaizers" trying to persuade the Galatian followers of Paul to keep the whole law but were gnostics who (as we know several major gnostic groups did) practised circumcision for symbolic or "spiritual" reasons. Paul's opponents in Galatia, these few scholars argue, were not siding with the Jerusalem pillar apostles, James, Peter and John against Paul. They were rather accusing Paul of being a subservient extension of these Jerusalem apostles and for that reason claimed he was both no apostle at all and that his gospel was a false one.
I have not yet sought out criticisms of this argument so what I post here is a raw (uncritical) summary of it as presented by Walter Schmithals in Paul & the Gnostics. (Some asides I enclose in tables and some of when I do include my own thoughts I type them in bracketed italics.) Continue reading "The Circumcising Gnostic Opponents of Paul in Galatia"