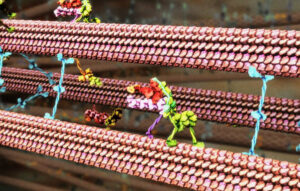 View the beautiful, scientifically accurate molecular visualisations of the ten most important human viruses, magnified one million times . . .
Drew Berry is a cell biologist and biomedical animator who creates beautiful, accurate visualizations of the dramatic cellular and molecular action that is going on inside our bodies. Since 1995 he has led biomedical animation within WEHI, Australia. His has exhibited at the Guggenheim Museum, MoMA, the Royal Institute of Great Britain and the University of Geneva.

WEHI.TV explains discoveries at the frontier of medical research through accurate and entertaining 3D animations. It answers the ever-growing demand for meaningful and engaging information on complex bodily topics.
Interview with Dave Berry: https://www.abc.net.au/radionational/programs/the-art-show/drew-berry-natalya-hughes-drawing/14032604