Note: I wrote this post back in February of 2012. I just never got around to adding a nice conclusion and finishing it. I offer it up now as a way to kick-start my blogging habit again.
Failure-proofing the world
I suck at bowling. I've tried. Heaven knows I've tried. I even bought a pair of bowling shoes, had a ball drilled to fit my hand, the works. Didn't matter. I still stink.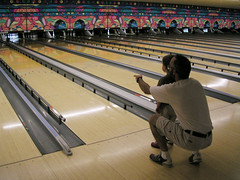 But hang on — help is on the way. There's a surefire method for keeping your ball (if not your mind) out of the gutter. They call it "Bumper Bowling." Just toss the ball down the lane and you're at least assured of knocking down the seven or the ten pin.
In our "losing-is-too-hard" culture, which simply delays the age at which children learn that the world is a lonely, cold, hard place, we don't want anyone to suffer the pain of failure, so we reward any effort. No more tears at the bowling alley. Any errant ball is gently kept on its course to the pins thanks to a set of railings, or in some cases, a gaudy pair of inflatable tubes.
Of course, my problem isn't landing in the channel, it's missing the easy spares. So while the bumpers keep the very young, the weak, and the infirm from getting skunked, it won't assure them of a decent score. Unless, that is, they start handing out strikes for knocking down eight or nine pins. "Close enough, Tyler! High five, Brianna!"
The Gospel of John as a beautiful, clumsy child
Pity poor John. If you wanted to explain Christianity to someone who knew nothing about it, wouldn't the Gospel of John be the first thing you'd show him or her? It's just so "right." Jesus knows who he is from the very start. His disciples immediately know he's the Messiah, even before they become disciples. "Peter, come quick! We have found the Messiah!"
And then there's all that wonderful stuff in the discourses. "I go to prepare a place for you. In my father's house there are many mansions." That's unforgettable. It's sweet, poetic, and comforting.
But when it comes to historicity, the Gospel of John is the beautiful child who can't throw, can't catch, and runs like an eggbeater. From the very start, commentators on John's gospel said it was a "spiritual gospel." That's like when your grandma cocks her head to one side and says, "Oh, bless his heart. He tries so hard." Continue reading "Bowling with Bumpers or How Not to Do Critical Scholarship"