"Perhaps it is the very simplicity of the thing which puts you at fault," said my friend.
"What nonsense you do talk!" replied the Prefect, laughing heartily.
"Perhaps the mystery is a little too plain," said Dupin.
"Oh, good heavens! who ever heard of such an idea?"
"A little too self-evident."
"Ha! ha! ha—ha! ha! ha!—ho! ho! ho!" roared our visiter, profoundly amused, "oh, Dupin, you will be the death of me yet!"
— Edgar Allen Poe,
The Purloined Letter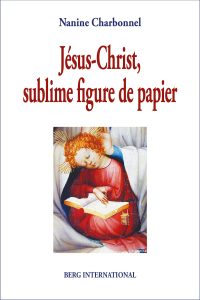 Such is the epilogue introducing Nanine Charbonnel's introduction to the second and major part of her book, Jésus-Christ, sublime figure de papier. What follows is my attempt to pass on the main sense of Charbonnel's chapter. (See the Charbonnel archive for the previous posts.)
 . . . o . . .
No matter how much we have prepared for a calm discussion on the hypothesis of the non-existence of Jesus (see the previous posts in this series), a paper persona yet nonetheless a sublime creation of the human spirit, we are inevitably faced with a different reality:
mainstream media may pretend neutrality when publishing on the notion but is in fact quite ignorant of the issues;


.

which opens the way to numerous charlatans of the Dan Brown Da Vinci Code variety, with suggestions of lost secrets, usually of a sexual nature, such as involving a marriage between Jesus and Mary Magdalene. These sorts of readings feed on a hatred of the institution of the Church and paradoxically only serve to strengthen the position of the Church as the only true rational voice;

.
* The Russian novelist Mikhaïl Bulgakov in The Master of Margarita wrote of the president of one of the most significant literary associations of Moscow ordering a young poet to compose "a great anti-religious poem". He is, however, dissatisfied with the result: "Berlioz therefore wanted to show the poet that the main thing was not to know how Jesus was – good or bad – but to understand that Jesus, as a person, never existed, and that everything we told about him was pure invention – a myth of the most ordinary kind." (Le Maître et Marguerite, Lère Partie, ch. I, trad, du Russe by C. Ligny, Robert Laffont, 1968; pocket ed., 2009, p. 27).

Charbonnel, on the contrary, affirms that it is by no means a "myth of the most ordinary kind", and refuses in advance to be designated as "mythicist" — a term that is applied as a convenient way to disqualify her thesis.

the historical baggage (at least in France) of the earlier mythicist views: Dupuis and Volney (18th century) reduced Christianity to either an astral mythology or an essentially pre-existing pagan religion without any regard for Judaism or key specifics of the texts. These theories became associated with Freemasons, "free-thinkers" and even state communism.*.

the naive pusillanimity of the "rationalists" (such is the literal translation and one I find it too delicious to alter.)


.

We have seen in relation to the Old Testament how the Holbach-style Enlightenment inadvertently led us into the ruts of an "objectivist" hermeneutic. A fortiori, as for Jesus, the loss of religious belief, far from allowing a grasp of the admirable richness of the production of sublime texts, led to pseudo-evidence: the Gospels would become a testimony about a normal man so that everything supranormal in the gospels would be removed in some way.


.

We have also seen how Spinoza unfortunately made "rationalization" coincide with psychological or naturalistic reductionism. As far as Jesus is concerned, Spinoza opens the impasse into which a pseudo-enlightened modernity will go astray: dividing up testimony between a real man and imaginary additions. Oldenburg asked Spinoza:

"This story of passion, death, burial, the resurrection of Christ seems to be told in such vivid colors that I will not be afraid to appeal to your conscience: do you believe that this story should be taken for an allegory or literally […]?"

Spinoza answers: "I understand the passion of Christ, his death and his burial, literally; his resurrection on the contrary, in an allegorical sense."

And this is how we destroy this very thing that we seek to explain. We come to a situation where it is standard to believe in real, historical persons behind the narrative but that the stories themselves have been embellished. (Not that we should ridicule these efforts since they — names like Paulus and Renan — displayed great courage to promote such "critical" views in the eighteenth and nineteenth centuries, such as accounting for miracles by coincidences or psychological confusion, etc.)


.

We arrive then at the supreme impasse which faces us today: belief in the distinct existence of a "historical Jesus and the Christ of faith". The terms date from the great author David Friedrich Strauss in 1865, but have entered everyday thought, especially since the influence of the great theologian Bultmann (1930s to 1960s). We will see that these terms, this dichotomy (historical Jesus vs Christ of faith) constitute the most formidable barrier to any scientific advance. Let us first recall some other popular views . . .


.

Reduction to the ethical message: The biblical text is treated as a repository of the highest of sacred ethical teachings emanating from the great teacher Jesus. Of course, such an approach must ignore the similar contemporary teachings of Judean rabbis, of cruel judgemental pronouncements, and so forth. Continue reading

"Jesus Christ, Sublime Literary Creation of the Human Spirit"