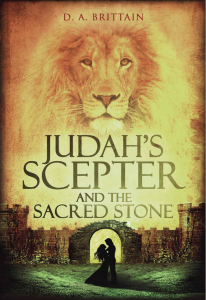 Who would have believed it! Someone (namely D. A. Brittain) has actually written a novel about Jeremiah taking the stone of destiny, Jacob's "pillow stone", from Jerusalem along with a surviving daughter (Teia Tephi) of the wicked king Zedekiah to Ireland to marry up with another descendant of Judah in order to preserve the Davidic dynasty from extinction after the Babylonians captured the biblical kingdom of Judah in 587 BC. The novel is Judah's Scepter and the Sacred Stone.
How could I resist! Belief in all of that stuff was once the focus of my life as a member of the Worldwide Church of God for so many years. One of our most exciting books was The United States and British Commonwealth in Prophecy (later changed to The United States and Britain in Prophecy as the decades took their toll on the unity and white racial dominance of the Commonwealth nations). Britain includes a bibliography that warms old memories with titles I also ferreted out from a dingy old room that housed the local British Israel society at the time. Luckily I was able to look up one of those references to find the inspiration for one of Brittain's concluding scenes:
From that day forward, the marriage of Eochaid and Teia was forever symbolized on the new flag that Eochaid had commissioned to be flown across the land of Erin. The flag displayed the red hand of Zerah, fitted on the Star of David, under a single royal crown that symbolized to all the union of Yahweh's two-kingdom nation.

Brittain, D. A.. Judah's Scepter and the Sacred Stone (Kindle Locations 4343-4345). First Edition Design Publishing. Kindle Edition.
Sure enough, here it is in W. H. Bennett's Symbols of Our Celto-Saxon Heritage, albeit with the addition of the George Cross background to make the arms of Northern Ireland.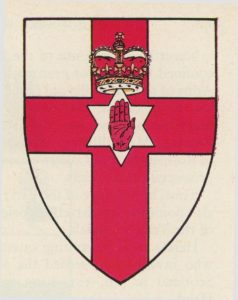 For those not in the know, the red hand in British Israel symbolism represents the royal line of Zerah, one of the two branches of Judah's royalty, as taken from this passage in Genesis 38 speaking of the birth of Judah's two sons:
27 When the time came for her to give birth, there were twin boys in her womb. 28 As she was giving birth, one of them put out his hand; so the midwife took a scarlet thread and tied it on his wrist and said, "This one came out first." 29 But when he drew back his hand, his brother came out, and she said, "So this is how you have broken out!" And he was named Perez. 30 Then his brother, who had the scarlet thread on his wrist, came out. And he was named Zerah.
If you want to know how that little incident is relevant to Queen Elizabeth II today then you can still order a chart setting out the family lines from the Covenant Publishing Company. (And in case you're wondering how a scarlet thread turned into a red hand I think we were meant to assume that ancient artists did not know how to draw red threads around wrists.)
Here is a key section of one of the charts I once collected: Continue reading "A Novel for Ex-Worldwide Church of God members and others once (or still) in love with British Israelism"