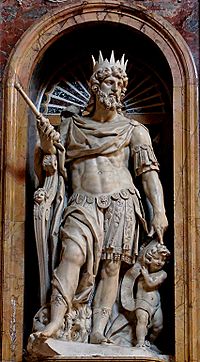 Here I look at the argument that the inscription (bytdwd) apparently referring to David (dwd) or the "house of David" in the Tel Dan Inscription is best explained as a reference to an epithet (meaning "beloved") for the god Yahweh.
This post is related to another about a week ago,  The Tel Dan inscription: the meaning of ביתדוד, "House of David", which is  a look at George Athas's published thesis. I ran into a problem, however, when I came to discuss Athas's assessment of the evidence for what it tells us about the historicity of King David. I could not quite understand the arguments well enough to present in my own words, probably because they were largely a response to an article by Thomas L. Thompson. So I delayed further posting till I read Thompson's article. Then I found I had to re-read an earlier article to fully get the hang of that! Real life keeps getting in the way and making me forget things I had read more than 2 weeks ago.
Did Biran Kill David?
So here I finally am. The notes are from a section of Did Biran Kill David? by Lemche and Thompson.
Lemche & Thompson begin this discussion by stating what they see as the first problem for deciding the correct meaning of the key word in the stele: Continue reading "Does the Tel Dan Inscription 'Prove' David to Be a Historical Person?"