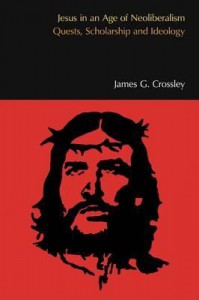 This is part 2 of my review of Jesus in an Age of Neoliberalism: Quests, Scholarship and Ideology by James G. Crossley. (Once again I invite Professor Crossley to alert me to anything he sees in these posts that he believes is a misrepresentation of his views.)
The point of chapter 2, Neoliberalism and Postmodernity, is to
provide the broad contextual basis for analysing some of the ways in which Jesus has been constructed in scholarship and beyond in recent decades. (p. 21)
To explain postmodernism and postmodernity Crossley directs us to Terry Eagleton's understanding in The Illusions of Postmodernism, p. vii:
The word postmodernism generally refers to a form of contemporary culture, whereas the term postmodernity alludes to a specific historical period. Postmodemity is a style of thought which is suspicious of classical notions of truth, reason, identity and objectivity, of the idea of universal progress or emancipation, of single frameworks, grand narratives or ultimate grounds of explanation. Against these Enlightenment norms, it sees the world as contingent, ungrounded, diverse, unstable, indeterminate, a set of disunified cultures or interpretations which breed a degree of scepticism about the objectivity of truth, history and norms, the givenness of natures and the coherence of identities. . . . Postmodernism is a style of culture which reflects something of this epochal change, in a depthless, decentred, ungrounded, self-reflexive, playful, derivative, eclectic, pluralistic art which blurs the boundaries between 'high' and 'popular' culture, as well as between art and everyday experience.
Crossley explains that he will attempt to link "postmodernity with the political trends in Anglo-American culture", if not precisely, then by means of a "general case" that itself will be "a strong one". We'll see how strong it is as we progress through these reviews.
Crossley did say (see the previous post) that
This book is at least as much about contemporary politics, ideology and culture as it is about Jesus, and in many ways, not least due to unfamiliar approaches in historical Jesus studies, this is almost inevitable. (p. 10)

Now there is much about Crossley's politics that I like. I share his despair at the political conservatism, the lack of critical political reflection and awareness among his biblical studies peers. I like his idealism and frustration with his peers as well as his respect for their individual decent natures. Unfortunately I sense that too often Crossley loses himself in his efforts to politically educate his peers that he only maintains the most tenuous links with how these political views influence the shape of the historical Jesus produced by these scholars.
The chapter is wide-ranging as we expect when discussions of postmodernity and postmodernism arise. The cultural, economic and political context involves a broad-ranging discussion that consists masses of data: "near hagiographical treatments of the 'material girl' Madonna and her MTV stage",  "Steve Jobs, advertizing his iPoducts as the machinery of the casually clothed", the politico-cultural symbolism of decaffeinated coffee, television parodies of entrepreneurial culture, 1970s Chile, the recession and oil crisis of 1973, the "sharp rise in personal image consultants in the 1980s". . . .
Only passing mentions to biblical scholars are found in this chapter (for the reason I mentioned above) and I will focus on those in this post. Continue reading "Biblical Scholars in a "Neoliberal-Postmodern" World"