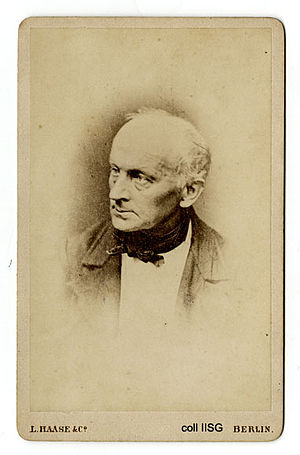 I have resumed translating Bruno Bauer's work on the gospels — Criticism of the Gospels and History of their Origin (Kritik der Evangelien und Geschichte ihres Ursprungs) — the link to all the completed chapters under Bruno Bauer in the right margin, beneath About Vridar.
The work is mostly machine translation (a mix of GoogleTranslate, DeepL and ChatGPT and direct human meddling). I have had to process Old German fonts to modern fonts in order to copy text for the translation and there are niggling errors here and there. I try to fix them but I am sure there are many I have overlooked. In case anyone does find anything particularly awkward I have included the German text with my processed modern fonts beside the translation so one can see where the errors might arise and offer a correction.
I asked ChatGPT what I could add about Bruno Bauer here that might be of interest to a general audience and here is its response:
Bruno Bauer was a prominent 19th century German philosopher and theologian, whose ideas were controversial and influential in shaping the cultural and intellectual landscape of his time. Here are some potential topics that could be of interest to a general audience:
Bauer's Critique of Religion: One of Bauer's most famous works is his critique of religion, particularly Christianity. Bauer argued that religion was a product of human imagination and projection, rather than a divine revelation. He saw religion as a way of perpetuating social and political oppression and called for the abolition of religion as a means of promoting human freedom.
Bauer's Political Views: Bauer was also a political thinker, and was involved in various revolutionary and socialist movements throughout his life. He advocated for the overthrow of traditional monarchies and the establishment of a democratic republic and was a strong critic of the Prussian state.
Bauer's Influence on Marxism: Bauer's ideas had a significant impact on the development of Marxism, particularly in the work of Karl Marx and Friedrich Engels. Bauer was an early critic of Hegelianism, which provided the philosophical foundation for many of Marx's ideas, and his critique of religion helped shape Marx's concept of ideology.
Bauer's Contributions to Biblical Criticism: Bauer was also a scholar of the Bible, and his work on the New Testament was influential in the development of biblical criticism. He argued that many of the texts traditionally attributed to the apostles were actually written much later and that the historical accuracy of the New Testament was suspect.
Bauer's Controversial Reputation: Despite his significant contributions to philosophy and theology, Bauer was a controversial figure in his own time. He was often criticized for his radical views and for his harsh criticism of the established order and was frequently denied academic positions or censored by authorities.
I asked a follow-up question for the next points:
While Bruno Bauer was never formally excommunicated from the Christian church, many religious authorities of his time saw his views on religion and Christianity as highly controversial and heretical.
Bauer was a theologian and biblical scholar who came to reject the notion of divine revelation and the supernatural elements of Christianity. In his view, Christianity was a human invention that perpetuated social and political oppression. These views brought him into conflict with both the established Christian churches and the secular authorities that supported them.
As a result of his controversial views, Bauer was denied academic positions and faced censorship and persecution from the authorities. He was also widely criticized by his contemporaries, including other intellectuals and theologians.
So while Bauer was not formally excommunicated from any particular Christian denomination, his rejection of Christian dogma and his embrace of radical and heretical ideas made him an outcast from the mainstream religious and intellectual establishments of his time.
I consider his analyses essential reading for anyone seriously interested in a critical exploration of the gospels. Of course much work has been done since that cannot be ignored, but Bauer's insights are still provocative and often still deserve a place in any discussion today.