The ideas set out in the preceding chapters of Russell Gmirkin's Plato's Timaeus and the Biblical Creation Accounts begin to find their "real-life" application in chapter 5. This chapter, "Genesis 1 as Science", is a verse-by-verse commentary drawing on the preceding discussions.
MT = Masoretic text = Hebrew Bible
LXX = Septuagint = Greek translation of a Hebrew version that preceded the MT
Genesis 1:1 comes with three and a half pages of analysis.
When God began to create the heavens and the earth (1:1 MT; New Revised Standard Version)
Not Creation Ex Nihilo
This opening verse is sometimes thought to describe God creating the universe from nothing, ex nihilo. But the idea that God created everything from nothing is not found in the Bible. Gmirkin cites Gerhard May as pointing out that the explicit notion of an ex nihilo creation first appeared as late as the Christian Church Fathers in the late second century.
RG justifies his claim that Gen 1:1 does not speak of God actually creating "the heavens and the earth" on the grounds that:
it is only in later verses in Genesis 1 that we read of the actual creation of heavens and then the earth
Genesis 1 uses formulas (eg "And God said, 'Let there be…'") to describe God's creative acts and no such formula is found in 1:1
and in the conclusion of this section we read "and thus the heavens and earth were finished", indicating that the creation took place over six days out of pre-existing primordial chaotic matter.
In other words, Genesis 1:1 is a heading and the actual creative acts follow.
The idea that the universe emerged out of chaotic matter conforms to Greek scientific views that held that the universe in some form (even as chaotic matter) had to have always existed.
Is 1:1 a title of what follows, then? Every other block of narrative in Genesis has a title or "superscript". But no, it is not a title, RG concludes. Rather, RG goes one step further and argues that the opening verse is a very condensed counterpart to Plato's prologue to his account of creation in Timaeus. The prologue of the creation account in Plato's Timaeus contains the following details:
that the ordered visible world had a clear beginning point (it existed in a realm of "becoming")
that the cause of this beginning of an ordered cosmos was God (the word translated "began" or "beginning" in the LXX, ἀρχῇ [arche], means both "beginning" and "cause" and is used frequently in Timaeus)
that God was a being who existed apart from or outside the universe
God is presented as an artisan, a craftsman (or Demiurge), a personality with a purpose.
All those details are elaborated upon in a scientific discussion in Timaeus 27d to 29d.
Excerpts from Plato's prologue:
. . . . . Now everything that becomes or is created must of necessity be created by some cause, for without a cause nothing can be created.

. . . . was the world, I say, always in existence and without beginning? or created, and had it a beginning? Created, I reply, being visible and tangible and having a body, and therefore sensible; and all sensible things are apprehended by opinion and sense and are in a process of creation and created. Now that which is created must, as we affirm, of necessity be created by a cause. But the father and maker of all this universe is past finding out; and even if we found him, to tell of him to all men would be impossible. . . . .

. . . . If then, Socrates, amid the many opinions about the gods and the generation of the universe, we are not able to give notions which are altogether and in every respect exact and consistent with one another, do not be surprised. Enough, if we adduce probabilities as likely as any others; for we must remember that I who am the speaker, and you who are the judges, are only mortal men, and we ought to accept the tale which is probable and enquire no further. (Benjamin Jowett translation)
From Chaos to Cosmos: Plato and Zeno
1:2 MT – The earth was waste and empty (tohu wabohu) and darkness covered the face of the deep (tehom) and a divine wind (ruach) swept over the face of the waters (mayim). 

1:2 LXX – But the earth (γῆ) was invisible and unformed (ἀόρατος καὶ ἀκατασκεύαστος); and darkness was upon the abyss (ἀβύσσου). And God's spirit (πνεῦμα Θεοῦ) bore upon the waters (ὕδατος).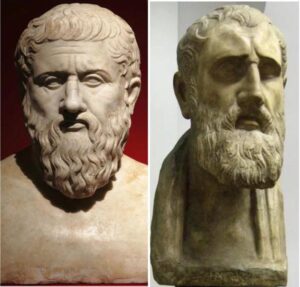 What we read here is not total and utter chaos, but a beginning with raw material differentiated into earth, deep waters, and air. That's not from Plato but it is from another early philosopher, one who founded the Stoic school, Zeno. (Zeno was a contemporary of those whom RG is submitting as the authors of Genesis.) Darkness implies that there is light somewhere but not directed towards the materials from which the cosmos was to be created. Interestingly, Plato understood darkness to be a material element — a form of dense air that lacked minute sparks of fire.
For Plato, the chaos at the beginning did not differentiate the elements of fire, earth, air and water. Zeno, on the other hand, proposed that fire was the basic element and from fire arose air, and from air was formed watery stuff, and from water a sediment of earth fell and coalesced into earth. From that condensed gooey muddy mass air arose, and from the air emerged aether, and when air moved as wind it threw clouds together so causing lightning — and hence light itself — to emerge.
Plato did attribute the start of creation to a good and intelligent creator god. He also said that (as per the LXX above) the primordial chaos was invisible. He had some concept of darkness as a substance that could rest on matter.
For Zeno, the four elements could be discerned in some sort of stratification in the chaos at the start. And since movement was a divine attribute, air in motion, or wind, was a divine element from which eventually came light.
Where does God enter Zeno's picture? For Zeno, there were two types of active (divine) elements: fire and air. Fire, in turn, was subdivided into physical fire — a fire that consumed its fuel — and a spirit or god-fire that did not consume matter. (Compare Moses seeing the burning bush where God is said to be a fire that does not consume the bush.) For Zeno, only corporeal elements could move corporeal elements. The spirit fire, god, was thus the prime mover that initiated the orderly arrangement of the universe out of the chaos and even inhabited everything. Plato, on the other hand, thought of God as a transcendent, non-corporeal but anthropomorphic figure who spoke to bring about the cosmos — although other biblical authors did give God a fiery body.
So at the expense of some contradiction with what follows (e.g. the earth and water being separated on a subsequent day of creation) the author of Genesis 1:2 appears to have followed ideas from both Plato and Zeno.
RG breaks up his discussion into a series of categories (viz. an overview of Plato's ideas; the cosmogony in Genesis compared with that of Greek philosophers; the stratification of the elements; the divine wind; ontology and a discussion of Greek and Hebrew terms) which, though thorough, means certain ideas are discussed repeatedly under each heading. The point of such detail and repetition is to prepare the reader for the final overview comparison of Genesis 1:2 and Greek cosmogonies.
---
Gmirkin, Russell E. Plato's Timaeus and the Biblical Creation Accounts: Cosmic Monotheism and Terrestrial Polytheism in the Primordial History. Abingdon, Oxon New York, NY: Routledge, 2022.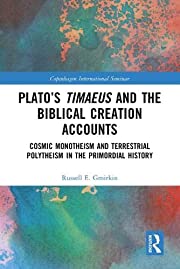 (Unfortunately for the progress of this series on RG's new book, I was lately sidetracked into reading related to further exploration of the evidence we have for events affecting Jews and Christians between the events of 70 and 135 BCE. This was in part inspired by follow-up reading to Witulski's view of Revelation being a product of the Hadrianic era, and led to further investigations into the background conditions that appeared to form the matrix from which both Christianity and rabbinic Judaism emerged. I look forward to posting more about thoughts arising in the future.)
The following two tabs change content below.
Neil Godfrey
Neil is the author of this post. To read more about Neil, see our
About page.
Latest posts by Neil Godfrey (see all)
---
If you enjoyed this post, please consider donating to Vridar. Thanks!
---