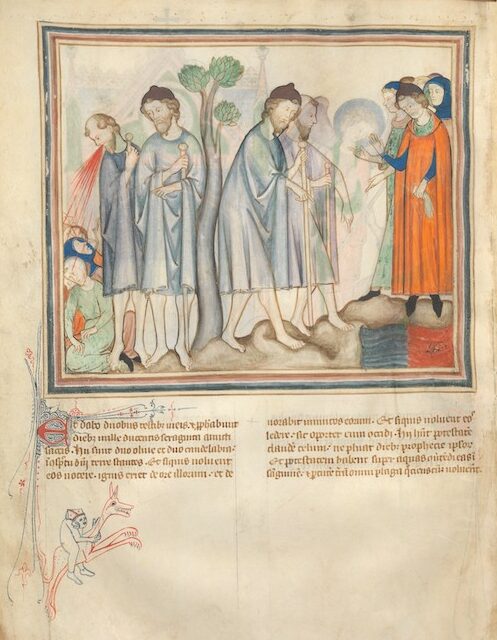 We continue following Thomas Witulski's case for dating the book of Revelation in the time of emperor Hadrian and the Bar Kochba war. Before attempting to place the events of chapter 11 (the measuring of the temple and the two witnesses) in a historical context W undertakes to closely examine the text in order to be clear about what it does and does not say.
Revelation 11:3 And I will give power unto my two witnesses, and they shall prophesy a thousand two hundred and threescore days, clothed in sackcloth."

4 These are the two olive trees and the two candlesticks, standing before the God of the earth.

5 And if any man will hurt them, fire proceedeth out of their mouth and devoureth their enemies; and if any man will hurt them, he must in this manner be killed.

6 These have power to shut heaven, that it rain not in the days of their prophecy, and have power over waters to turn them to blood, and to smite the earth with all plagues, as often as they will.

7 And when they shall have finished their testimony, the beast that ascendeth out of the bottomless pit shall make war against them, and shall overcome them and kill them.

8 And their dead bodies shall lie in the street of the great city, which spiritually is called Sodom and Egypt, where also our Lord was crucified.

9 And they of the people and kindreds, and tongues and nations shall see their dead bodies three days and a half, and shall not suffer their dead bodies to be put in graves.

10 And they that dwell upon the earth shall rejoice over them and make merry, and shall send gifts one to another, because these two prophets tormented them that dwelt on the earth.

11 But after three days and a half, the Spirit of life from God entered into them, and they stood upon their feet; and great fear fellupon them that saw them.

12 And they heard a great voice from Heaven, saying unto them, "Come up hither!" And they ascended up to Heaven in a cloud, and their enemies beheld them.

13 And that same hour there was a great earthquake, and a tenth part of the city fell; and in the earthquake were slain seven thousand men, and the remnant were seized with fear, and gave glory to the God of Heaven. (KJ21)
The time allotted to the two witnesses is the same as the time the gentiles are to tread down the holy city. (Recall the previous post.) It seems reasonable to conclude that the two witnesses are active during the time of Jerusalem being fully occupied (including the temple area) by the gentiles.
Well known to the readers
The two witnesses are introduced with the definite article τοῖς "which suggests that they were known as eschatological figures or ciphers to both the apocalyptist and his audience or readers" (W, 45, translation):

As well-known figures (the article τοῖς is not missing in any manuscript) the two witnesses are introduced here without any mention of them in the Apok so far. (Haugg, 13f – translation)
The time specification of verse 2 "for forty-two months" corresponds to that of verse 3 "1260 days". The two witnesses are introduced as a definite quantity with a definite article. Apparently, the author presupposes that the reader understands him, which means that he alludes to a familiar idea. (Müller, 208f – translation)
However, the apocalyptist does not name them even though it appears they are well-known to his readers. By avoiding a clear identification the author appears to be allowing himself room to reinterpret their role. The references to Jerusalem in the opening verses of this chapter and again in verse 8 (W will make his case that "where also our Lord was crucified" is original to the text and not an interpolation) indicate that the two witnesses will appear in the area around Jerusalem, certainly in Palestine. Continue reading "The Two Witnesses of Revelation 11 – part A"