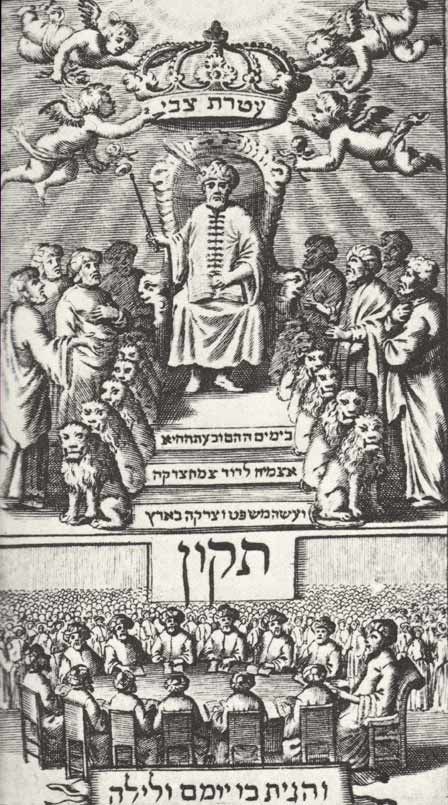 Why does the first account of the life of Jesus appear as late as forty years after the crucifixion? The answer I long heard was that followers of Jesus were focused on his return and, expecting his return in their lifetimes, they did not see any need to write a historical account of his life. Scholarly texts of the gospels will explain that the ancient culture was primarily oral and word-of-mouth was the standard means of spreading news.  The same texts will assert that the first oral reports of Jesus's sayings were written down about twenty years after the crucifixion although some brave souls have even proposed as early as four or five years later.
All of that sounds plausible enough — until one steps outside the mental bubble of those descriptions and compares with how people work in the real world.
I am at the moment reading Gershom Scholem's exhaustive study of a widespread mid-seventeenth century Jewish messianic movement that fully anticipated the messiah to set up his kingdom in Jerusalem within a matter of a year or within a few short months. The messianic figure was Sabbatai Sevi and the years spanned from late 1665 to 1667. Sabbatai Sevi was what we would classify as manic-depressive. When he was "on fire" he was "on fire" but when the mood left him he was really down, withdrawn, out of the picture. Most of the heavy lifting of persuading others to believe he was the messiah was the work of his "prophet", Nathan of Gaza. (Nathan was able to persuade outsiders that Sabbatai's "down times" were signs of his messianic "suffering for Israel". It must be added, however, that Sabbatai could also come across as one possessed with a dignified and caring demeanour.)
Now I think it is safe to say that most of the everyday lower-class Jews living in the Ottoman empire and throughout Europe at the time were not highly literate. Jewish communities did certainly possess leaders, rabbis and elders, who were literate. And persons from well-to-do business families often had the fortune of a sound education. And there is no doubt at all that believers in Sabbatai Sevi far and wide spoke, recited and sang of his wonderful deeds and sayings along with those of his prophet.
It is also clear that oral reports were never enough. Yes, there was no substitute for the presence of a visiting eye-witness who could report and be interrogated orally of their visits and observations of the messiah and those closest to him. But given that those sorts of visits were few and far between in places as far from Gaza, Smyrna and Constantinople as Leghorn, Amsterdam and Hamburg, believers in Sabbatai Sevi and Nathan craved the arrival of letters to prominent persons — "clerical" or business persons — in their communities. Believers would flock to the ports to meet ships with expected letters as they docked. And the prophet Nathan was not lax, nor were others who were closely associated with the "messiah". They wrote and wrote to acquaintances and to acquaintances other acquaintances and contacts. Then those who received letters copied them both for preservation and sharing more widely still. People came to hear them read in public and private venues. Others were inspired by the reports of this news from a distance to write poems, hymns, prayers that they shared with fellow believers.
By such means believers were convinced that great miracles had been performed by the messiah, even raising the dead and appearing before authorities in a pillar of fire. They were also led to believe that the "lost" Ten Tribes of Israel were on the march to conquer Mecca and would soon arrive at the gates of Jerusalem. The ruler of the Ottoman empire was about to hand over the "keys of the kingdom of Israel" to Sabbatai Sevi without a fight. Many believers sold everything and left to live in Jerusalem in order to be where the action was when that day of the messianic kingdom came.
What sustained the believers in their excitement, what they loved to create and share in their thrilling expectation that the kingdom of God was to be inaugurated within a matter of mere months, at most a year? What did they share along with their singing and dancing and fellowship? Copies of letters, copies of written poems and prayers, all speaking of the great wonders and powerful words of the messiah who was about to be made known as God's anointed to the whole world.
In the accounts of the believers in Sabbatai Sevi, one notion never arises: "that there is no point in writing anything about the man because we'll all be in Palestine and he'll be ruling over us all in just a few months from now."
With that little episode in mind, one returns to the question of why it took so long for written accounts of Jesus to appear.
---
Scholem, Gershom. Sabbatai Ṣevi: The Mystical Messiah, 1626–1676. Translated by R. Werblowsky. Reprint edition. Princeton, NJ: Princeton University Press, 2016.
---
The following two tabs change content below.
Neil Godfrey
Neil is the author of this post. To read more about Neil, see our
About page.
Latest posts by Neil Godfrey (see all)
---
If you enjoyed this post, please consider donating to Vridar. Thanks!
---