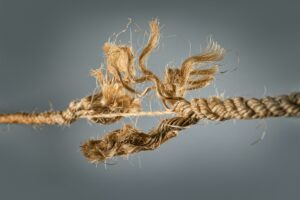 We were promised the Internet would be better than democracy. But then it got privatized. Corporations own it. There is no online bill of rights. There is only the frenzy of the mob and fickle choices of a few billionaires.
Please spare me the impoverished argument about the free market and private companies not being bound by the constitution. Barring businesses from using online payment systems; removing companies from the App Store; banning people from social media — these are the equivalent of telling people they can't open a bank account or start a business or drive down a street. (To my mind, David Sacks, who has spent his career building and funding tech companies, has been articulating this more powerfully than anyone out there. Follow him here.)
That almost every credentialed journalist and liberal public intellectual appears to be cheering on this development because it's happening to the Bad People is grotesque. They will look like fools much faster than they realize.
Bari Weiss – The Great Unraveling: The old order is dead. What comes next? 
David Sacks: Mend it, don't end it  . . . .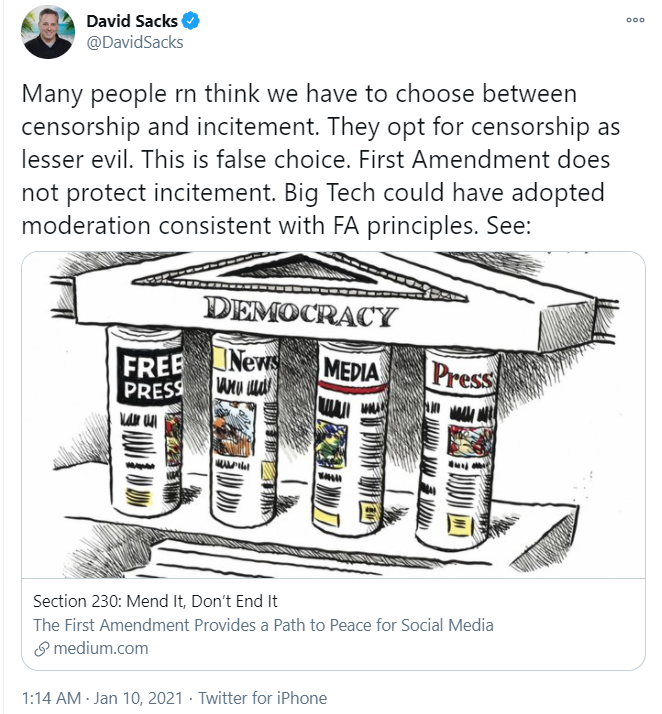 . . . . .
A Path to Peace
Fortunately, Dorsey and Zuckerberg will get a second chance to sue for peace when they are hauled before the Senate Judiciary Committee on November 17 to discuss how Section 230 could be meaningfully reformed. This could be an important moment for the entire internet and Dorsey and Zuckerberg should meet it by offering the terms of a peace treaty in which they pledge the following:
1. We will protect any speech that is protected under the First Amendment. Rather than trying to improvise our own policies with respect to speech, we will instead focus on operationalizing these First Amendment principles based upon established Supreme Court case law.
2. We will double down on our authenticity rules and procedures. To say anything on our platforms, you must really be who you say you are. We will crack down on impersonation, fake accounts, "sock puppets", or any kind of foreign interference.
3. We will provide users with the tools they need to curate content for themselves. For instance, we will give users the ability to hide or delete offensive comments to their posts. By having users regulate speech instead of us, it preserves neutrality because all users have an equal opportunity to decide for themselves what speech they do and don't want to encounter on our platforms. User curation will reduce offensive content, without the need for censorship.
4. We would welcome further guidance from the Supreme Court as to when and how hate speech can be regulated. If the Supreme Court were to define a segment of hate speech not currently covered under the existing First Amendment exceptions and declare it unprotected, then we would regulate that speech on our platforms according to their guidance. But we realize that as the de facto public square, we are better off adopting the First Amendment as our standard than trying to improvise our own, and don't want to arrogantly substitute our judgment for that of the Court, who has a more than two-century head start on us in grappling with difficult speech issues. The Court's history shows that there will always be hard cases when applying First Amendment principles, but at least we can all agree on what those principles are.
5. While we are proposing to abide by First Amendment guidelines voluntarily, we understand if you insist on binding our hands by altering the language in Section 230(C)(2) to require it. This will put the First Amendment in its rightful place as the arbiter of acceptable speech in the public square. Once those changes are made, we hope you will agree that the rest of Section 230 has been a boon to online innovation and diversity that is worth keeping in place. To paraphrase Bill Clinton on the subject of affirmative action, "mend it, don't end it."
Conclusion
Such a set of proposals could really improve the perception of Facebook and Twitter, in Washington and throughout the United States. In the short run, it will lower the political temperature and tamp down calls for Section 230 repeal. Long term, it will make life as a social media platform so much easier. No more will the C-suites of these companies have to white-knuckle it through every election cycle, worried that some decision they made or didn't make will get them blamed for the end of democracy. Yes, politicians will still "work the refs," and ambiguous cases will present themselves, but if the First Amendment always gets the last word, everyone will have to respect that. What is the point of Twitter and Facebook taking so much flak for creating their own standard of protected speech when one already exists that has been chiseled into the granite of American custom, tradition, and law?
The following two tabs change content below.
Neil Godfrey
Neil is the author of this post. To read more about Neil, see our
About page.
Latest posts by Neil Godfrey (see all)
---
If you enjoyed this post, please consider donating to Vridar. Thanks!
---