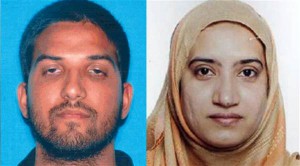 Tashfeen Malik and Syed Rizwan Farooq fit the pattern perfectly. I've been posting the findings of serious research into what leads someone to radicalize and kill for some time now and will continue to do so as I read and learn more. Meanwhile assertions that the Quran made them do it defy the fundamentals how the world works and ignore the realities that at least better informed security services study and follow.
My most recent post on "how radicalisation happens" was Love, Relationships and Terrorism. We saw the theme of that post played out in San Bernardino. (Other themes covered in earlier posts also surfaced and I am not yet half way through the series.)
No-one picks up and reads a copy of the Quran, and in pious isolation from the outside world comes to believe it is the word of Allah and goes out on a killing spree. No-one, except maybe some truly mentally deranged person.
Here's the all too familiar narrative:
The settings
Scene 1: A secular democratic Western nation, one with an ongoing history of involvement and support for Western wars against Muslim countries (Iraq, Afghanistan, Yemen, Somalia, Syria) and support for dictatorial regimes (Egypt, Saudi Arabia). We won't mention Israel.
Scene 2: Pakistan, more specifically the northern regions of Pakistan (especially Multan) where there is strong support for jihadist ideology and the Taliban.
Scene 3: We can throw in Saudi Arabia here perhaps as something of a holiday resort.
Main characters
Syed Rizwan Farooq: Dysfunctional family background, devout Sunni Muslim, American citizen and son of immigrants from Pakistan. Polite and generally accepted by the community. Educated and with a middle class job. Looking for a wife.
Tashfeen Malik: Strong Islamist (anti-Western) family background in Pakistan. Well educated and upper middle class. Looking for a husband.
Props
The internet.
Plot
Aspects of the following are speculative but based on strong probability given what we know of others who have taken the road to violent jihad.
Farooq finds some stability from his troubled upbringing by embracing conservative Islam. Generally well accepted but also knows the rift between Muslims and others who look down on Islam.
Meets a similarly devout woman online, one who even seems more stable and devout than he and who promises to be a strong pillar for him, someone to complement and strengthen his own Muslim identity.
He travels to Saudi Arabia and meets her in her conservative environment and agree to marry.
They return to the United States together. Malik is in the land of the enemy. She has lost none of the extremist Islamist ideology that had been her world all her life.
The internet allows them to graphically monitor the ongoing violence in Middle East and fuel their minds with ideological literature.
They are inspired by the attacks in Paris and the impact those atrocities had on the West. They had the polarizing impact exactly as planned according to one of their best known ideological writings, The Management of Savagery/Chaos.
Farooq is led by Malik to embrace the same willingness to follow the extremist path. Neighbours see a change in Farook's personality. He withdraws from his routine in the local mosque. (Muslims opposed to violent jihad according to Islamist jihadis are as much the enemy as unbelievers. After all, "the average Muslim sees . . . [violent extremists] as a notorious bunch of al-Qaeda-supporting 'loonies'" (Quintan Wiktorowicz, Radical Islam Rising: Muslim Extremism in the West, p. 79) On the day of the killing Malik takes the lead and opens fire first.
Conclusion
The internet means that individuals no longer need to be part of "real-world" networks to register on the radar of security services whose job it is to identify and monitor potential terrorists. This makes the potential for "lone wolf" attacks all the more viable and threatening. A couple is technically not a lone wolf but I think we can stretch the idea to two people who have become "an item".
The facility with which individuals can now enter the congregation of virtual jihadis and become active rather than passive plotters has meant that a whole secondary community of dangerous individuals has emerged who often have no connection with other violent extremists and who often do not even vaguely match the broad parameters of the profiles of previous attackers, yet remain an active menace. The threat has complicated and diversified . . . (Raffaello Pantucci, "We Love Death As You Love Life": Britain's Suburban Terrorists, p. 291)
Radicalization does not happen as a result of any single factor. Farooq and Malik were immersed in the violent ideology.
But ideology is never enough to make someone pick up a gun and start actually killing. There are millions of "cognitive extremists" in the world who would never turn their beliefs into acts of murder. The ideology we are talking about here is Islamism and violent jihad. This ideology is kept alive by the volatile fuel of daily feeds of ongoing wars, especially with Syria and the Islamic State. IS is another inspiring beacon for Sunni jihadis.
There is nearly always a mix of grievance to find expression through the ideology. Jihadis are not nihilists. They feel very deeply the injustices experienced by their extended identity. But grievance and injustices are never enough alone to produce a violent movement. As Trotsky said, if they were, the masses would always be in revolt. Most Muslims despise Islamic State and al Qaeda no matter how much they are enraged by the destruction of their countries.
There must also be a means of mobilisation to act. That's where social networks and charismatic figures have traditionally entered the picture. Security services have relied upon this third factor to identify potential terrorists but the internet can change that game. Charismatic teachers, incendiary writings, and a global community witnessing the same atrocities and sharing the same grievances and being inspired by the same violent acts of others are all there on offer for anyone with a modem and monitor.
There's more. But this is more than enough for now.
The following two tabs change content below.
Neil Godfrey
Neil is the author of this post. To read more about Neil, see our
About page.
Latest posts by Neil Godfrey (see all)
---
If you enjoyed this post, please consider donating to Vridar. Thanks!
---