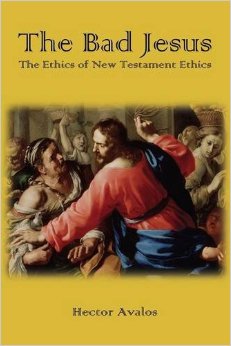 Hector Avalos, biblical scholar and author of The End of Biblical Studies, has written a new book critical of New Testament ethics, The Bad Jesus. He describes this new work as
the first systematic New Atheist challenge to New Testament ethics by a biblical scholar. 
What is meant by a "New Atheist"? In Avalos's words:
Insofar as I believe that theism is itself unethical and has the potential to destroy our planet, I identify myself with what is called 'the New Atheism'. For my purposes, the New Atheism describes a post September 11, 2001 (9/11) phenomenon, which viewed that event as illustrative of the potential of religion to bring global war and even the destruction of our ecosphere. . . . The New Atheism features a more vocal and anti-theist stance (rather than just passively atheist stance) as embodied in the writings of Richard Dawkins, Sam Harris and Christopher Hitchens. (pp. 13-14)
Ouch. That makes me wonder if my own passive atheism is a mark of irresponsibility. But I have my own carefully considered reasons for not identifying with this trio. Blaming religion per se, I think, misses the real historical culprit: the self-serving and destructive institutional powers that religion serves to smokescreen from view. Consequently New Atheists can sometimes unwittingly become mouthpieces in support of those powers.
Leaving that crucial point to one side for now, let's continue . . . .
Although not as well known as these writers, there also has emerged a group of biblical scholars who, while not necessarily describing themselves as 'New Atheists', do openly identify themselves as atheist, secular or agnostic (e.g. Kenneth Atkinson, Robert Cargill, Richard Carrier, Bart Ehrman, James Linville and Gerd Lüdemann.) . . . 

The New Atheism emphasizes the immorality of religious thinking itself. It challenges the ethics of Christianity and the Bible, in particular. (p. 14)
I have addressed aspects of Avalos's thinking in this regard in other posts.
Why is Jesus bad?
First point to make here is that Avalos is not addressing any particular model of "the historical Jesus".
My argument here is not that any supposed historical Jesus was good or bad. My subject matter is the portraits in the New Testament of a man called Jesus. . . . My project aims to explore how modern New Testament ethicists attempt to sanitize and protect those portraits, regardless of how historical they may be. Whether Jesus said or did anything in the Gospels is not as important as the fact that those portrayals have become normative for modern Christians. (pp. 12-13, bolding mine in all quotations)
Some readers here are interested in the question of whether or not there ever was a historical Jesus. Avalos explains that
For the record, I am an agnostic when it comes to the historical Jesus. (p. 11)
Identifying the earliest tradition of any particular saying or act of Jesus does nothing to establish whether Jesus himself said or did any such thing. Arguing that no one would make up some of the stories of Jesus we read about in the Gospels fail simply because we lack a complete picture of Judaism at the time. These are reasons Avalos gives for holding his fire on the "historicity of Jesus" question. Those, and the fact that
the very existence of … radically different possible portraits of Jesus is evidence that there is something inherently wrong with the methodology of most historical Jesus research. (p. 12)
So Avalos is dealing with "the Jesus figure" of the Gospels, Christianity and any culture significantly indebted to Christianity.
And here's the rub. I'm sure many readers of this blog have noticed it before so it's about time a qualified biblical scholar spelled out the details:
If one reads almost any treatise on Christian ethics written by academic biblical scholars, one finds something extremely peculiar: Jesus never does anything wrong. (p. 1)
Okay, Avalos concedes the rare exceptions here. I found it quite amusing that one biblical scholar, Joseph Hoffmann, relished insisting that "the historical Jesus" according to his reconstruction sure as houses did not "love everybody" — just like Hoffmann himself boasts his own cantankerous anger against the bulk of the world.
Of course if Jesus were indeed a historical man then we have every reason to expect to find a figure as flawed as any other historical person who has ever lived. But Jesus is generally preserved as an exemplar of virtue.
If we were to apply normal rational criteria to this observation we would be perplexed. After all, Jesus in the Gospels himself asks why anyone should call him "good" (Mark 10:18). The Gospels even tell us that Jesus had a reputation for being a "glutton, a drunkard, a friend of tax collectors and sinners" (Matthew 11:19). Some scholars who concede Jesus was not perfect nonetheless manage to turn his blemishes (e.g. his violence in the temple; his demeaning attitude towards non-Jews) either into salvific virtues or cultural asides that can be safely ignored in any ultimate assessment for today.
Such treatment of Jesus can be well understood as the desire of most biblical scholars to either maintain their view of Jesus as somehow divine or at least as a pioneer in teaching humanity for all time the way to the divine.
My copy of The Bad Jesus has only recently arrived and I'm not likely to be able to complete my reading of it for some weeks. Given my other reading priorities I'm unfortunately not likely to cover every aspect of it. However, here from the publisher's site is a table of the books contents:
Contents
1. Introduction
   Basic Elements of the Argument

2. The Unloving Jesus: What's New Is Old
   Loving the Enemy in the Ancient Near East
   Love Can Entail Violence
   The Golden Rule: Love as Tactical
   The Parochialism of New Testament Ethics

3. The Hateful Jesus: Luke 14.26
   Jesus Commands Hate
   Expressing Preference
   Hate as a Motive for Divorce
   The Statistics of Hate and Love
   The Semantic Logic of Love and Hate

4. The Violent Jesus
   Matthew 10.34-37: Jesus' Violent Purpose
   Matthew 5.38-42: Don't Victimize Me, Please
   Matthew. 26.48-56: Non-Interference with Planned Violence
   John 2.15: Whipping up Pacifism
   Acts 9: Jesus Assaults Saul

5. The Suicidal Jesus: The Violent Atonement
   Jesus as a Willing Sacrificial Victim
   Mark 10.45: Self-Sacrifice as a Ransom
   Sacrifice as Service: Transformation or Denial?
   2 Corinthians 5.18: Anselm Unrefuted
   René Girard: Sacrificing Apologetics

6. The Imperialist Jesus: We're All God's Slaves
   Rethinking 'Anti-Imperialism'
   Selective Anti-Imperialism
   The Benign Rhetoric of Imperialism
   Christ as Emperor
   The Kingdom of God as an Empire

7. The Anti-Jewish Jesus: Socio-Rhetorical Criticism as Apologetics
   Abuse Me, Please: Luke T. Johnson's Apologetics
   When is Anti-Judaism not Anti-Judaism?
   When Did Christian Anti-Judaism Begin?

8. The Uneconomic Jesus as Enemy of the Poor
   Jesus as Radical Egalitarian
   The Fragrance of Poverty
   Sermon on the Mount of Debts and Merits

9. The Misogynistic Jesus: Christian Feminism as Male Ancestor Worship
   Mark 7//Matthew 15: The Misogynistic Jesus
   Mark 10//Matthew 19: Divorcing Equality
   The Womanless Twelve Apostles
   The Last Supper: Guess Who's Not Coming to Dinner
   The Egalitarian Golden Age under Jesus

10. The Anti-Disabled Jesus: Less than Fully Human
   Disability Studies
   John 5 and 9: Redeeming Jesus
   The Ethics of Punctuation
   Paralyzed by Sin

11. The Magically Anti-Medical Jesus
   Miracles, Not Magic?
   The Naturalistic Jesus
   Psychosomatic Ethics

12. The Eco-Hostile Jesus
   Mark 5: Animal Rights and Deviled Ham
   Luke 22 and Matthew 8: Sacrificing Animal Rights
   Matthew 21: Fig-uratively Speaking
   Mark 13: Eschatological Eco-Destruction

13. The Anti-Biblical Jesus: Missed Interpretations
   Mel and Jesus: The Hypocrisy of New Testament Ethics
   Mark 2:23-28: Jesus as Biblically Illiterate
   Matthew 19: Jesus Adds his Own Twist on Divorce
   Isaiah 6:9-10: Integrating Extrabiblical Materials

14. Conclusion
   The Ethics of New Testament Ethics
It looks like a great reference work for anyone questioning the place of Christian ethics, or any biblically-based ethics, in our society today.
The following two tabs change content below.
Neil Godfrey
Neil is the author of this post. To read more about Neil, see our
About page.
Latest posts by Neil Godfrey (see all)
---
If you enjoyed this post, please consider donating to Vridar. Thanks!
---