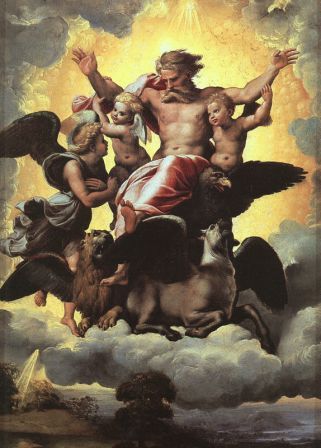 Some passages in the Old Testament throw up bizarre riddles for those of us who have always thought its various authors were strict monotheists in the same sense as we expect modern Jewish rabbis to be no-nonsense monotheists. For starters, there are those most curious passages where we read of an angel engaging earthly mortals in conversation and suddenly speaking as if they are God himself. Sometimes after such a conversation the human characters are even made to say they have just met or spoken with God. Then there are those passages in Ezekiel that read as if God were a human figure who gets off his throne and starts to guide Ezekiel around his temple. There are other riddles but let's stick with these two types for now.
Now something even stranger happens when we turn to other Jewish writings from the centuries either side of the BCE/CE point. Various writings from that period appear to have picked up these riddles in the Scriptural canon and run with them into places we could never imagine any truly monotheistic rabbi would dare follow. They bring us into a heavenly world where it is often difficult to decide who is God and who is an angel. Sometimes there appears to be an angel so exalted that he appears to be God's proxy or principal agent who does all of God's work. That angel is sometimes depicted as very much in the form of a man.
To put it most bluntly, this literature introduces us to a "man" in heaven (or celestial figure in the form of a man) who is a manifestation of God Himself. That same angelic or celestial Man sometimes appears on earth — still as a manifestation of God — to communicate with mortals. He is sometimes called the Angel of the Lord but at other times he calls himself by the name of God. Further, this celestial "man" figure or divine manifestation) is known and experienced in visions.
This most highly exalted angel sometimes starts to look very much like the image we have of Jesus Christ, the "Son of Man", at the right hand of God in heaven from our readings of the New Testament epistles and book of Acts. These Christian sources likewise speak of that Christ being revealed in visions.
It has taken me longer than usual to prepare this post because the territory is so new for me. I've read about the various angelic figures in extra-canonical Jewish literature and I've read probably most of the apocryphal writings in which these figures prominently appear but I've never deeply studied this literature or its angelophany as a whole or in any depth. I've read Margaret Barker's The Great Angel and other works of hers but their implications do not appear to register in the wider studies of Christian origins. Professor Hurtado's argues that Christianity's heavenly Christ does not truly bear a valid comparison with them because there is no evidence that any of these "Jewish" angels were ever worshiped. In my previous post I quoted Professor Boyarin's response to that "criterion of dissimilarity".