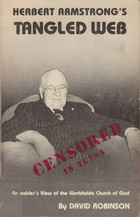 About 15 years ago I placed online a short account of how I came to find a new life, a new way of thinking and of self-acceptance after too many years as a dedicated member of the Worldwide Church of God Armstrong cult. I was one of many ex-members of that cult to add their little bios to that site. We felt it worthwhile to share our experiences to encourage others who were grappling with the various stresses and challenges of unraveling the thought-habits of years and finding a much healthier way of life as we had done. Above all we wanted to assure them that there really was a better life beyond and it was never too late to change one's life's direction. Recently I realized that there was one aspect of my final years in that cult, the years immediately preceding my leaving that cult, that I have very rarely spoken about in public forums. Given that there has recently appeared in print a charming little account of my former life that conveys a bizarre image of my former and current psychological makeup I thought it might be worthwhile for me to share for anyone half interested what my final years in that former religion were like.  (I say it was a "bizarre" account. I must refrain from using the word "dishonest" because I am sure the author would certainly have taken the trouble to have interviewed me and asked a few basic questions had he the time. It is quite understandable that busy people would need to rely upon stereotyping and armchair psychoanalysis to find the profile they need to prove their points about someone they wish to denigrate.)
First chinks in the armour
The first slight cracks in my faith in the teachings of the cult came when I decided to study in depth each book of the Bible as a discrete unit, as if it were not part of the canon. I would even try to read it as if I knew absolutely nothing at all about anything else in the Bible. That is, I would try to read each book to try to ascertain what it was saying in its own terms — without any reference in my own mind to any other canonical work. Of course most books, especially in the New Testament, do contain references to other biblical books. But I did not want to read, say, Romans, with any baggage in my head from what any other letter or gospel said. That process led to some interesting results. I began to see that some of the church's teachings were really founded on unjustifiable interpretations. What's more, I began to notice many passages that I had once read so often but also passed over so often without realizing their full import for the message the author was trying to convey. I took a number of questions to our ministry and earned myself a few worried looks. I was beginning to realize I was coming to understand and know more about what the Bible says than our trained ministry. I could see that they had not been taught to study the Bible as such but only to study the church's teachings in the Bible.
Tyndale commentaries
Around the same time or soon after I came across the Tyndale Bible Commentary series of books. Today I can scarcely imagine a more conservative set of writings but back then they were just right for what I needed. At that time I would never have picked up anything too radical. I went through each one of those commentaries, both for the Old and New Testaments, verse by verse, writing notes in my wide-margin Bible, studying, learning all the time — learning something about the manuscript traditions behind the texts, a little of the range of scholarly interpretations associated with each book, something of the culture and literary methods of the day, and so forth. For the first time I saw and understood clearly why the two epistles of Peter could not possibly have been written by the same author, and why certainly the second one was definitely not written by Peter. I came to see that the letter to the Galatians was not nearly as simply interpreted and understood as the church had always said it was. And so it went.
Death and Demolition
Then the old boy died. Herbert W. Armstrong went the way of all dead parrots. We had not fled to a place of safety. The tribulation looked further off in the distance as it ever had. And then in came Joe Tkach as the new "Pastor General". Most members had never or only scarcely heard of him till then. Almost overnight what had been inviolable doctrines of the church were being dismantled. Members had died in faith because they had refused to see a doctor. Now we were told that the doctrine of divine healing was as good as out the window. We should see doctors. Women had endured embarrassment by being the only ones at formal social occasions not wearing any makeup. Now they could wear makeup anywhere any time they liked. Members had lost jobs and given up many personal opportunities because of their observance of sabbaths and holy days. Now they could work on those days if it meant holding on to their jobs. That change was bigger than even this sounds. The church had emphatically taught that sabbath-keeping was a sign that we belonged to God. To violate it was as bad as taking on the mark of the beast. Biggest shell-shock of all for every member was that the church's most distinctive doctrine — that God is a family, that we are destined to become part of the "god family" — was ditched. In its place — the Trinity! The Trinity, we had always declared and our leaders had thundered in their evangelistic campaigns, was a pagan doctrine! Now we were embracing it. Families had been torn apart over the church's teaching that Christmas and Easter and Birthday observances were all pagan. Now members were told they could celebrate these with their unconverted families after all. Now changes like that started a few of us thinking. Here were teachings that we had been taught were inspired by God himself, that were tests of our faithfulness, that people had literally died for and suffered family breakups and social isolation for in their faithful obedience to God, now all just being tossed out the window. Their opposites were being introduced. Doctrines we had considered Satanic were now Godly. My reaction? What did I think? I thought things like this:
"This is not the church of God. This is not like the Kingdom of God. This is like Soviet Russia. What is politically correct depends on who is in charge. If we believed and taught what Joe Tkach is telling us to believe and practice when HWA was alive we would have been kicked out. Now we will be kicked out if we continue to teach and insist on the rightness of HWA's old doctrines. There's nothing in the Bible like that. That's what happens when the Soviet Politburo changes the leader."
Crazily, my mind still tried to rationalize this from time to time. Let God be true but every man a liar, etc. Then someone pulled me up short when they confronted me with their personal shock that one man could control the thinking of so many people! "No, no, it's not like that, I protested . . .  " But I knew it really was despite my feeble attempt to salvage some personal dignity in the spotlight of those who could see from the outside what was happening.
Flashback
I must return to my experiences before the death of HWA. In his final years there were growing divisions within the church. Some ministers were more liberal than others. Some were very 'reactionary' in the sense that they took a far more "righteous" stand on HWA's original interpretations of the Bible. It was a horrible time when careless words within earshot of the wrong person could mean being reported to the authorities and facing something like an inquisition. I was, I'm ashamed to say, caught up in some of this. I came to see how ugly the powers in the church could be when they went into action against someone they suspected of slight deviance in doctrinal thoughts. One particularly close friend of mine committed suicide. I really felt it could have been avoided if there had been just a little more compassion and understanding from the ministry. I took memories of those experiences — the secret reporting, the inquisitions, the suicides (there were others, too) — with me after the death of HWA. I saw how human, how ungodly and destructive of people's lives, the ministry really could be and often was.
The Critic
So by the time Tkach was leader I had come to believe I knew and understood much more about the Bible than even most of our ministry. I had come to lose a good deal of the awe I once had for the ministry. I found it difficult to "highly esteem" some of them at all. I was gaining a reputation for being a "radical" thinker among a few who knew me well, and among the ministry I sometimes privately challenged on matters. I did not attempt to sow my doubts among all and sundry, however. I believed at that time that that would have been wrong. I would have been sowing discord. It was better for everyone to come to their own understanding in their own way. Besides, this was the only social life I had really known for so many years. Here was where all my friends were. And here was where my children's friends were. One does not just up and walk out from something like that. Well, at least I didn't. There were other personal traumas involving the ministry. To cut this long-winded story short, I eventually sought out and found information circulating from certain ex-members who had been close to HWA and the governing elites. This information had credibility. It explained so much of the ugly side of what I had seen in some grubby dealings with our ministry and it explained some of the power-struggles that had led to the doctrinal changes. I contacted some of the authors. I met with some ex-members. I tested some of the information I was learning. It was devastating stuff. Our highly esteemed leader of so many years was not at all as his image had been. I was sickened. It all made sense now. Now I could understand the whole point and what was behind the authoritarian control wielded by the ministry, why so many lives had been ruined, how we were all being fleeced and kept in poverty to allow them to live the high-life. I did not walk out. I stayed. I had a job to do before I could walk out. A few jobs, actually. It would take me time seek out and build up a new social network where my kids could feel at home. I also had to find out the best way to alert as many members as possible to the reality of what they were mixed up in. Once I was out I would be cut off with no chance of contacting anyone again. Meanwhile I collected as many names and addresses of members as I could. Church newspapers were always left at the front door with name labels on them so it wasn't too difficult to surreptitiously collect these from various churches that I visited over many months. It was only after I collected around 300 that the problem of postage dawned on me. That was going to be an expensive operation. But I did it. I typed up a letter that merely presented a long list of phone numbers and addresses that readers could contact if they wanted to learn more about "the other side" of what the real modus operandi of the church was. I posted them all. The responses encouraged me. Some phoned me anonymously to get more information. Some met me later and personally thanked me. The ministry was not happy, of course. They announced throughout Australian pulpits that anyone receiving a letter from me was to hand it in unopened to the ministry or burn it unopened. I was declared "in the bond of Satan". Afterwards I started to slip little flyers into the church magazine stands in shopping centres and such. The flyers were warning readers the literature was produced by a cult and they could find out more at such and such a place. I received a letter threatening legal action against me for my efforts.
A New Life
That's the short version of a long story. I was actually disfellowshipped three times before I left for good. My last years were critical of the church leadership and the way they treated members. They were also critical of an outfit that could ruin people's lives by insisting on teaching certain doctrines yet turn around and say those doctrines were wrong and we're sorry, etc . . . and expect us all to continue to be loyal members! From there I returned to the more uplifting and open form of worship I had grown up with. I attended Anglican and liberal Baptist churches for a time, and a few others, including a Roman Catholic one, until I found the most comfortable one for me and my kids. I was certainly no atheist. Perish the thought. I remained a devout Christian, but one that did not look to any organization or church as an authority. Salvation and conversion was a personal matter between the believer and God. It was a happy, fulfilling time. I still look back with respect on my years in those liberal churches. The move towards atheism was another story that came later. Before then I read widely on cults and other fundamentalist churches and was surprised to learn how common my own experiences had been. I formed a little "cult veterans support group" or support group for ex-cultists. Mormons, Jehovah's Witnesses, other weirdo ones I can't recall now — we were all astonished at how alike our experiences had been. While immersed in the cult we had been conditioned to think of ourselves as unique. All of that fell away and it was great for all of us to compare notes and discuss positive ways forward. So if anyone reading this comes across some ignorant assertion that as a "fundamentalist" my thinking was, well, "fundamentalist", just direct them to this piece. If my thinking were fundamentalist in the way they mean then I would either still be there or would have joined one of the many break-away sects from that cult. I exited fundamentalism long before I left the fundamentalist cult. Perhaps this post should be coupled with my recent What R. Joseph Hoffmann Does Not Want (Anyone) To Believe About Me in which I describe the impact of my religious years in between the cult and atheism. Oh, and of course link it with my even more recent post, Once a Fundamentalist . . . Never Again.
The following two tabs change content below.
Neil Godfrey
Neil is the author of this post. To read more about Neil, see our
About page.
Latest posts by Neil Godfrey (see all)
---
If you enjoyed this post, please consider donating to Vridar. Thanks!
---