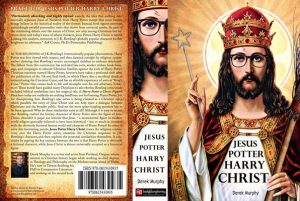 All posts in this series are collated here.
Chapter three of Derek Murphy's book, Jesus Potter Harry Christ, discusses the evidence commonly cited for the historical existence of Jesus. In his view the arguments used to support the historicity of Jesus
are often a mixture of inferences, deductions and references to common knowledge and unfounded associations. (p. 68)
He uses Lee Strobel's claims for "overwhelming evidence" for Jesus' existence as his foil, beginning with the claim that gospels such as that of Luke are "so painstakingly accurate" in their historical details. Murphy knocks this argument out flat by comparing the many researched minute details and accurate facts in the tales of Dan Brown's Da Vinci Code and Rowling's Harry Potter.
Other common arguments are addressed and refuted with reference both to the facts of the historical record and the logic of the claims themselves: Continue reading ""Jesus Potter Harry Christ" review, part 3: Where's the Proof?"