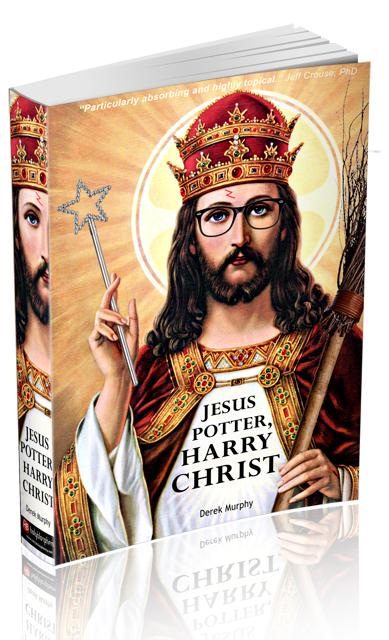 So what has kept the mythicist controversy alive despite frustrated assertions among biblical scholars that the debate was settled long ago? Derek Murphy demonstrates in chapter two of Jesus Potter Harry Christ that the modern controversy over the historicity of Jesus "has a long and substantial history, and that, in effect, the jury is still out." Derek Murphy is well aware that some of the works he uses have been questioned and disputed with the advance of academic research. His purpose is thus limited to showing the existence and heritage of the debate.
My goal is only to demonstrate that a modern controversy over the historical Jesus exists, that it has a long and substantial history, and that, in effect, the jury is still out.

I also want to show that certain claims regarding Jesus are not modern delusions of "fringe" scholars — in fact there are few claims made about Jesus today that were not made centuries earlier. (p. 47)
Dismay among many believers in the historicity of Jesus reminds us that few people are aware that the question can be raised at all, and that the evidence used to support Jesus' historicity is not universally accepted.
Murphy reminds us that the question of whether Jesus ever existed as a man is as old as the earliest Christian records themselves. The authors of the epistles of John and Ignatius, with their attacks on some form of Docetic heresy that held that Jesus only appeared to be a man, and all he did was in appearance only, should unsettle any complacent acceptance that the first generation of Christians universally accepted that Jesus had lived in any sense that we would consider historical.
He then compares the questions raised by second-century writers like Justin Martyr (Christian) and Celsus (opponent of Christianity) with the central theme of his own book: b0th remarked on the common observation of their own day, that the claims made for Jesus (miracles, ethical teachings) were not unique, but were little different from the myths and teachings attached to pagan gods and heroes, and that the only essential difference was that the followers of Jesus insisted Jesus was real and not a myth or symbolic life pre-figuring Christ. There is nothing new here, of course, but it is worth revising and keeping in mind nonetheless. Derek Murphy adds his own twist to this historical record: the same arguments since the days of Justin and Celsus are used today to explain the difference between the otherwise very similar Harry Potter and Jesus Christ. Harry is fiction, Jesus is real.
The Modern Debate
Derek Murphy outlines the contributions of many names questioning either the historicity of Jesus or the possibility of knowing anything about the historical Jesus (given the extent of mythical overlay) from 1600 to the turn of the 20th century. Giordano Bruno compared the gospels to pagan mythologies, and burned at the stake for his efforts; G. E. Lessing and Voltaire were pioneers in subjecting the gospels to rational inquiry; (Murphy mentions Reimarus in passing but I would have liked a little more detail on his contribution, too); Constantin-François Volney and Charles François Dupuis initiated the hypothesis that the stories of Jesus were based on astral and solar myths; Bahrdt and Venturini linked the idea of Jesus with the Essenes and "secret wisdom from Babylonia, Egypt, India and Greece."
Murphy acknowledges that scholarship has moved on since many of these early theories. He is demonstrating, however, that the evidence for the historical Jesus is too insubstantial to resist the questions raised and attempted alternative explanations.
He briefly covers the works of Thomas Jefferson, Reverend Robert Taylor (founder of the Christian Evidence Society, and who was jailed for his promulgation of the nonexistence of Jesus, and the "Devil's Chaplain" influence on Charles Darwin's life, although Murphy does not raise this latter detail), David Friedrich Strauss and Bruno Bauer (who doubted not only Jesus but Paul, too) — William Wrede in his The Messianic Secret (1901) is noted as repeating many of Bauer's ideas — Ernest Renan and Kersey Graves (author of The World's Sixteen Crucified Saviors).
In the wake of the discovery of the Rosetta Stone that enabled the translation of Egyptian writings there was a flurry of comparisons of Christianity with Egyptian myths, and Murphy summarizes the works here of W. R. Cooper and Gerald Massey.
Murphy moves on to the publications of John Mackinnon Robertson, G. R. S. Mead, Thomas Whittaker and Arthur Drews and others. Unfortunately Murphy quotes Maurice Goguel's summary of M. Couchoud's mythicist view (similar to Earl Doherty's in that Paul's Christ is argued to be a heavenly being) as if it were Goguel's own view. Goguel was, of course, critiquing the mythicist arguments.
This section of the history of the mythicist tradition is rounded off with the significance of Bultmann who, while not a mythicist, declared that the historical Jesus is beyond the scope of rational inquiry:
I do indeed think that we can know nothing concerning the life and personality of Jesus, since the early Christian sources show no interest in either, are moreover fragmentary and often legendary; and other sources about Jesus do not exist.
In 1927 the famous philosopher Bertrand Russell could express doubts that Jesus ever existed in his famous lecture Why I am not a Christian.
Murphy sees this period (dominated by Bultmann) as a turning point into the inquiry into the historical Jesus. From here many branched into studies of comparative mythology and psychology, while others attempted to uncover the historical Jesus by removing all the layers of myth over his story.
Mythology, Archetypes and the Subconscious
Murphy goes into a little more depth the works of each of James George Frazer (The Golden Bough), Sigmund Freud (The Interpretation of Dreams and Moses and Monotheism), Carl Gustav Jung, Mircea Eliade and Joseph Campbell (The Hero with a Thousand Faces and The Masks of God.) Murphy acknowledges the flaws of some of this earlier research, and the fact that much of it is now dated. What remains of significance is that it revealed the universal aspects of the myths underlying Christianity. Christian apologist C. S. Lewis is said to have acknowledged this positive contribution, yet believed that it did not threaten Christianity because this was a genuine historical expression of that universal myth.
Criteria of Double Dissimilarity
Murphy brings readers up to date with scholarly method still used today in the search for the historical Jesus — the criteria of double dissimilarity (CDD). Ernst Käsemann and Norman Perrin expanded and consolidated the method Bultmann had initiated, and Murphy lets these two modern scholars explain the limited nature of historical resources for the historical Jesus and their particular slant on CDD in their own words. CDD seeks to establish confidence in the discovery of an original saying of Jesus by removing any word that we have reason to believe originated with pre-Christian Judaism or Christian tradition itself. But given how scant is our evidence for both first-century Judaism and Christianity, Murphy points out that it is presumptuous to assume that any untraced data did not indeed belong to either of these institutions.
Murphy rightly notes that CDD is only possible if one first removes all the mythological and pagan elements from the gospel narratives. These are a priori assumed to be much later additions to the traditions about Jesus. So this leaves scholars with a hypothesized historical figure to pick up whatever in the gospels cannot be traced to Jewish or Christian traditions. In other words, in the absence of direct evidence for the existence of Jesus, Jesus is assumed as a hypothesis and is fleshed out with whatever scholars select from non-Jewish and non-Christian tradition, and of course non-mythical and non-pagan data.
Jesus the historical figure is the binding element given to any untraceable idea, phrase, philosophy or theology from a specific time period. (p. 59)
This is the method at the heart of the more well-known and very diverse accounts of what Jesus "might have been like" by scholars such as Vermes, Sanders, Crossan, Meier, Fredriksen, Theissen and Winter.
Murphy is right to point out that the Jesus who is the result of CDD is inevitably going to be nothing like the Jesus in the gospels and therefore will not serve as a doorway to the Christian faith.
Murphy discusses the reflections of another scholar I have also spoken about on this blog several times, Scot McKnight, and his conclusions: the way scholars inject their own personalities and theological views into their respective reconstructions of Jesus; and the suspicion that the motivator of such historians is not a disinterested curiosity about what really happened, but a desire to find an alternative Jesus to the one of traditional orthodox faith.
But Murphy rightly goes further than I have done in my discussions. He points out how even Scot McKnight's conclusions and options for historical approaches go nowhere towards leading biblical scholars out of their theological blinkers. McKnight himself is prepared to accept a resurrection and heavenly ascent as a legitimate historical explanation, and hence is as unlike any genuinely unbiased historian as any of his colleagues. I agree. This sort of nonsense demonstrates the un-rational approach that finds a congenial home among the guild of biblical scholars. (This is not anti-supernaturalistic "bias", but simple logic. A miracle must by definition always remain the least probable explanation no matter how unlikely various alternative natural explanations might appear to be.)
I particularly like Murphy raising the question whether New Testament scholars are the ones qualified to investigate the historicity of Jesus or Christian origins. Would not there be a case for mythologists, sociologists, comparative religionists, or historians being better qualified to study the historical origins of the movement?
So Murphy demonstrates that the scholarly approach (one that relies most heavily on CDD) does not get us anywhere nearer a historical Jesus. A historical Jesus is merely a hypothesis constructed to catch what cannot be explained by Judaism and the Christian tradition — and that omits the very mythical elements that really make the Jesus narrative meaningful.
The Christ Myth alternative not very different from the orthodox historical Jesus position
Christianity grew as a result of the shining faith of the early Christians; martyrs died for the Christ of faith, not the historical Jesus. This is, more or less, as Derek Murphy astutely observes, the position of both mythicists and historicists. Both agree that the mythical overlay eventually came to be understood as historical reality.
The reason for the debate, according to Murphy, is the refusal of academia to accept the possibility that comparative mythology can shed light on Christian origins, and their insistence on finding a historical Jewish Jesus. Yet the similarities of Jesus with pagan mythical figures has been recognized since the second century. Granted, as Murphy admits, that much past scholarship arguing for a mythical Jesus was bad by today's standards, and "most" online supporters of mythicism have made little progress in this area.
On the other hand, Murphy makes the telling observation that scholarly arguments against mythicism also ignore much of the critical research of recent years in their own discipline. Arguments that were used against mythicism a century ago and that have long since been discredited as lacking logical foundation or as having been outpaced by critical research since, are still being dragged out by scholars intent on demolishing the very questioning of Jesus' historical existence.
Related articles
The following two tabs change content below.
Neil Godfrey
Neil is the author of this post. To read more about Neil, see our
About page.
Latest posts by Neil Godfrey (see all)
---
If you enjoyed this post, please consider donating to Vridar. Thanks!
---