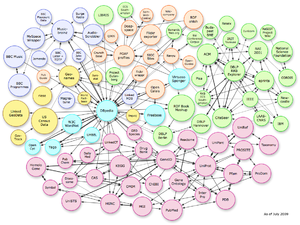 The past few weeks at work have been heavy with getting my head around (1) various requirements for measuring research outputs from universities, and (2) requirements for curating and linking for re-use research datasets. It's all about measurable data. Citation counts, journal rankings, figures from experiments, surveys, tests. And having an Arts and History background I am always attentive to how the less mathematical disciplines are handled in such processes, too. And when I think of publications by academic historians I know personally I recall the extensive research that they have undertaken to produce stories that are grounded in massive amounts of collected data. It comes from newspapers, police and town council records, diaries, etc. Even ancient histories I read — the development of Athenian democracy, for example — are based on masses of diverse documents and archaeological reports. (One almost gets the impression that topics are chosen, questions are asked, research is undertaken, in accordance with areas for which there is such evidence.)
And then I recall last night I was re-reading a few pages from Paula Fredriksen and Maurice Casey justifying their historical claims about the personal relationship Jesus had with John the Baptist. Neither has any real data about such a relationship on which to ground their discussions. The Gospels in fact don't speak of such a relationship between them. It is all speculation. Note, for example, how Fredriksen manages to convey a sense of multiple sources for her conclusions, and note the smoke and mirrors at work:
What we do know past doubting is that John had a crucially important impact on Jesus. (p. 191 of Jesus of Nazareth, King of the Jews)
That is a strong statement. But now look at what it is based upon:
A. According to the synoptic tradition, Jesus in some sense received his calling during or just after his baptism . . . Mk 1:9-11 . . .

B. On the evidence of Q, Jesus held John to be a prophet . . . . Mal. 3:1; Lk. 7:26-27//Mt 11:9-10.

C. The Fourth Gospel presents John and Jesus as immersing in tandem . . . Jn 3:22-23, though 4:2

D. In Q Jesus links their two missions together . . . . Lk 7:33-34//Mt 11:18-19

E. Finally, the Gospels suggest that the priests in Jerusalem — Jesus' ultimate antagonists in the Passion narratives — were also unfriendly toward John. . . . Mk 11:30-33. . . . Matthew's Jesus more pointedly condemns these men for not "receiving" John. . . . Mt 21:32
These are the data provided to support the statement that there is no doubt that John had a crucially important impact [of some sort] on Jesus. (The particular nature of the impact is a subsequent discussion that I leave aside for now.)
We have references to data from:
"the synoptic tradition"
Q
The Gospel of John
The Gospels (specifically Mark and Matthew)
That is, it all comes from the canonical Gospels.
But look at what that data actually consists of:
A. It is a modern rationalization of the Gospel narrative to claim that Jesus received a calling in some sense around the time of his baptism. The data itself says no such thing. There was no calling at all. Jesus was baptized by John, was spoken to by God from heaven, and then went into the wilderness to face a trial of some kind with Satan. There is nothing in the actual data to suggest that Jesus had any other relationship with John at all. Jesus meets John as abruptly as he later meets his first disciples. He simply walks up and says "Follow me" and as if hypnotized they are said to immediately drop everything and follow. That is the story. It is not a natural story, of course. But we need to respect the Gospel narrative as it is and not bring to it our modern rationalizations to make it serve our modern values or desires.
B. So Jesus is narrated as saying that John was a prophet. This says absolutely nothing about any personal relationship between Jesus and John. Nothing. The passage claims that John was the greatest of the prophets, and it quotes Malachi 3:1 which spoke of a messenger to come before the Lord. The passage "in Q" is data about a contrast between Jesus and the messenger (foretold in Malachi). That's it. It is a significant passage theologically in the distinction it draws between the Old and New "religions". It instructs readers that both the poverty and the greatness of the Old is nothing in contrast to the New. There is absolutely nothing about a personal relationship between the two characters.
C. Again we have nothing in John that can be considered data that testifies of a crucial personal impact by John on Jesus. The Fourth Gospel actually has John say that he did not know Jesus until there was a spiritual revelation. One might like to rationalize this to hold on to a notion that John at least knew Jesus humanly beforehand here, but that is a gratuitous reading into the text. We read of some disciples of John following Jesus in such a way that suggests they had not known Jesus earlier. And then when we read of Jesus baptizing in tandem with John, we might as easily interpret that as Jesus setting up a rival shop and a refusal to come under John's influence.
D. To suggest that the gospels (or Q) "links the two missions together" on the strength of Jesus contrasting the dietary habits of the two is a little misleading. It is not surprising that "linking the two missions" is the phrase that is used because it is suitably vague. What does "linking" mean here? In what sense are they linked? There is no concrete evidence for any real-life association of the two whatever. The linking is entirely at a rhetorical level.
E. Finally, the Gospels draw references to John into the closing stages of the narrative, and they do so in a way that reminds readers that John is in some sense forerunner of Jesus. He died a martyr first, before Jesus, and Jesus will go the same way. But that is not a reason to think that the references to John are indications of an earlier personal influence of John on Jesus. Again, the Gospels are treating the contrast and comparison between John and Jesus at a theological, literary or rhetorical level, and they at no point ever indicate John having an influence of some kind on Jesus.
Conclusion:
The claim that John had a "crucially important impact" upon Jesus is unsupported conjecture. The claim that this conjecture is a fact "past doubting" is . . .  (is "mischievous" too strong a word?)
One might object that Fredriksen gives good evidence in the later part of this chapter when she discusses the nature of the influence John supposedly had on Jesus. She does point to the similarity of their messages of the coming Kingdom, their ethical instructions, their call to repentance, etc. Perhaps I can discuss this in some detail another time, too. But surely any such objection can clearly be met with the simple fact that John's role as the messenger preparing the way for the Lord must necessarily, by simple definition, be a mix of similarities (preparing the way) and contrasts (his way is to be replaced). Again, the explanation is most simply the theological one. Why tear the narrative apart, ignore what it says, and re-write it to accommodate historicist assumptions and modern rationalizing preferences?
This post is not an attack on Paula Fredriksen. No doubt she has met all the requirements of her discipline to be a recognized biblical scholar. But my oh my, what can one conclude about the nature and rigour of those requirements?
This might not be a bad time to remind some readers of my own background and why I am posting stuff like this. I was for many years a very devout Christian. I did experience two or three different types of denominations or sects. When I began to question my faith I asked questions about the edges of things, and it took a few years before I was in a position to question the more central beliefs such as the divine inspiration of the Bible, and eventually God himself. As I questioned and found myself leaving former beliefs behind, I was always aware that I was in a sense "leaving behind" some friends with whom I had also shared my earlier journeys. They chose not to follow the same paths I was taking, but I could never fault them for their decisions. We each must take our own journey, and we are all where we are at as a result of our own experiences, make-up, etc. So I would hope that these posts are not seen as "attacks" on Christians or believers of any kind. I was once where "they" are at, so I am in no position to "attack" anyone in that sense. But that does not deny me the right to express my views, and to express my own questionings, in a public forum for anyone else who is interested.
(I will and do "attack" on occasion (maybe not often enough) bigotry and practices that I see as harmful. And that includes sometimes not holding back against those public intellectuals who I believe are abrogating their responsibilities to set a standard of intellectual integrity and civility in their public discourse.)
The following two tabs change content below.
Neil Godfrey
Neil is the author of this post. To read more about Neil, see our
About page.
Latest posts by Neil Godfrey (see all)
---
If you enjoyed this post, please consider donating to Vridar. Thanks!
---