In a recent post, I mentioned a new publication, The First Paul, by Marcus Borg and John Dominic Crossan. I said it contained some interesting bits, but also some bits that one might suspect are arguably on the dubious side of method and logic. I discussed a positive for my first post, now for a negative.
In the first-century setting of Paul and his hearers, "Christ crucified" had an anti-imperial meaning. Paul's shorthand summary was not "Jesus died," not "Jesus was killed," but "Christ crucified. This meant that Jesus had been crucified by imperial authority . . . . In Paul's world, a cross was always a Roman cross.
Rome reserved crucifixion for two categories of people: those who challenged imperial rule . . . and chronically defiant slaves . . . The two groups who were crucified had something in common: both rejected Roman imperial domination. Crucifixion . . . carried the message, "Don't you dare defy imperial authority, or this will happen to you.
To proclaim "Christ crucified" was to signal at once that Jesus was an anti-imperial figure, and that Paul's gospel was an anti-imperial gospel. The empire killed Jesus. The cross was the imperial "no" to Jesus. But God raised him. The resurrection was God's "yes" to Jesus, God's vindication of Jesus — and thus also God's "no" to the powers that had killed him. (p. 131-2)
I admit I have much more to read on this topic, including a few books in my personal library like the twelve year old Paul and Empire by Richard Horsley which I am embarrassed to confess I still have only half-read. So the argument of this post is restricted solely to the discussion as found in Borg and Crossan's new popular book.
I have been recently blogging about the ostensibly pre-gospel passages about the crucifixion of Jesus (latest post here), arguing that this foundational event is entitled to be questioned as to its historical status, widespread opinion among biblical scholars notwithstanding. My conclusions differ radically from Borg's and Crossan's as cited above. So time to address their claims:
Paul's shorthand was not "Jesus died" . . . Really?
Yes, "crucified" is the term used in chapters 1 and 2 of 1 Corinthians. But this is scarcely enough to persuade anyone familiar with Paul's letters as a whole to think that for Paul the central act of the gospel embedded an intrinsically anti-imperialist message. In fact, it seems B's and C's claim here is based entirely on two chapters in but one of Paul's several letters.
1 Corinthians
By the end of the letter it seems Paul decided to tone down this supposedly "anti-imperialistic" rhetoric and let the Jesus followers off the hook by reminding them that they were acting out Jesus' death only in their ritual meals, not his crucifixion:
11: 26 . . . you do show the Lord's death till he come.
2 Corinthians
In chapter 5 Paul writes three times that "Jesus died" without a hint of "anti-imperialist" crucifixion.
5:14 . . . if one died for all . . .
5:15a . . . he died for all . . .
5:15b . . . him who died for them . . .
Galatians
1:1 . . . who raised him from the dead . . . [darn it! Paul just missed an excellent opportunity to drive home his anti-imperialist gospel by pronouncing God's Yes to Jesus and No to Empire: why did he not think to write, "who raised him from the crucifixion!"? What happened to God's "yes" to Jesus and "no" to the imperial power that crucified him?]
2:20 . . . I am crucified with Christ . . . [Gosh! So Paul deserved those floggings in Acts, and he really was justifiably executed as an anti-imperialist rebel in the end?]
2:21 . . . if righteousness come by the law, then Christ is dead in vain . . .
3:1 . . . Jesus Christ hath been evidently set forth, crucified among you . . . [Why did governor Pliny not pick up on such anti-imperialist sentiment when he asked Trajan how to handle the Christians?]
5:11 . . . if I yet preach circumcision, why do I yet suffer persecution? then is the offence of the cross ceased. . . . [Whoah a minute here! Does Paul really mean that the anti-imperialist message of the cross can be nullified by preaching circumcision??? Yet that is what acceptance of Borg's and Crossan's assertion would lead to! Ditto for 6:12.]
5:24 . . . And they that are Christ's have crucified the flesh with the affections and lusts. . . . [So drunkenness and fornication are sending anti-imperialistic messages?]
6:12 . . . they constrain you to be circumcised; only lest they should suffer persecution for the cross of Christ. [See 5:11 above.]
6:14 . . . But God forbid that I should glory, save in the cross of our Lord Jesus Christ, by whom the world is crucified unto me, and I unto the world. [This passage simply makes nonsense any attempt to read into the crucifixion an anti-imperialist message.]
Romans
Maybe it was because he was writing a letter to Christians in the imperial centre of empire, but Paul makes but one solitary reference in this letter to Jesus being crucified. But hold on, the fact that he was writing to Rome should not decide the matter in this case, because in the same letter he actually says that Christians are to see themselves as subject to a daily "crucifixion with Christ". Is he really writing to devotees living in the shadows of the imperial palace to acknowledge that they are "anti-imperialists" by their daily conduct? See 6:6 below:
5:6 . . . Christ died for the ungodly
5:8 . . . Christ died for us
5:10 . . . the death of his Son . . .
6:6 . . . our old man is crucified with him . . .
14: 9 . . . Christ both died, and rose . . .
14:15 . . . for whom Christ died
1 Thessalonians
4:14: . . . Jesus died and rose again . . .
5:9-10 . . . our Lord Jesus Christ who died for us . . .
Philippians
2:8 . . . even the death of the cross
3:10 . . . being made conformable to his death . . .
3:18 . . . enemies of the cross of Christ . . .
If "Christ crucified" were Paul's shorthand for his gospel in order to stress its anti-imperialistic message, it appears from the above citations that this was a point he did not wish to emphasize very often, and even sometimes a wording he wanted to infuse with an alternative meaning, probably just to throw the secret police off the scent! 🙂
Did Imperial Rome really hold the crucifixion patent at the time of Paul?
The answer to this question depends on our starting assumptions. If we assume before commencing our enquiries that the Jesus story and Paul's mission as per the Book of Acts are truly based heavily on historical accounts, then the answer will be "Yes". Paul according to this assumption knew only Roman rule and that only Roman rulers administered crucifixion.
But if we attempt to put ourselves into the minds of first-century moderately informed people, then we will know we have to allow for the idea of crucifixion having many provenances. Popular "novels" of the era not uncommonly include a dramatic crucifixion scene as part of the adventurous plot, including:
In the influential philosophical treatise, Timaeus, Plato describes the gateway between the corruptible realm where our earth resides and the incorruptible divine realm as a cross, in reference to where the celestial equator and ecliptic intersect.
Neighbouring peoples such as the Persians and Seleucids had carried out crucifixions. I cannot know if Rome's neighbours at the time of Paul did, but crucifixion was not unique to Rome. Jews, in particular, would have held a cultural memory of how one of their kings, Alexander Jannaeus, had crucified 800 Pharisees. Josephus records this for us.
Paul speaks of "princes of this world" as crucifying Jesus, suggesting that it was not Rome but some other powers (compare the information we glean from Daniel) responsible for the crucifixion of Jesus.
A near Jewish contemporary of Paul and Jesus was Philo who also wrote about the crucifixion in ways surprisingly similar to Paul's usage — allegorically, although not with any hint of anti-imperialist connotations.
Where is Philo?
So often I see Philo referred to in scholarly studies of biblical matters in order to clarify the intellectual context of the times. Curiously he has been overlooked by B and C. Here is Philo's paragraph 61 from section XVII of On the Posterity of Cain and his Exile:
(61) Now the soul that subjects itself to bodily compunctions has the beforementioned inhabitants. Acheman, being interpreted, means, my brother, and Jesein means "outside of me," and Thalmein means, some one in suspense; for it follows of necessity, that the body must be thought akin to the souls that love the body, and that external good things must be exceedingly admired by them, and all the souls which have this kind of disposition depend on dead things, and, like persons who are crucified, are attached to corruptible matter till the day of their death. (62) But the soul that is united to virtue has for its inhabitants those persons who are preeminent for virtue, persons whom the double cavern has received in pairs, Abraham and Sarah, Isaac and Rebeckah, Leah and Jacob, virtues and those who possess them; Chebron itself keeping the treasure-house of the memorials of knowledge and wisdom, which is more ancient than Janis and the whole land of Egypt, for nature has made the soul more ancient than the body, that is than Egypt, and virtue more ancient than vice, that is than Janis (and the name Janis, being interpreted, means the command of answer), estimating seniority rather by dignity than by length of time.
A discussion of Philo's allegorical use of the crucifixion image can be found on pages 186-7 of David Chapman's Ancient Jewish and Christian Perceptions of Crucifixion available on Google Books. If this Jew living under the same Roman imperial power as Paul did not associate "crucifixion" with imperialist or anti-imperialist sentiments, why should we think that Paul was compelled to do so?

Back to Borg's and Crossan's context of 2 Corinthians
After noting all these other passages above from the widely accepted genuine Pauline corpus, it is tempting to have a second look at the context of those passages B and C use to argue their case for an anti-imperialist message in the crucifixion.
1:23 But we preach Christ crucified, unto the Jews a stumblingblock, and unto the Greeks foolishness
If Paul were writing at a time of various seditions and troubles preceding the outbreak of the Jewish rebellion against Rome, how plausible is it, really, to suggest that Jews found an anti-imperialist gospel an offence of some sort? One would think from Josephus's account of the various anti-Roman movements in the lead-up to the war that such a gospel would have been enthusiastically endorsed by a vast bulk of the Jews.
2:8 . . . [the princes of this world] would not have crucified the Lord of glory [Compare Daniel chapters 10 and 12 which reveal that there are divine or angelic Princes of Persia, Greece and Israel]
I am reminded of the claim of Jesus before Pilate in the Gospel of John 19:10-11
Then saith Pilate unto him, Speakest thou not unto me? knowest thou not that I have power to crucify thee, and have power to release thee? Jesus answered, Thou couldest have no power at all against me, except it were given thee from above: therefore he that delivered me unto thee hath the greater sin.
Paul clearly could not have had anything like the "tradition" that reached the author of the Gospel of John, since Paul speaks explicitly of plural princes of the world crucifying Jesus while the gospel has one human governer under the power of God alone or a single agent of God. More likely Paul had access to a narrative or treatise or group-think that could be traced back to Psalms 2: 2
The kings of the earth set themselves, and the rulers take counsel together, against the Lord and against his Anointed. . .
(The author of the Gospel of Pilate may well have used this verse too when in the surviving opener of the manuscript he appears to have pictured Herod and Pilate sitting together at the judgement of Christ.)
Long-time anti-imperialist bias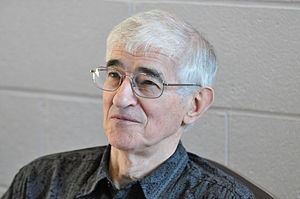 Crossan's earlier work, The Historical Jesus (and its popular format, Jesus: a Revolutionary Biography), was often criticized for letting show his Irish Catholic anti-
British-imperialist heritage. Methinks nothing has changed in that respect, and just as Crossan's Jesus happened to preach Crossan's politics, so Crossan's Paul preaches Crossan's politics as his gospel! How else to explain such a powerful assertion about a political message underpinning the phrase "Christ crucified" on the basis of so few citations and in defiance of so many more?
Methinks there is a stronger case for a non-historical origin for Paul's use of the crucifixion image, but that's another story.
But there's more (maybe later)
I had intended the above point to have been covered in 6 lines when I started, and to follow up with B's and C's use of Acts and pitiful 20th century social analogies to justify their additional claims about the meaning of Paul's message of both crucifixion and resurrection. But I've run out of beer and need to take a break.