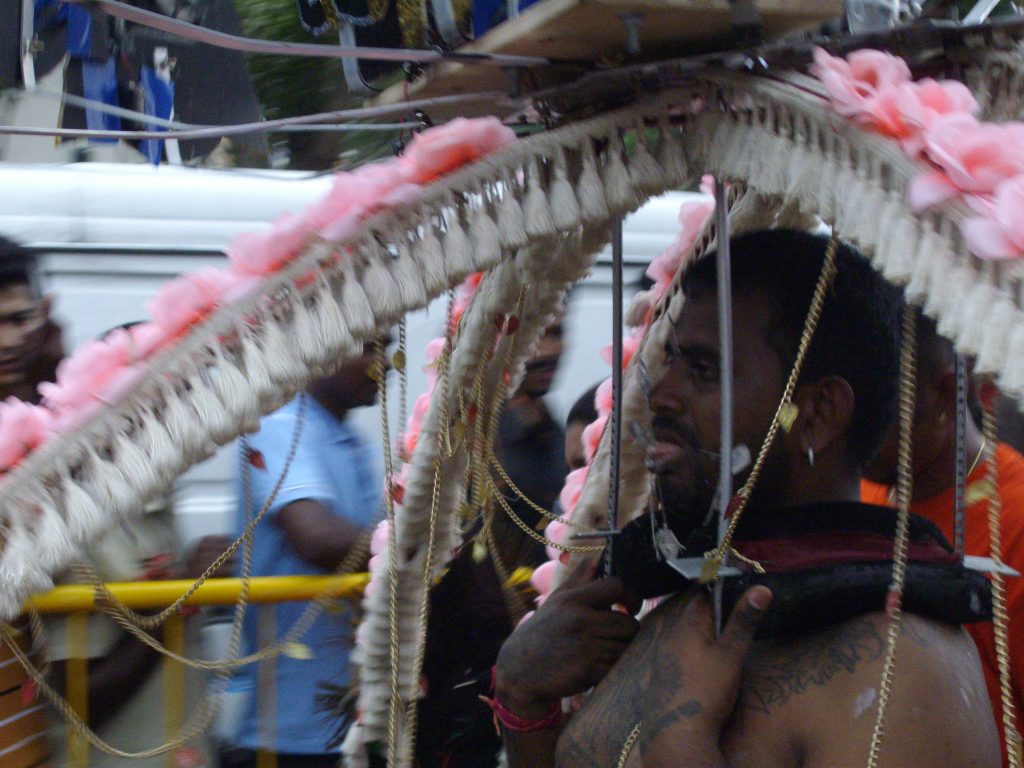 A couple of weeks ago, by chance I stumbled across a crowded street scene in Little India (part of Singapore) and had to have a look to see what the interest was. Hundreds of onlookers were staring at a half-naked man stoically carrying a heavy metal structure decorated with peacock feathers and other Hindu decorations. From a distance it was easy to dismiss it as little more than a decorative show for some worship ceremony, but a closer look raised questions. Were those really metal hooks laced by the dozens through his skin? Were both his cheeks really pierced through with a single dagger?
There was no blood, however. But yes, looking at more of these men following one another along the street, it was clear they were walking with some form of self-sacrificial burdens. Daggers pierced both cheeks; other exquisitely decorated long blades pierced tongues; hooks through their skin in dozens of places carried what must surely have been a substantial weight of chains; and most bore on their shoulders an obviously weighty structure displaying the glory of what I took to be some Hindu god. A smaller number instead hauled heavy religious statues along the road by chains hooked through the skin on their backs.
All were surrounded by close bands of supporters. Presumably relatives and friends. Women, elderly, children. Regularly they all broke out into chants and songs, beating drums, clashing cymbals. They would keep a close eye on the one carrying the burdens of some sort of penance and regularly check to see that he was coping. Sometimes this "help" consisted of refastening a hook on the end of a chain that had fallen out of his skin on his back, or his nose or cheek. Sometimes a little water was poured down the mouth of a man who looked up helplessly with his cheeks parted by a single dagger lodged through them both, and another upright through his tongue.
Astonishingly, on some occasions one of these flagellants would begin skipping, jumping, and whirling around in a lively dance with the sound of the drums and cymbals. Crowds would cheer him on. Ocassionally after one who exerted himself like this for a few minutes supporters would offer him a stool for a moment' sit-down.
I know very little about Hinduism, but I afterwards learned from some Hindu friends here in Singapore that this is the Thaipusam festival, and that it is only found today in Malaysia, Singapore, and pockets of southern India. Not even all Hindus would have heard of it, I was told.
I have a full set of photographs, including video clips (which will not load here) at my Thaipusam collection on Flickr.
I was also told that preceding this journey the men would undergo a special fast that was supposed to contribute to the absence of blood when pierced by hooks and daggers.
The large weights of magnificent decorations are called kavadi. This was a cross shaped base superimposed by a dome.
Some of the women carried food — milk and flour and fruit. At one stage the suffering of one of the devotees was ritually enhanced by one of his attendants stop before him, take a piece of fruit from a tray held by a woman nearby, and then with a knife cut it in two — and tossing each piece far out into the crowd. The sufferer was not to eat, but had to see food tossed away from before him. (I think this is captured in the second half of my IMG1919 clip.)
I was also told that at the end of their several kilometer "pilgrimage" they fire-walk. But I know how that works so that didn't impress me so much. (The heat from coals is slow to generate and as long as one keeps one's feet moving quickly enough there will not be time for them to be burned across a short sprint.)
Given my Christian background and the strangeness of this ceremony to me, I could not help but make comparisons:
In both religions there is the concept of a person being required, for salvific purposes, to undergo extreme physical suffering
This physical suffering is something to be overcome. In the ceremony I saw there were no tears from any of the participants, only the reverse — an occasional burst of dance and song to apparently demonstrate that the sufferer was "not of this body" but was infused with a higher existence.
There is an important role for blood: either it is to be liberally shed or not shed at all.
The suffering and giving up of the flesh of each man is also his glory. Presumably he does this to attain to some higher spiritual life or relationship. And as Christian literature speaks of the cross as a glory, so it was clear that each of these participants bore in their suffering the weight of the glory of their gods.
Interesting — the myths vary, the roles of the actors vary, but they all point to a common action-theme. Of course some Christians today in Latin America, Philippines and southern Europe imitate the sufferings of Christ in a similar way. Again, this may be another pointer to the origins of myths — they originated long ago to explain the customs, not the other way around.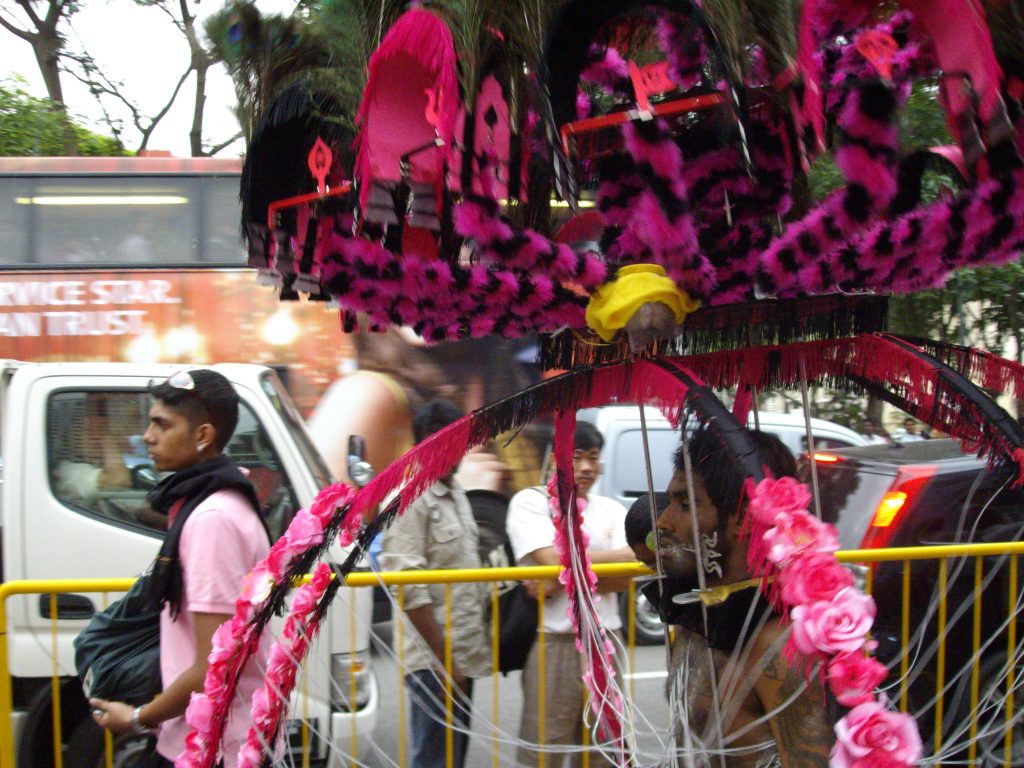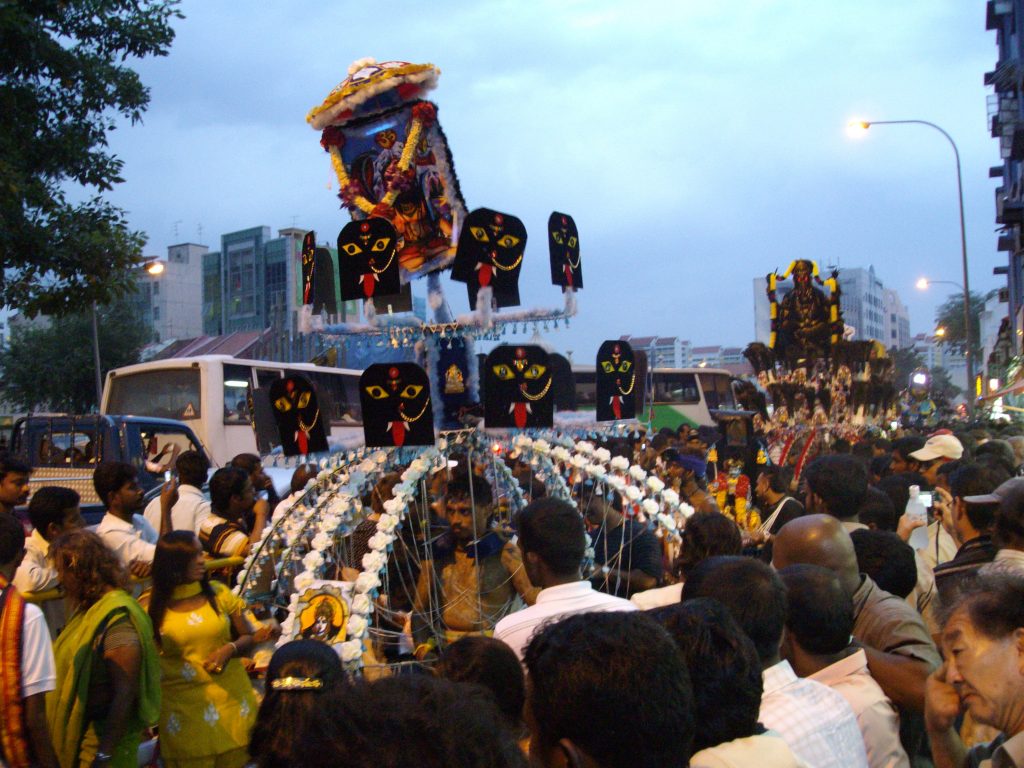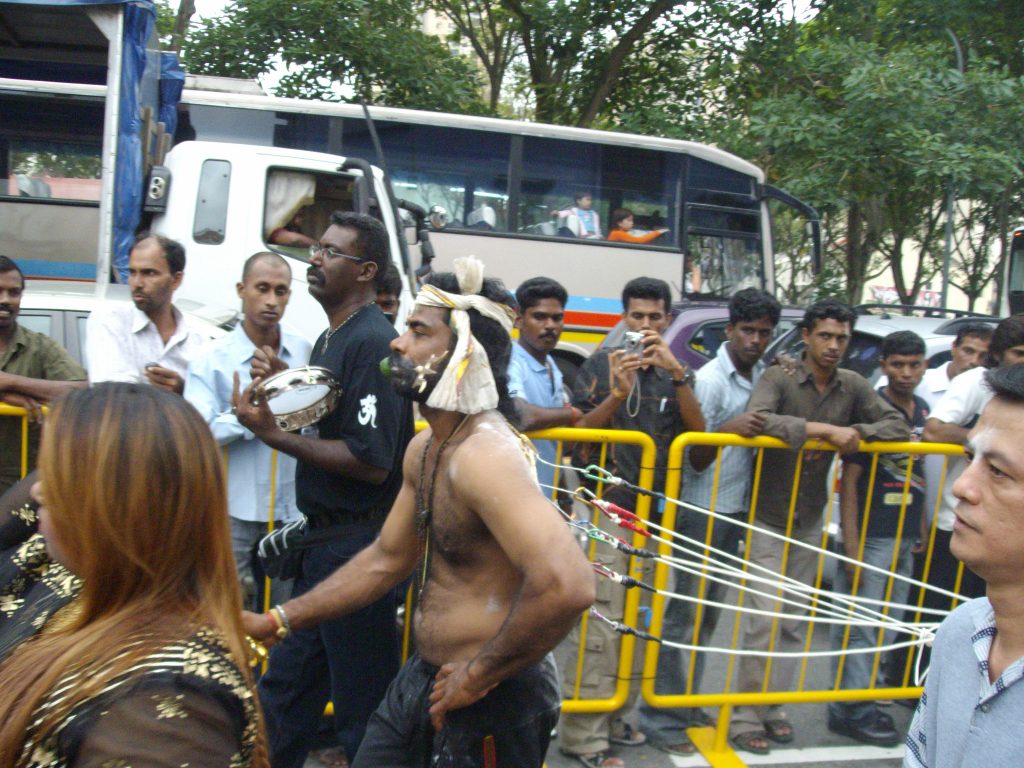 My video clips and more pics available here.
The following two tabs change content below.
Neil Godfrey
Neil is the author of this post. To read more about Neil, see our
About page.
Latest posts by Neil Godfrey (see all)
---
If you enjoyed this post, please consider donating to Vridar. Thanks!
---