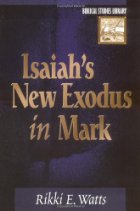 Rikki Watts presents a very thorough argument in Isaiah's New Exodus in Mark (1997) that the major themes, structure, and narrative details in the Gospel of Mark were drawn directly from the Book of Isaiah, and in particular from the last chapters of Isaiah that speak of a New Exodus for Israel from captivity to various nations and back to Jerusalem.
Watts would surely disapprove of my saying so, but I do believe his argument so cogently explains the life and teachings of Jesus in this gospel that one must surely question whether introducing hypothetical sources pointing to an historical Jesus would only create difficulties and add nothing to the gospel. But that is a secondary question. Let's stick with the outline of Watt's argument. (It is too detailed to consider anything other than a broad outline in a single post.)
Isaiah Part 2
The second half of Isaiah opens with "the voice of one crying in the wilderness" calling upon God's people to prepare the way for their coming Lord, God himself. The coming of the Lord will be through a tearing apart of the heavens; he will come as an overpowering warrior to destroy the rulers and idols of the nation; and he will also come as a Shepherd who heals his people, cares for them, and leads them back to a land of rest and true worship. Within these chapters, we also read of a mysterious "Suffering Servant" whose suffering is somehow related to the salvation of all Israel. Many Jews have interpreted this figure as an ideal Israel.
When God comes he overthrows the nations who held his people in captivity. This is the beginning of Israel's second Exodus. He then leads his people — even though they are blind — into the place where he will rule them from Jerusalem. Continue reading "The Gospel of Mark As a Fulfilment of Isaiah's New Exodus"