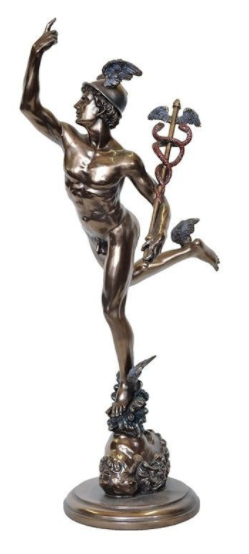 In the previous post focusing on Heracles (or Zeus-Heracles) as Logos I omitted a quotation that paired Heracles with Hermes (Roman name, Mercury) for the sake of trying to keep the focus on a single point. Here I am catching up: what the Stoic author Cornutus wrote about Hermes brings to mind several core motifs in the gospels, but in particular of the Gospel of Mark. (Don't jump to wild conclusions, though. I am only exploring the religious/ideological contexts within which the gospels emerged.)
The Jewish philosopher Philo noted that Hermes was the prophet, the divine interpreter, but in particular, the messenger who brought to humanity "good news":
ἄρα οὐχ ὅτι προσήκει τὸν ἑρμηνέα [=interpreter] καὶ προφήτην [=prophet] τῶν θείων, ἀφ' οὗ καὶ
Ἑρμῆς ὠνόμασται, τὰ ἀγαθὰ διαγγέλλοντα [=messenger of good] (Legatio Ad Gaium, 99)
— It's worth trying to imagine living at the time the gospels were first heard. Jesus, the messenger who brought good news, surely evoked in the minds of some another deity with a comparable role.
Shortly after Philo (in the time of Nero) the Roman philosopher Cornutus wrote Epidrome (or Greek Theology) in which he described Hermes as reason (= logos) itself, "the preeminent possession of the gods" and the one they have sent to us from heaven so that we alone of earthly creatures are rational.
— As per the previous post focussing on Heracles, Jesus was not unique in being identified with the/a logos.
I copy the translation of the key section by Robert Hays from his 1983 thesis, Lucius Annaeus Cornutus' "Epidrome". Cornutus has just described in depth those daughters of Zeus known as the gift-giving Graces [Charites].
1. The tradition holds that Hermes is their [i.e. "the Graces"] master, thus signifying that the bestowing of kindness must be reasonable: not random, but to those who deserve it. For the person who has been ungratefully treated [ho…acharistētheis] becomes more reluctant to do good. Now Hermes is Reason [ho logos]. which the gods sent to us from heaven, having made man alone of all the living creatures on earth reasonable [logikon], a gift which they themselves considered outstanding beyond all others. He has received his name from his taking counsel to speak [erein mēsasthai], i.e., to engage in rational discourse [legein]. Or, perhaps because he is our bulwark [eryma] and, as it were, our fortress.
— Logos is translated Reason but note its close association with "the word", in particular the spoken word, a word that brings life-giving benefits as we will see. Continue reading "Reading the Gospels through a Roman Philosopher's Eyes"