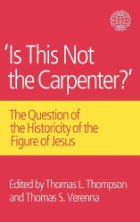 Previous posts in this series are archived here. Another review of this chapter can be read at Aaron Adair's blog.
I liked Ingrid Hjelm's chapter, "'Who is my Neighbor?' Implicit Use of Old Testament Stories and Motifs in Luke's Gospel", for several reasons:
it presented the first cogent explanation I have ever encountered for why Luke's genealogy of Jesus is so different from Matthew's and why it avoided all mention of David's son Solomon and the rest of the kings of Israel and Judah;
it explained how a Davidic Messianic figure did not necessarily imply a worldly conqueror (at least not until the last days) but that the OT also contained a nonviolent priestly vision of David who united God's people as a priestly, Moses-like figure;
it showed how the Gospel of Luke is very much an extension of the same sort of literature that came to make up the Jewish Bible;
it reminded me of the importance of the sacred meaning of numbers among biblical authors, something too easily overlooked today;
it also indirectly prompted possible explanations for why Luke might have adapted and changed the Gospel of Matthew (if he did — but this is really a topic that belongs to another post entirely.)
(But it took some time to grasp what the chapter was about initially. It launches straight into a detailed discussion of details of Matthew's genealogy and one is immediately wondering, "What the heck is this all about? Was an opening paragraph outlining her argument lost by an editor?" More likely, perhaps, it was cut and paste from other publications by Hjelm yet with insufficient re-editing to clarify the direction of the argument for readers completely new to her views. And there are several passages in the rest of the chapter that leave a reader unfamiliar with the contents of cited references bemused. (Only after tracking down online citations and catching up with some background reading was I able to make sense of some of Hjelm's statements. Needless to say, some of her claims whose citations are not online remain obscure to me.) Unfortunately this chapter is not the only one in this volume that suffers from this sort of difficulty for those unfamiliar with some of the authors and ideas, — not to mention just a few too many typos. But as you can tell from my positive introduction it was worth making the effort to understand the flow of her argument.)

Hjelm shows us that the author of the Gospel of Luke interpreted and reused the Old Testament scriptures as a template for his own Gospel story of Jesus in quite subtle and sophisticated ways that are foreign to the ways most modern readers have come to understand the OT. Luke (we'll imagine the author's name was Luke) viewed the David figure embodied in Jesus not through the stained history in the books of Samuel, but through the idealized portrait in the books of Chronicles where a priestly David is portrayed as a second Moses, and as such reunites Samaritanism and Judaism once again into the theological ideal of a new Israel.
(I use the term "Judaism" here instead of "Jews" because it is worth keeping in mind what that word "Jew" actually describes at that time: see Where did the Bible's Jews come from? Part 1, Part 2. Hjelm even concludes that Luke was not the gentile convert most readers have assumed him to be, but a Hellenized "Jew".)
What we see in the Gospel are reiteration and paralleling of the motifs and themes of the older Scriptures. If that sounds a lot like the sort of argument we have come to expect from Thomas L. Thompson, we should not be surprised to find Hjelm is also from the University of Copenhagen and Thompson's name appears frequently in her list of publications.
There is, of course, much more to be written about the Gospel of Luke's use of the OT — see, for example, Origin of the Emmaus Road Narrative and More on Luke's Use of Genesis — but this chapter by Hjelm gives readers an excellent insight into the way the author used Scriptures. Hjelm concludes ambiguously on the question of the implications of Luke's use of Scriptures for the narrative's historicity. What really matters is that we understand and accept the nature of the Biblical stories and what they meant for their original creators and audiences.
Against Hjelm's references to Samaritans as the heritage of Moses in this chapter one should be aware that Ingrid Hjelm clearly has a special interest in Samaritan studies (see her list of publications) and last year was awarded The Samaritan Medal for Peace and Humanitarian Achievement by the Samaritan community. At one point she justifies the pivotal reference to Samaritans as well as Jews as an allegorical interpretation (Moses represents the Samaritans and Elijah the Jews) by citing an earlier (2004) publication of hers.